Singapore & Indonesia
May 2023
Singapore
Bali
Nusa Lembongan
Days 1 - 3: Singapore
Imagine a city with more than five million people; with little traffic, poverty, or crime; with plenty of green spaces, great public transportation, and clean streets; with a population of diverse cultures that mix seamlessly without losing their identity. It sounds impossible, doesn't it? Well, Singapore is all of those things, and much more.
Singapore is the 70th country we've travelled to together, and we couldn't have chosen a better place to celebrate. We feel right at home here, maybe because of the city's cosmopolitan vibe and super friendly people. Or maybe because the city is modern and forward looking, while at the same time preserving its historical architecture and traditions.
We're staying at the phenomenal 5-star Clan hotel, which is conveniently situated just at the edge of Chinatown, near all kinds of delicious food. We went to some great restaurants, but we had the most fun exploring food counters in hawker markets. The feel in these markets is casual, inclusive, and lively. Retirees gather around their portable karoake machine and sing song after song; groups of friends celebrate birthdays and anniversaries; smartly-dressed business people eat a quick lunch while working on their laptops. The food available is multi-cultural, reflecting Singapore's past and present. We enjoyed exploring typical dishes from this part of the world, such as: laksa, a coconut-milk base curry with noodles, fried tofu, and fish cakes; bak chor mee, a dry noodle dish with pork and mushrooms; Hainan chicken, a rice and steamed chicken dish with a super tasty sauce; and cendol, a dessert with coconut milk, adzuki read beans, and pandan-flavored rice-flour jelly.
We finished our Singapore visit by heading to the Marina Bay neighborhood — home of the iconic Marina Bay Sands hotel and the giant city park called Gardens by the Bay. We wandered among the lush greenery, ending up at the manmade yet pretty Supertree Grove. We got there just in time for the sound and light show, which drew a crowd of tourists and locals, all enjoying the free entertainment as the heat of the day subsided into the evening.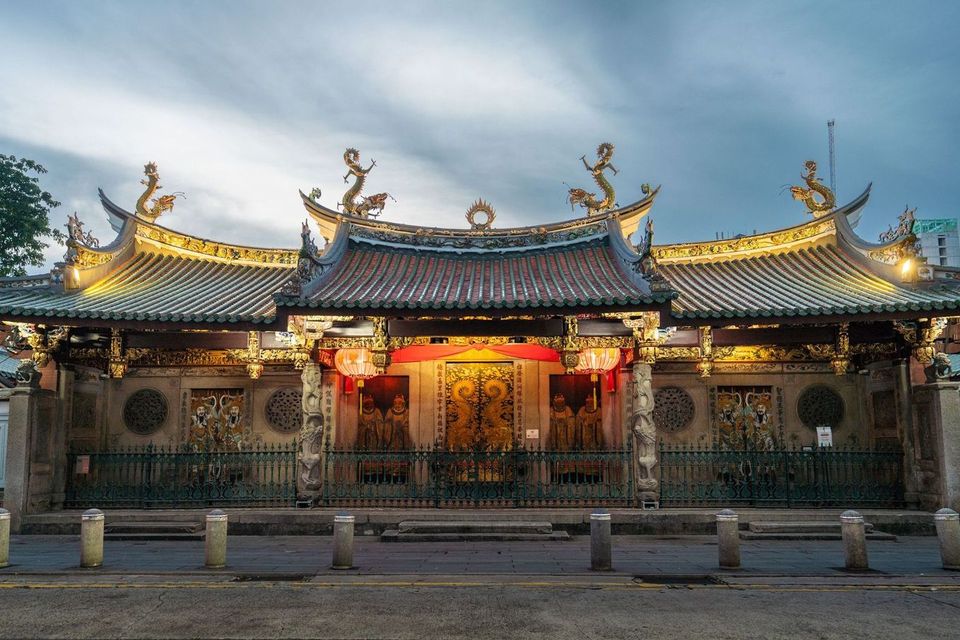 Thian Hock Keng Temple.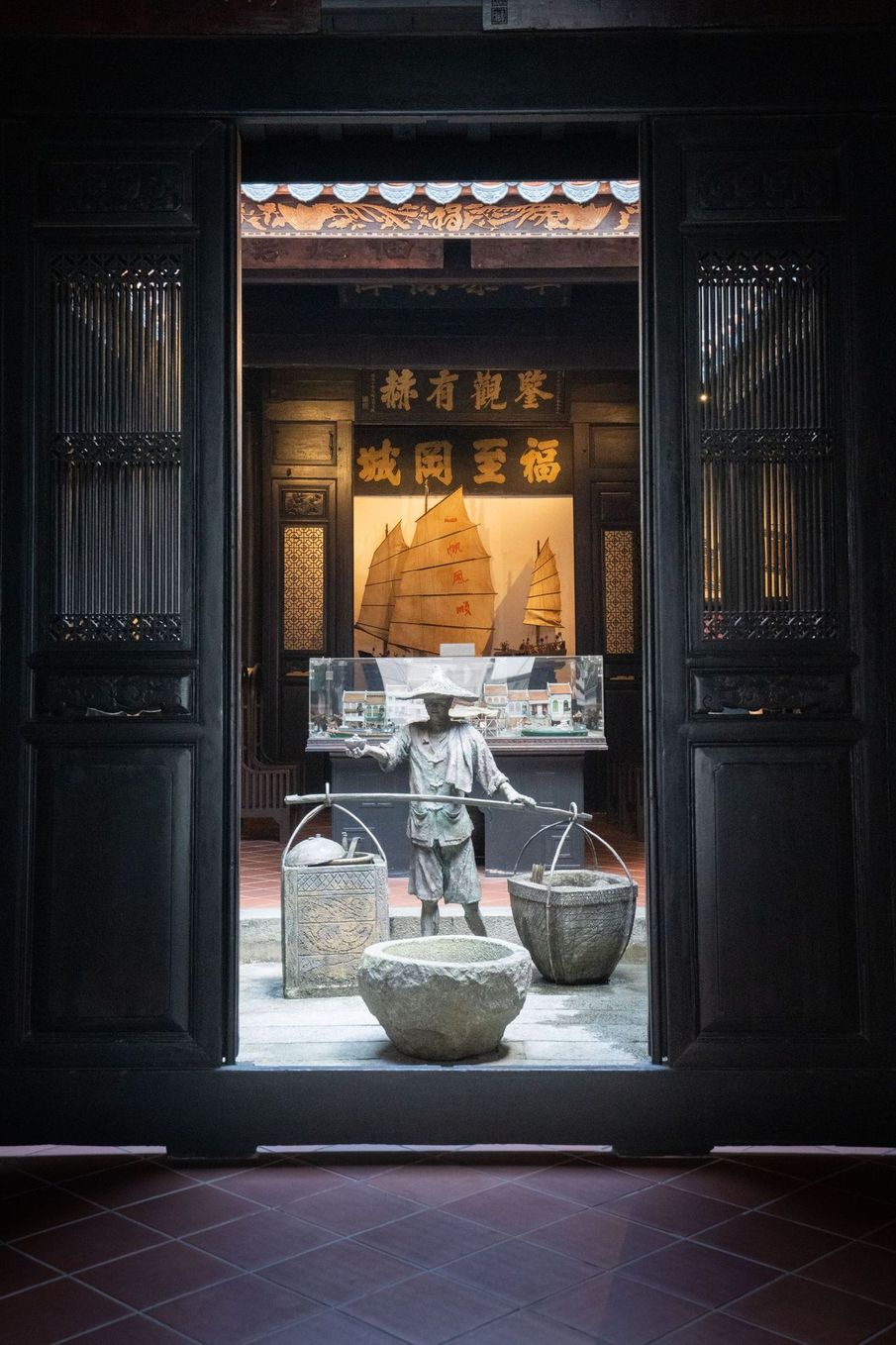 The Fuk Tak Chi Museum chronicles early Chinese immigration to Singapore.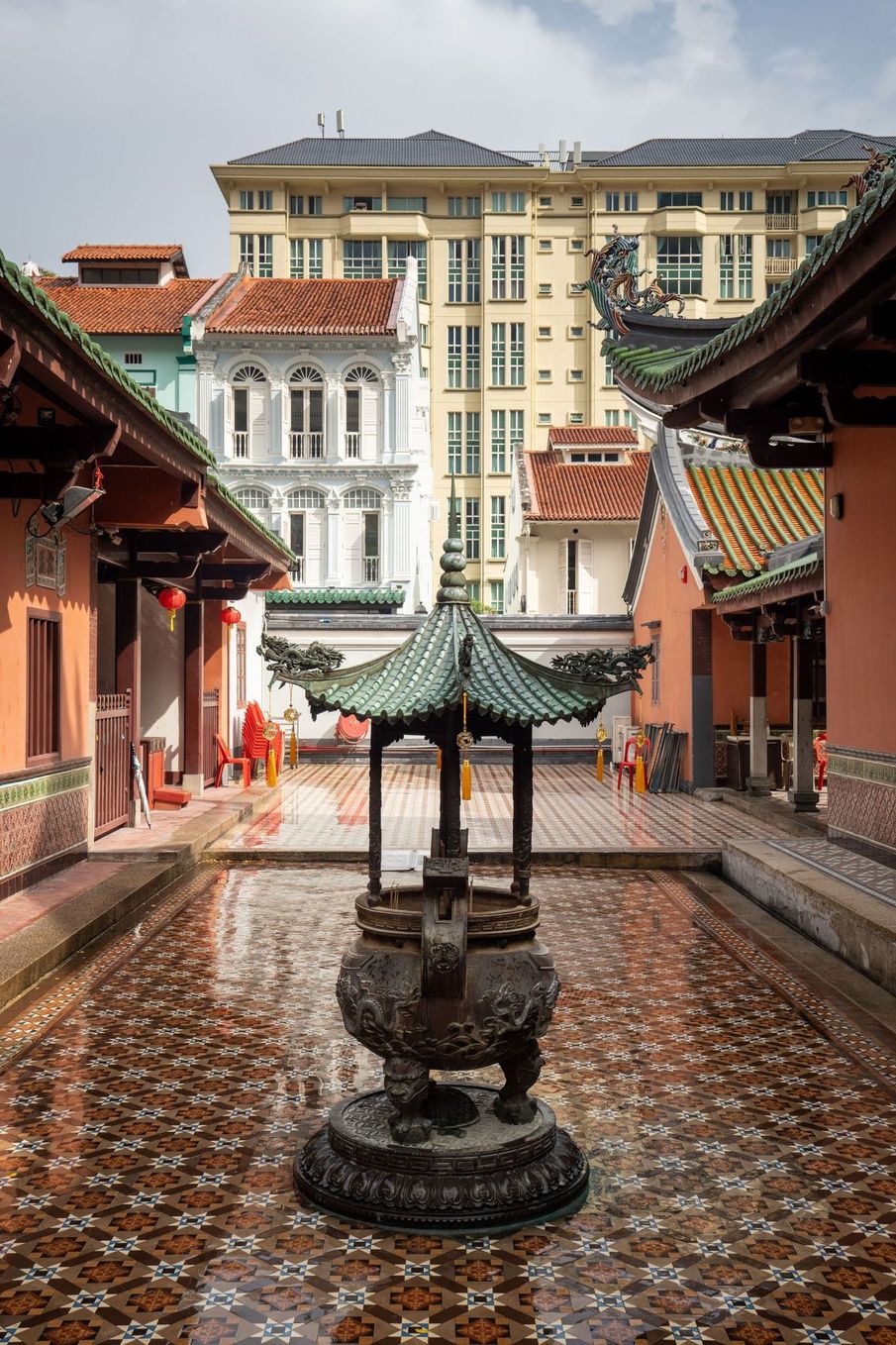 The old and the new coexist.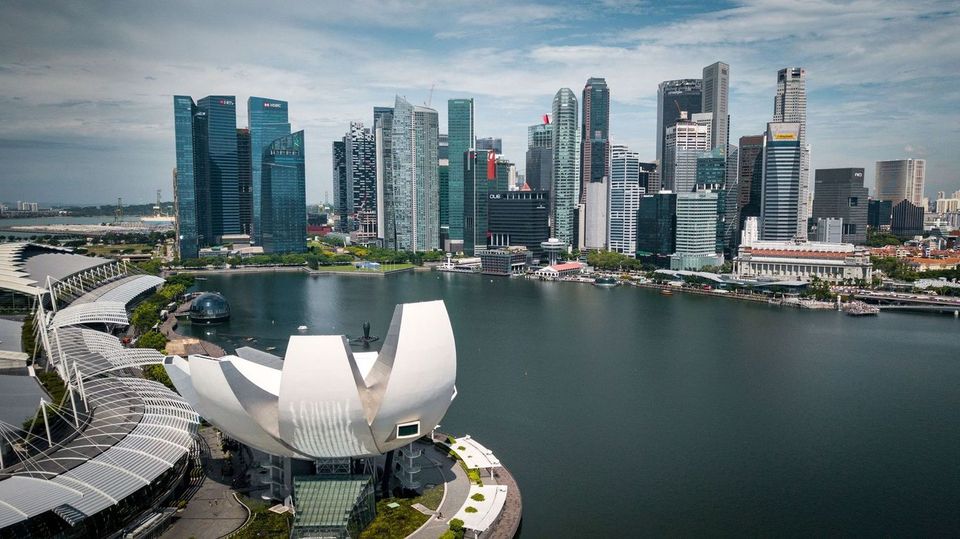 View of downtown from Marina Bay.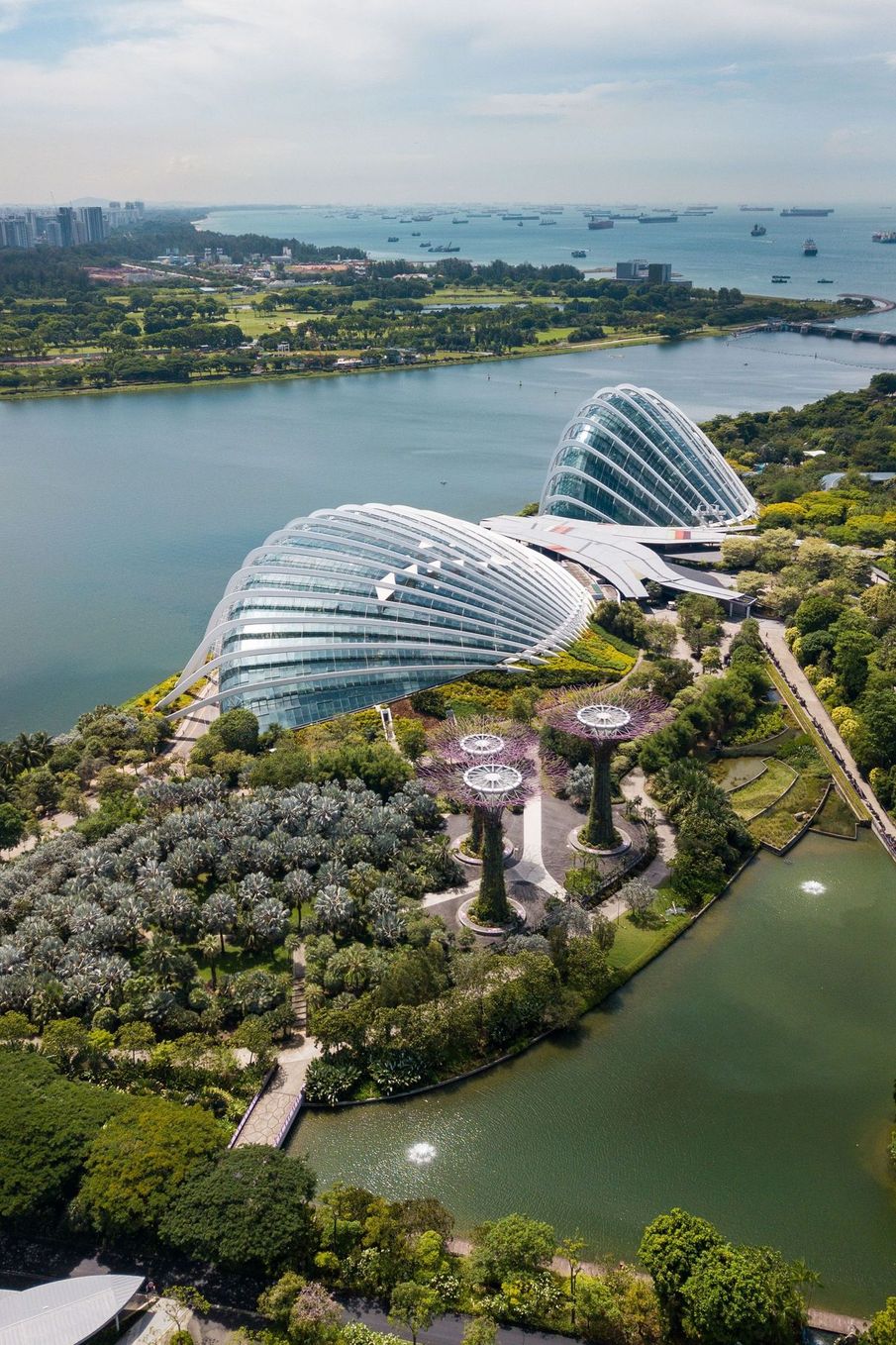 Gardens by the Bay.
Day 4: Arrival in Bali
Today we flew from Singapore to Bali, and then transferred to our Airbnb in Ubud. We love the place where we're staying! It's a beautiful Balinese-style house surrounded by rice fields, owned by a local family who live next door. The father, Made, designed and built the house and surrounding gardens, and is our private driver for the duration of our stay; the daughter, Villi, manages the Airbnb site and acts as the host; the other members of the family clean the house, cook for guests, and tend the rice fields. It's wonderful to feel so well taken care of by the family, in such a gorgeous setting!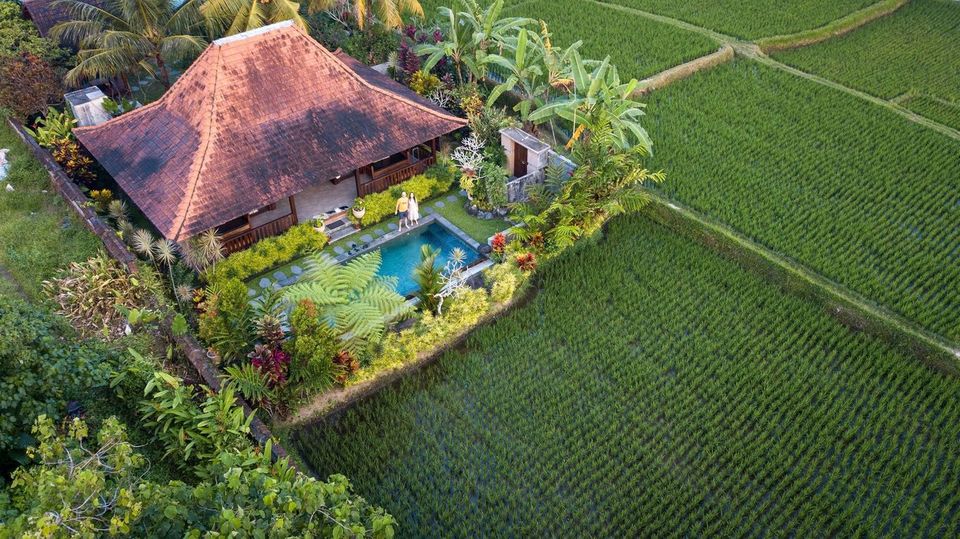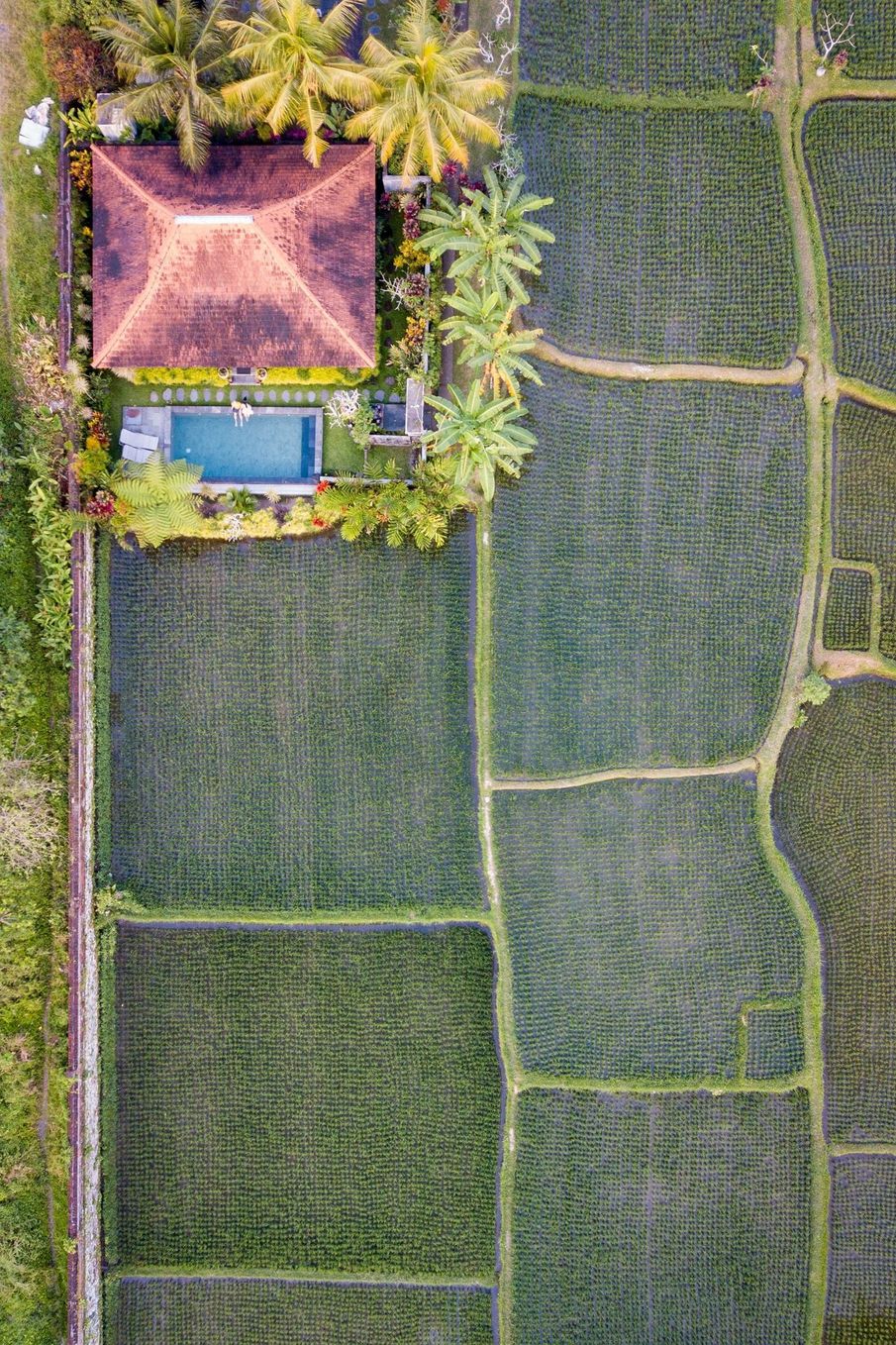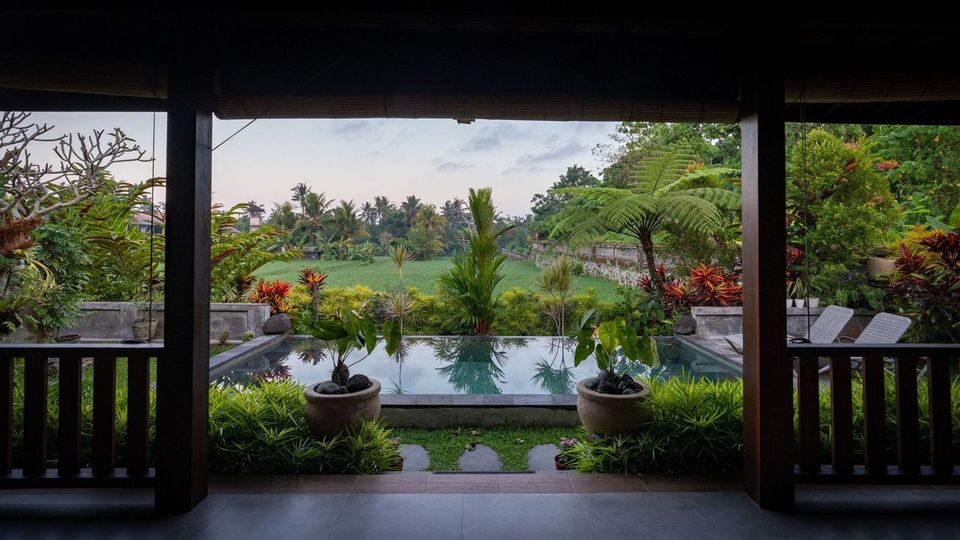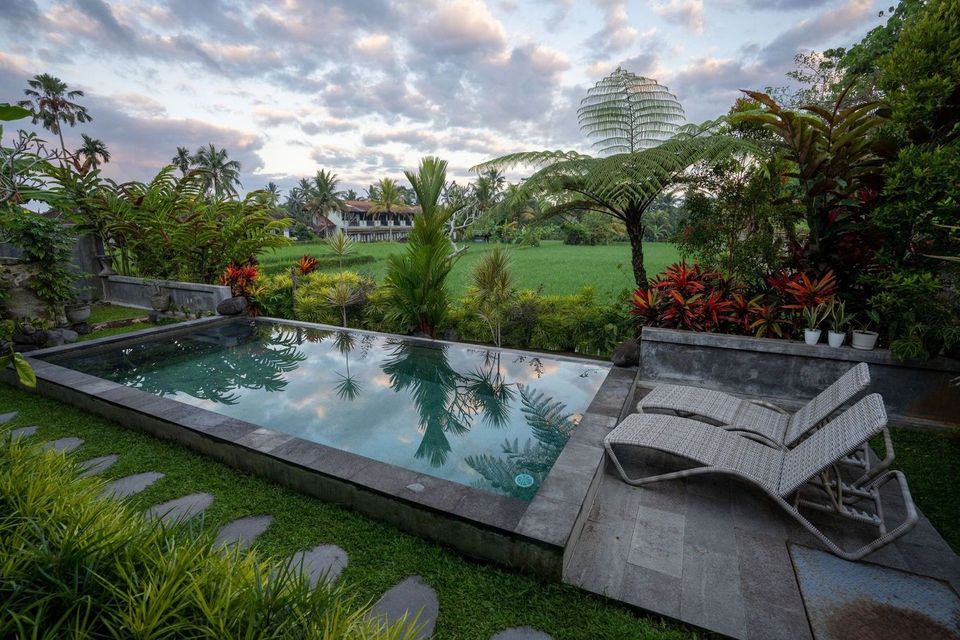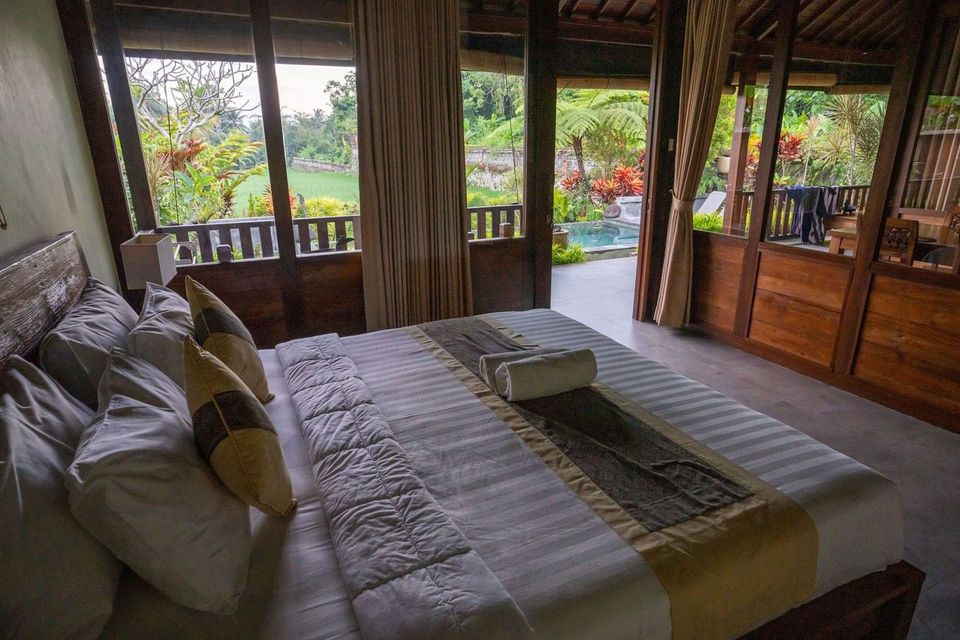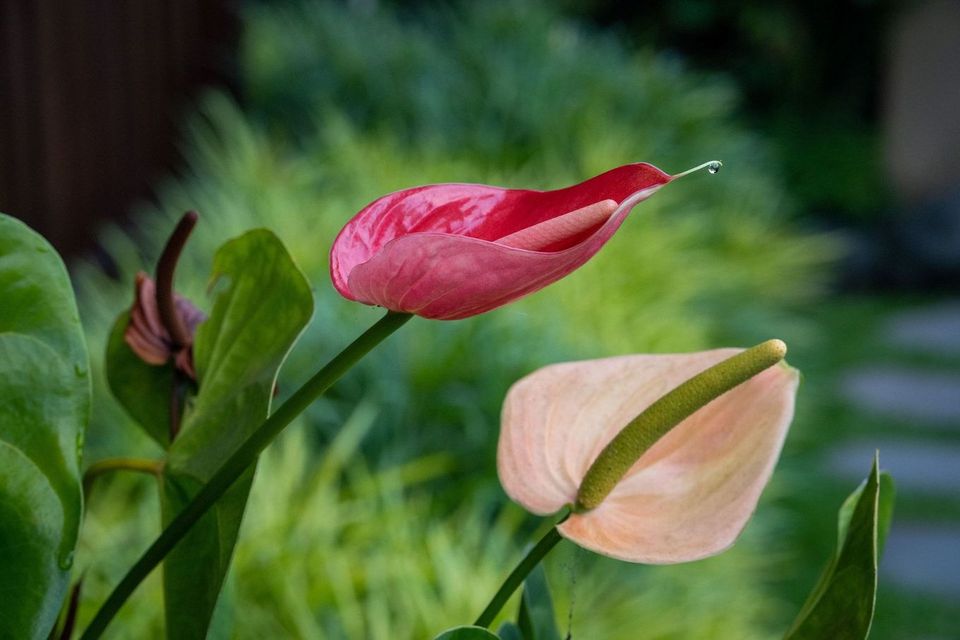 Day 5: Chasing waterfalls
Back at home in Seattle, we love hiking to waterfalls. In the summer they give us a nice break from the midday heat, and in the winter we enjoy the delicate shapes they form when frozen. So it's not surprising that we started our stay in Bali by chasing waterfalls. And we're glad we did that, because Bali waterfalls are jaw-droppingly beautiful! There are so many to choose from, and in a full-day-drive from Ubud it's possible to hike to several. If you're planning a similar trip, it pays to do a bit of research ahead of time, and choose the ones you want to visit. Our favorite? It's a tie, between Banyumala and Leke Leke. They are both surreal.
We finished the day with a visit to Ulun Danu, a gorgeous Hindu temple compound on the shores of lake Bratan. Here's a fun fact: even though 87% of Indonesian people are Muslim, in Bali, 87% of the people are Hindu. It's no surprise then that wherever we go in Bali, we see beautiful temples, shrines, and statues devoted to Hindu gods.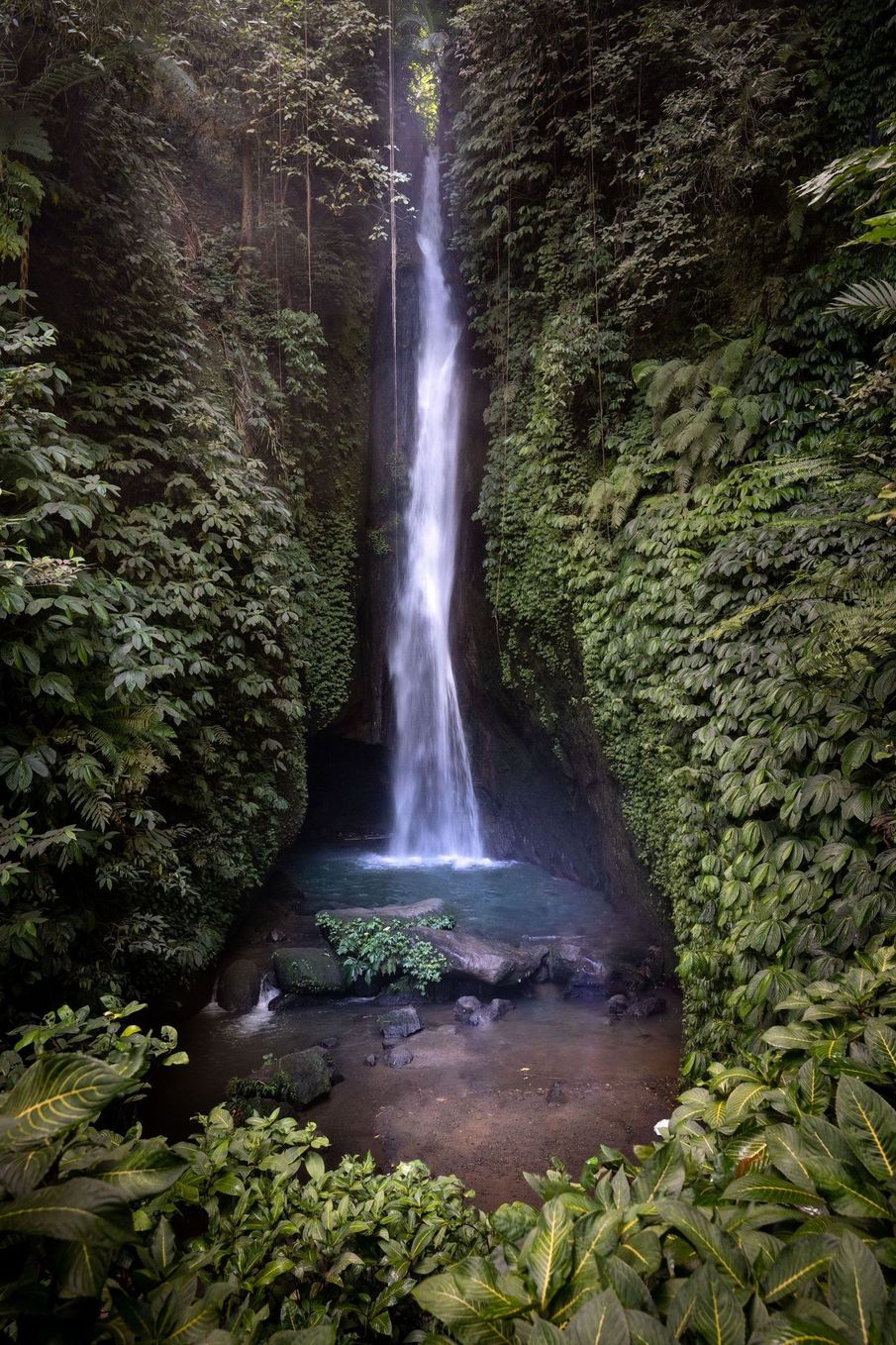 Leke Leke waterfall.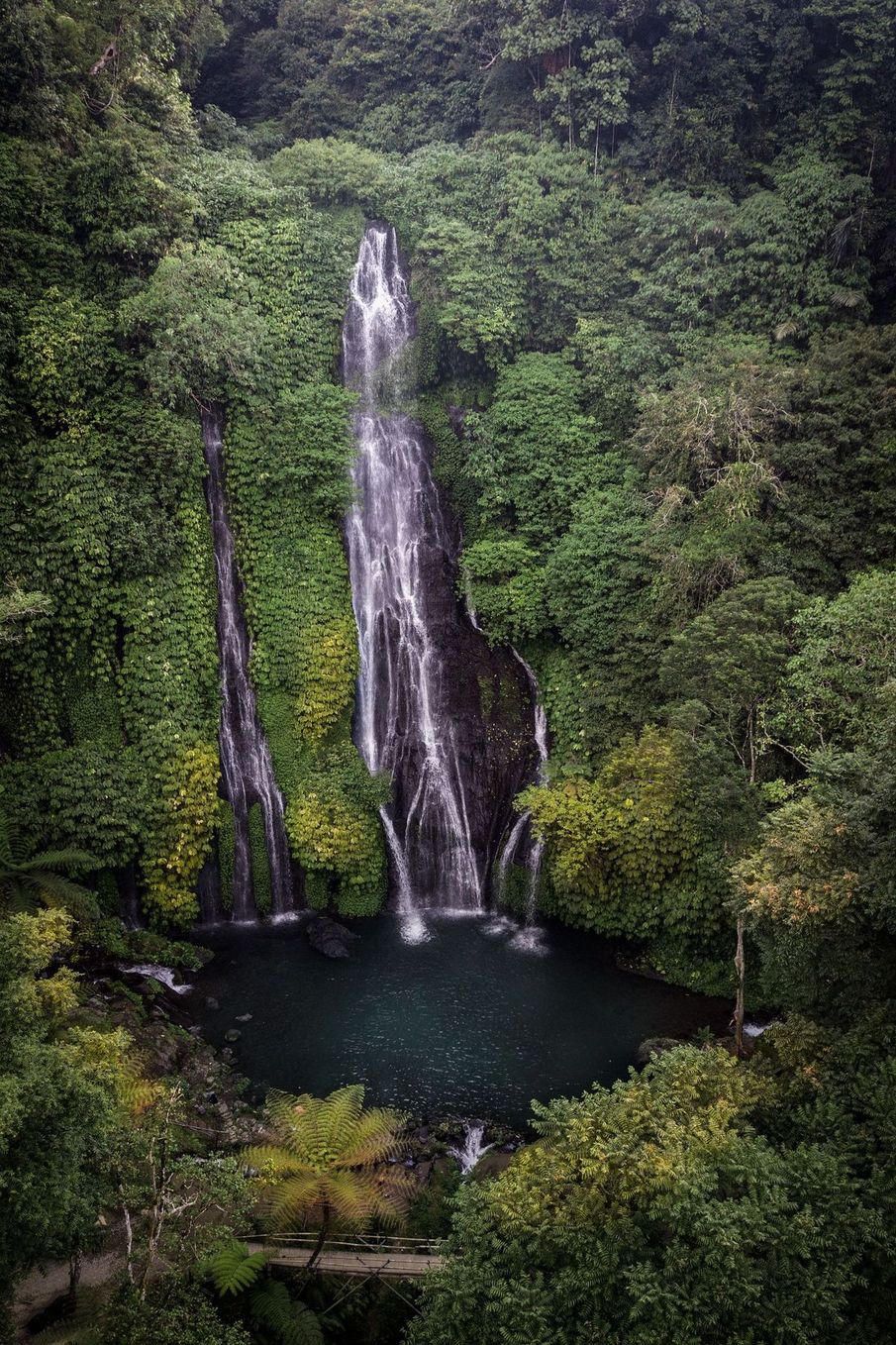 Banyumala waterfall.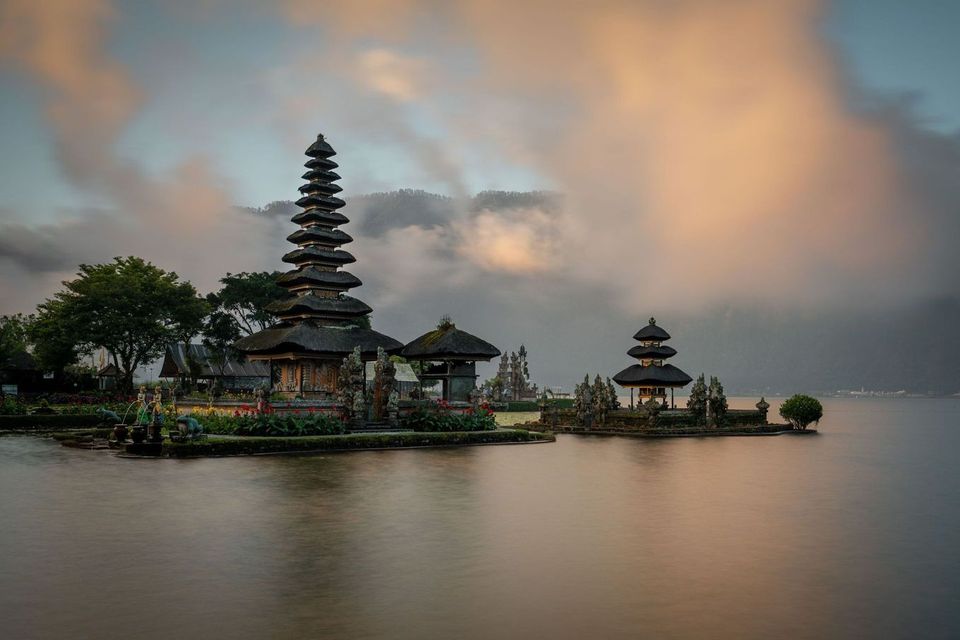 Ulun Danu Bratan temple.
Day 6: Exploring Ubud
After yesterday's adventures in more distant parts of Bali, we decided to spend today exploring the area around Ubud. Our Airbnb is just a 15 minute walk to the center of town, so today we walked everywhere. We started heading toward town shortly after sunrise, while it was still pleasantly cool outside. Along the way, we decided to take a detour to hike up the Campuhan ridge trail. We followed a wide flagstone path flanked by palm trees, and found ourselves looking out over rice paddies, jungle, and distant houses. There were a few locals getting their morning exercise, and a couple of early-rising tourists posing for photos, but for the most part we had the place to ourselves. For locals in particular, this is a great place for a daily nature walk!
After our walk, we headed for the town center. Just like many other towns in this part of the world, Ubud is a vibrant and busy place. We enjoyed the lively atmosphere. Idle scooter drivers asked us "taxi? taxi?" as we walked by; kids in tidy brown uniforms chatted on their way to school; and shopkeepers placed incense and Hindu offerings in front of their stores. The roads are narrow, and cars, scooters, and pedestrians all compete for the little space there is.
The city is also home to a few peaceful spots, such as the Sariswati temple and the Ubud Palace. We enjoyed exploring the ancient architecture and ornate decorations of these historical buildings, and their gardens and courtyards were a nice break from the city buzz.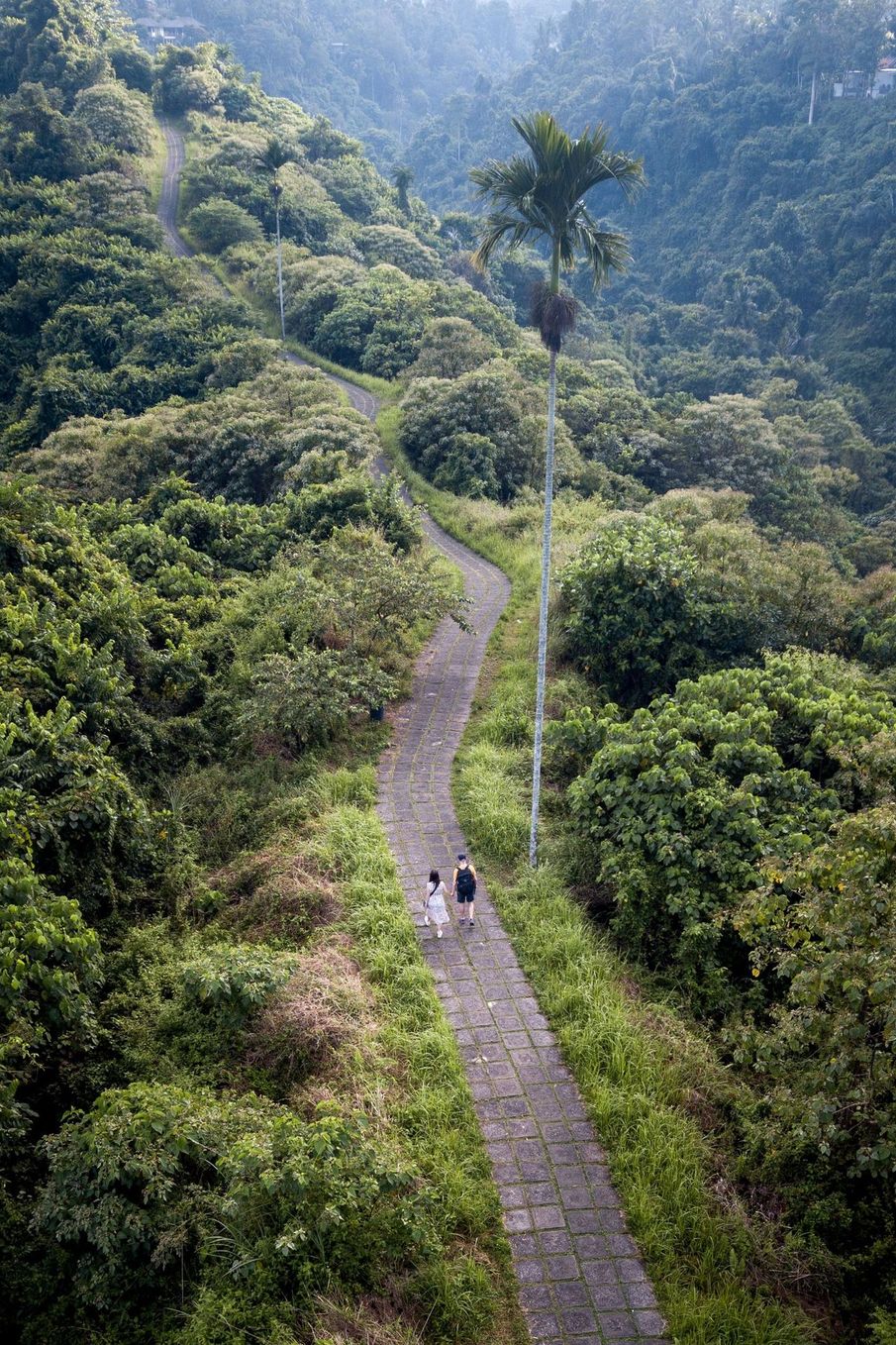 Campuhan ridge trail.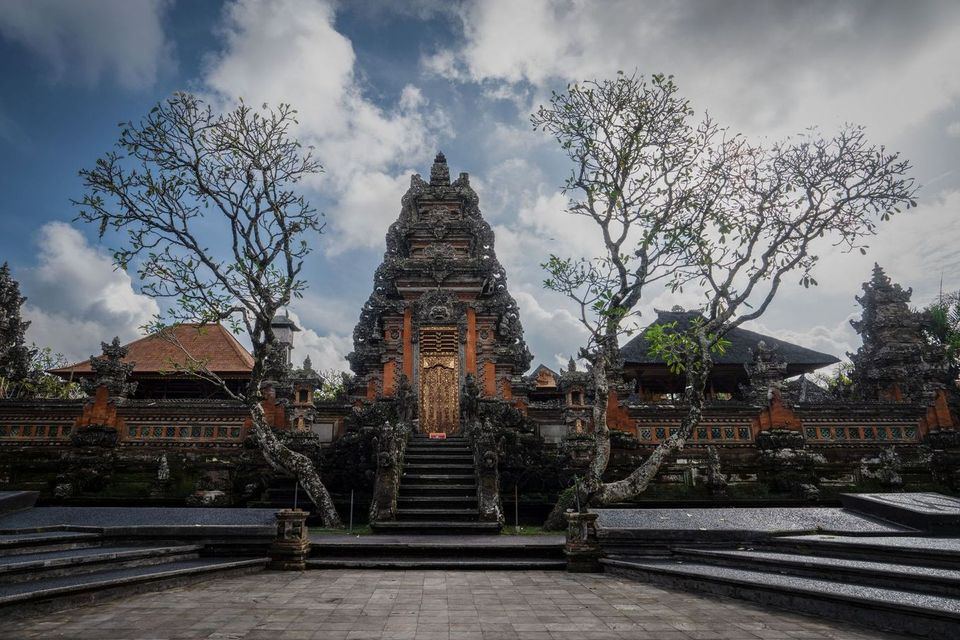 Sariswati temple.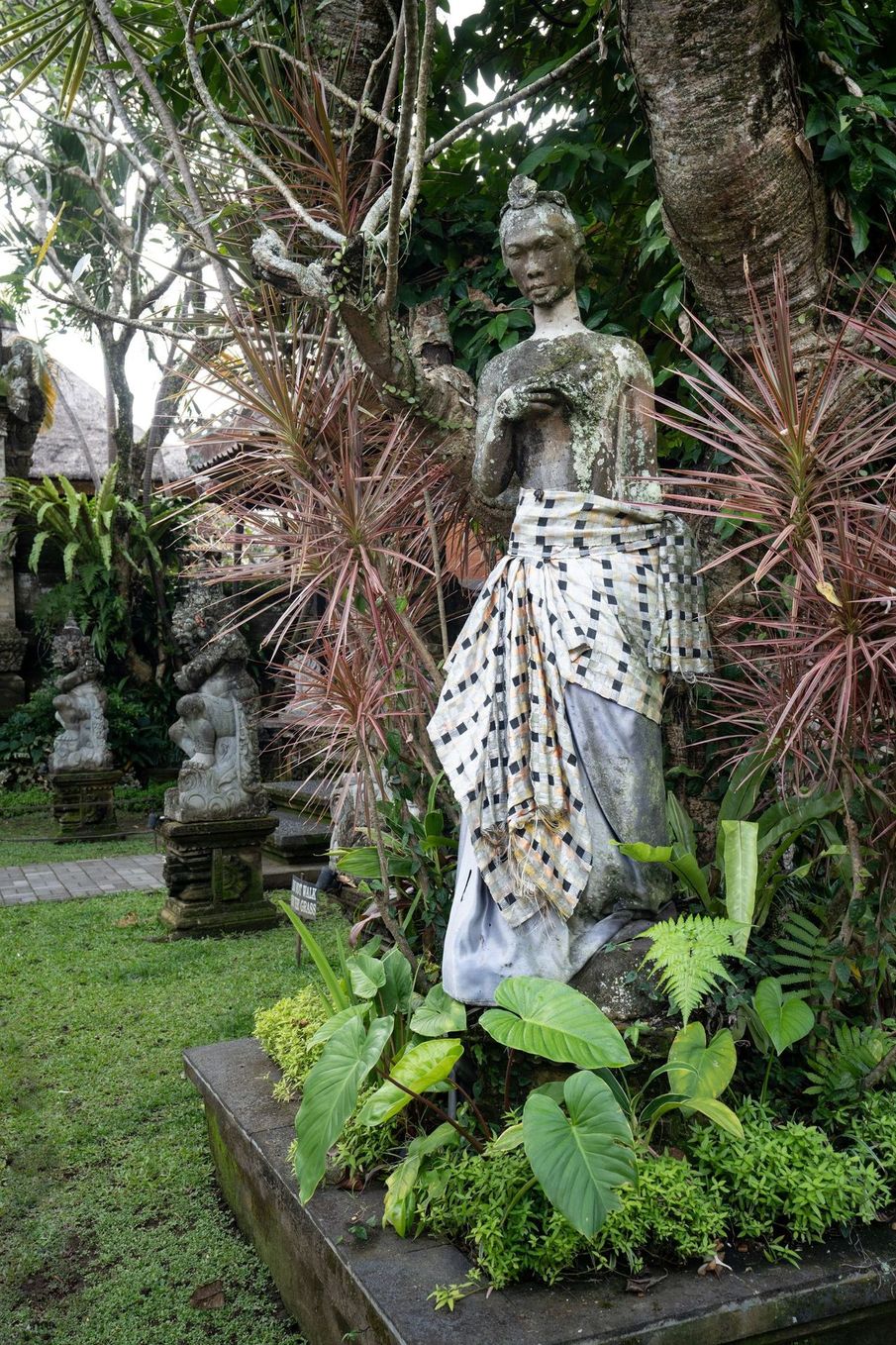 Artwork at the Ubud Palace.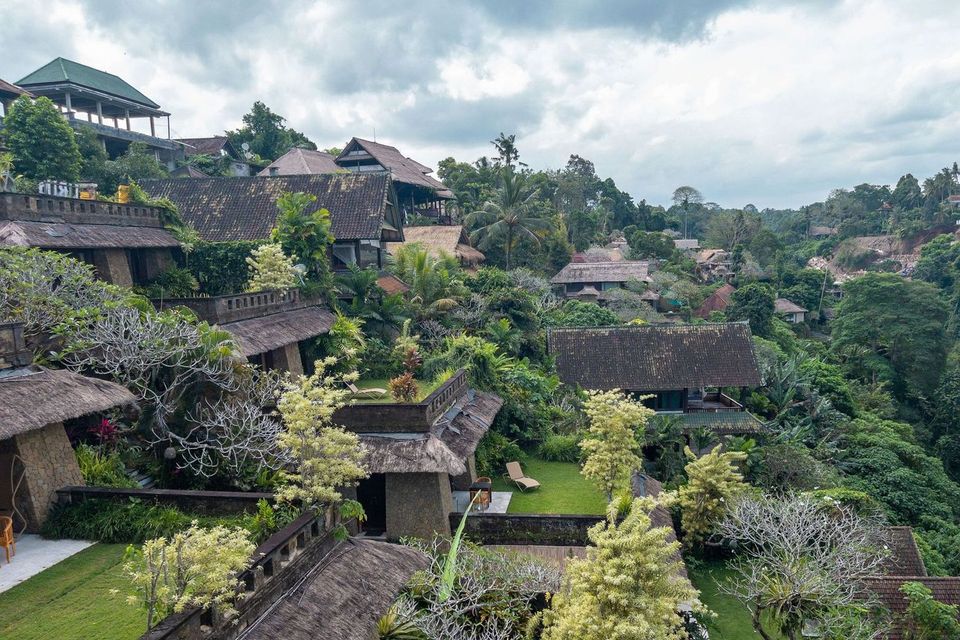 Villas in the outskirts of Ubud.
Day 7: Rice fields and Udaya
Today is our last full day in Bali. We have to say that the food here has been great. We got to eat several Indonesian dishes that are old favorites of ours, like nasi goreng (fried rice) with seafood, beef rendang (slow-cooked beef in coconut milk and spices), and gado gado (vegetable salad with peanut sauce). We also discovered dishes that were new to us, such as tipat cantok (a Balinese dish made with steamed vegetables, rice cake, and peanut sauce), and two traditional Balinese snacks that our Airbnb host Villi made for us: sticky rice pudding and a sampling of Balinese cakes made of cassava, coconut, banana, glutinous rice, sago, and palm sugar syrup. These snacks are often used as Hindu offerings in temples.
This morning, we visited the rice fields in Tegallalang. It's the perfect time of year, when the spring rice crop is lush and green, highlighting the intricate shapes of the terraced slopes. For our grand finale, we spent the afternoon at the Kaveri spa in the Udaya Resort, where we got the extra-special-with-everything-on-top couple's massage, scrub, and citrus bath. What a great way to end our stay!
Our top three restaurants in Ubud: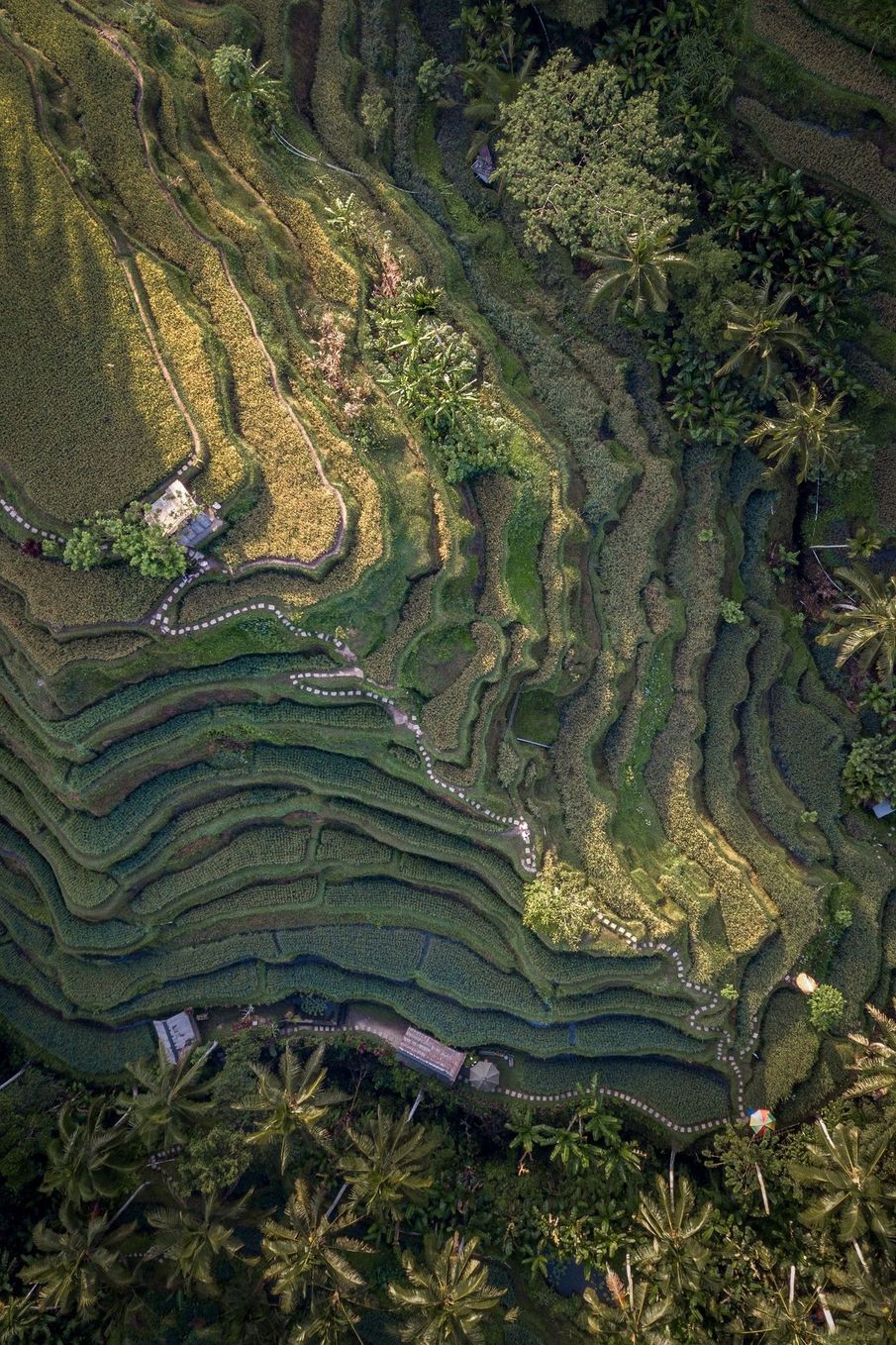 Rice terraces.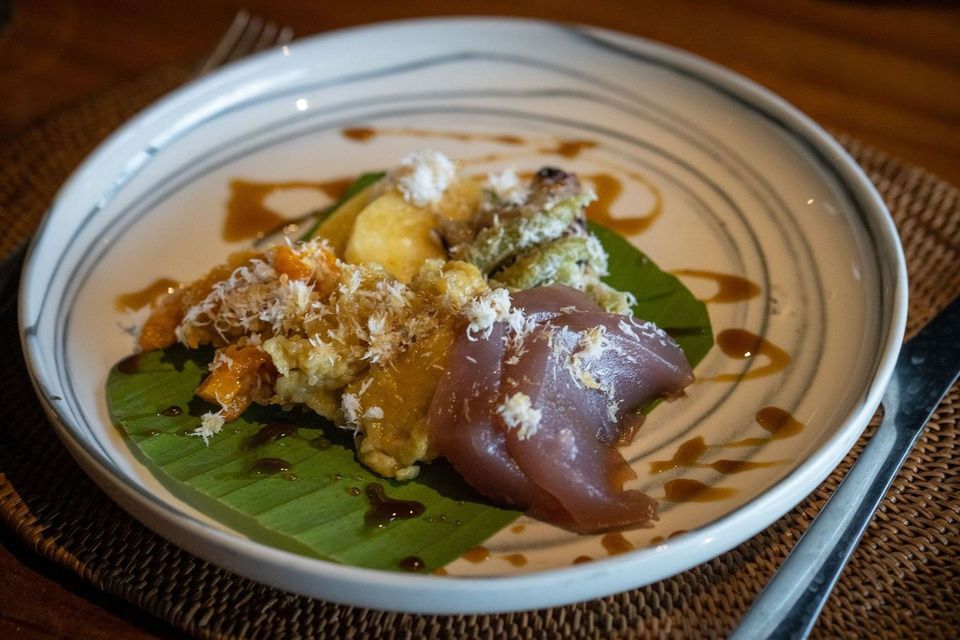 A sampling of Balinese cakes.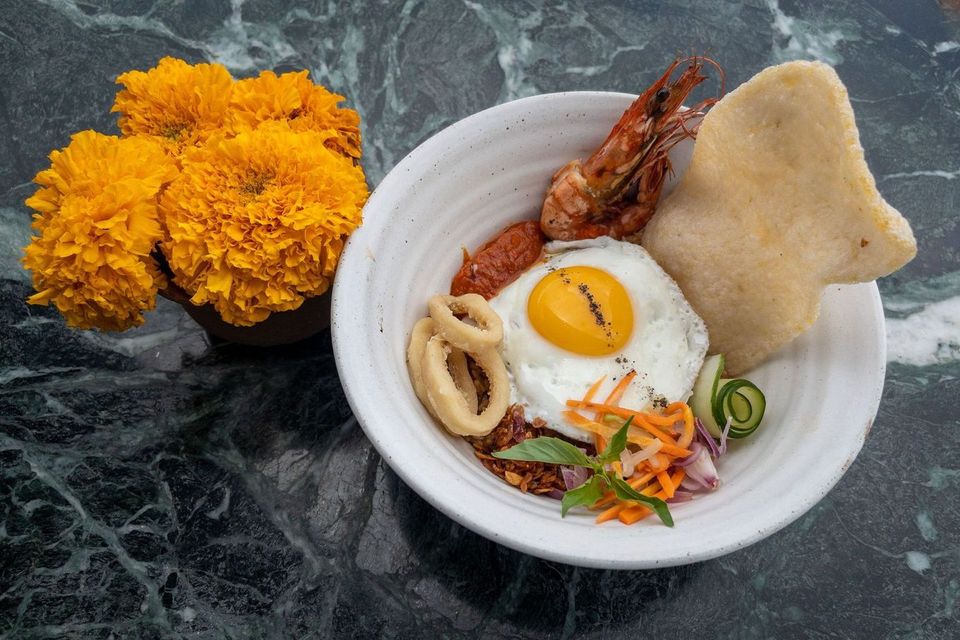 Nasi goreng with seafood.
Day 8: Transfer from Ubud to Nusa Lembongan
Today we transferred from Ubud to Nusa Lembongan, a small island east of Bali. We've been using Grab (the local equivalent to Uber) for short rides in Singapore and Indonesia, and today we decided to use it for a longer-distance ride, from Ubud to Sanur. We got super lucky with our driver Agus - he was so friendly! He had an interest in American music of all kinds (and an impressive music collection on his phone), and was curious about Seattle music. We told him about several bands and music genres from Seattle, and ended up playing several examples from our phones through his car's stereo: Macklemore (rap), Pearl Jam (grunge), and Odezsa (electronica). We were also interested in learning about Ubud music, and he played songs by Gus Teja for us. It was a great learning experience for all of us!
Sanur is a beautiful town, right by the ocean and with a very local feel. We witnessed a cremation ceremony, meandered through a lively food market, and enjoyed the nice breeze by the beach. Then in the early afternoon, we took the boat to Nusa Lembongan, and transferred to our Airbnb.
Once again, we love our Airbnb. It's a traditional open-air house, built around a courtyard with a pool and beautiful landscaping. The local caretakers of the place, Kadek and Nyoman, are very friendly and accommodating. We're very happy here, and are particularly excited about the next few days.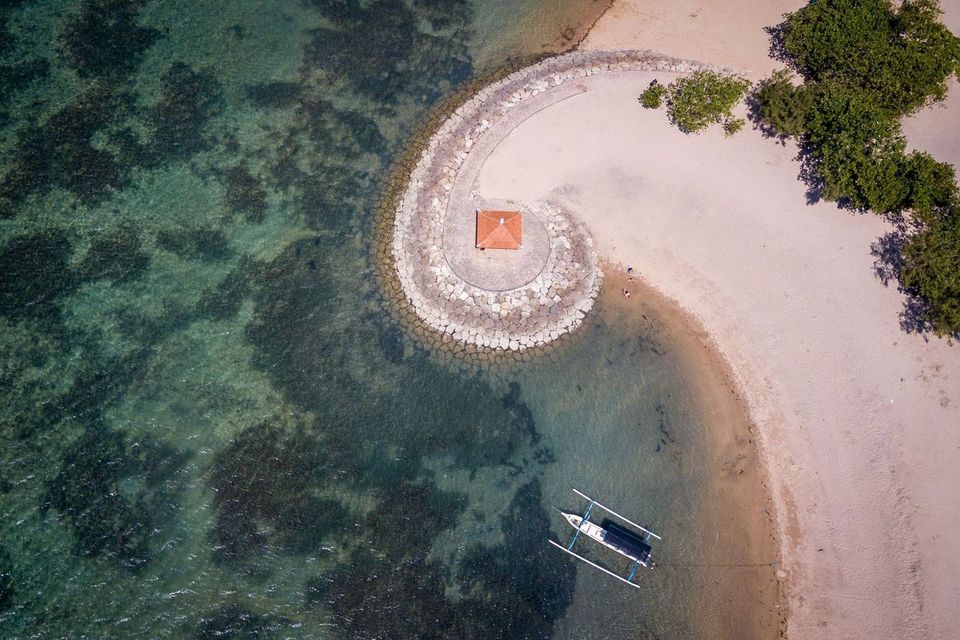 The beach in Sanur.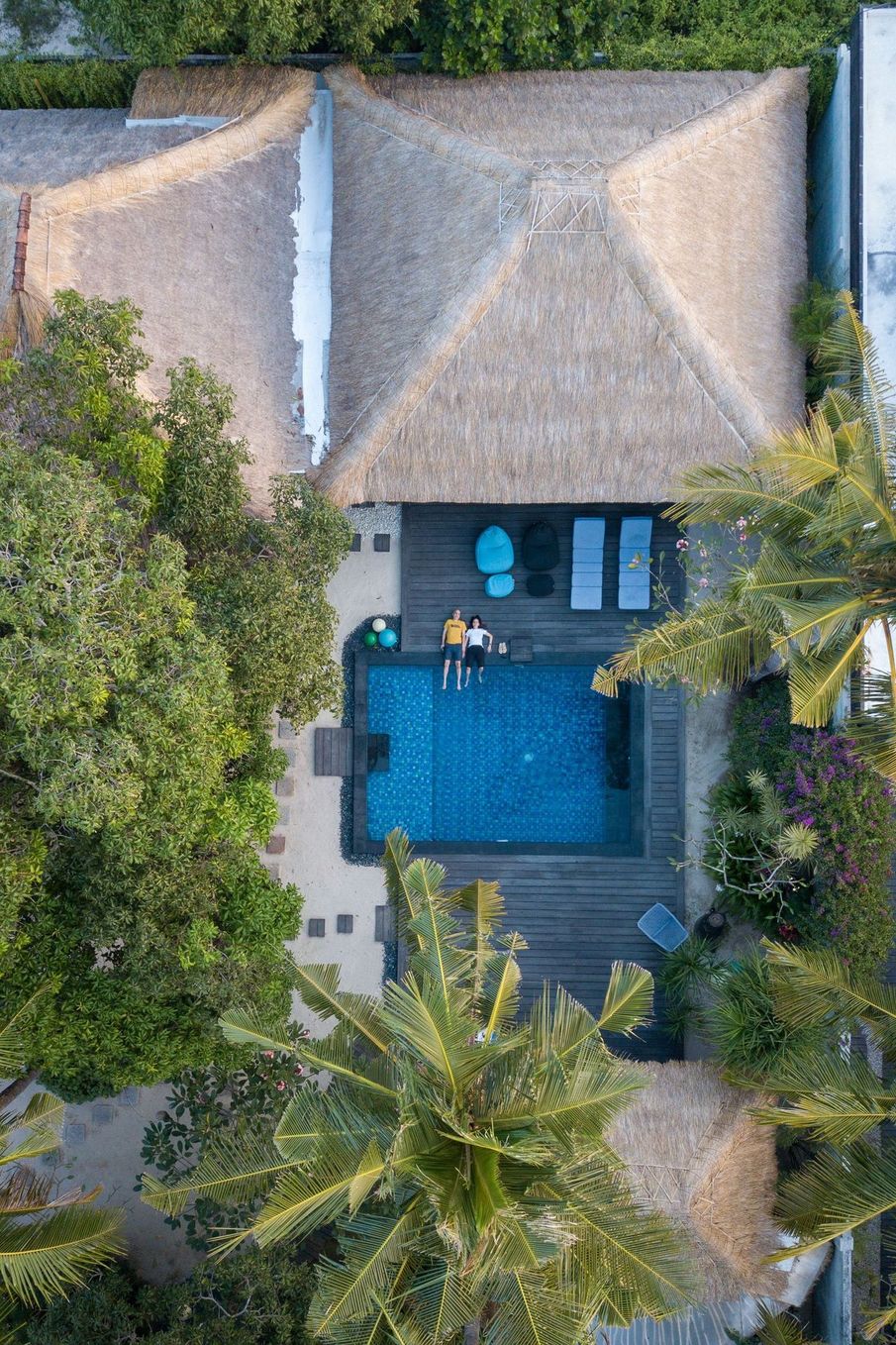 Our villa on Nusa Lembongan.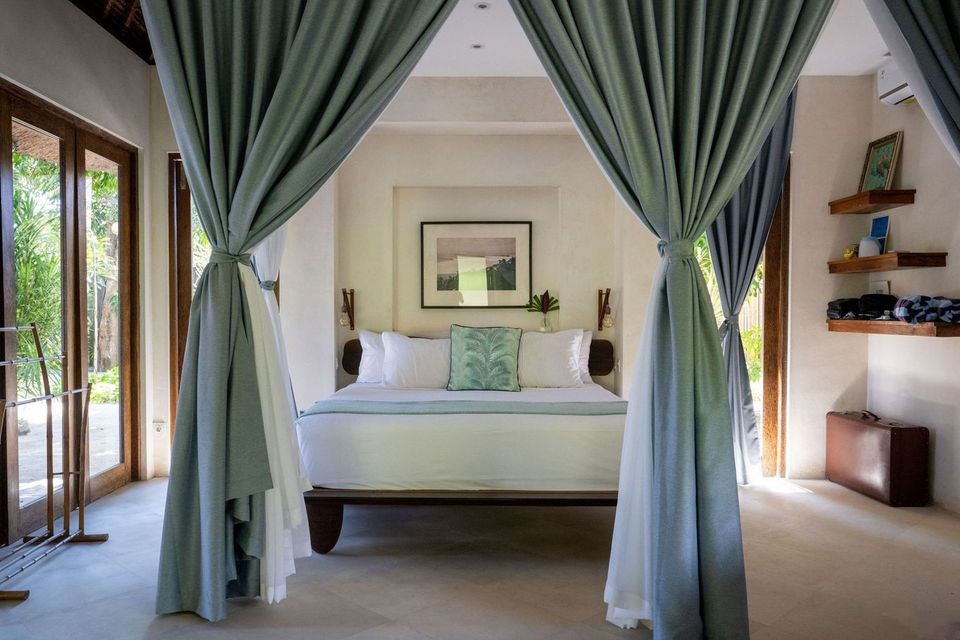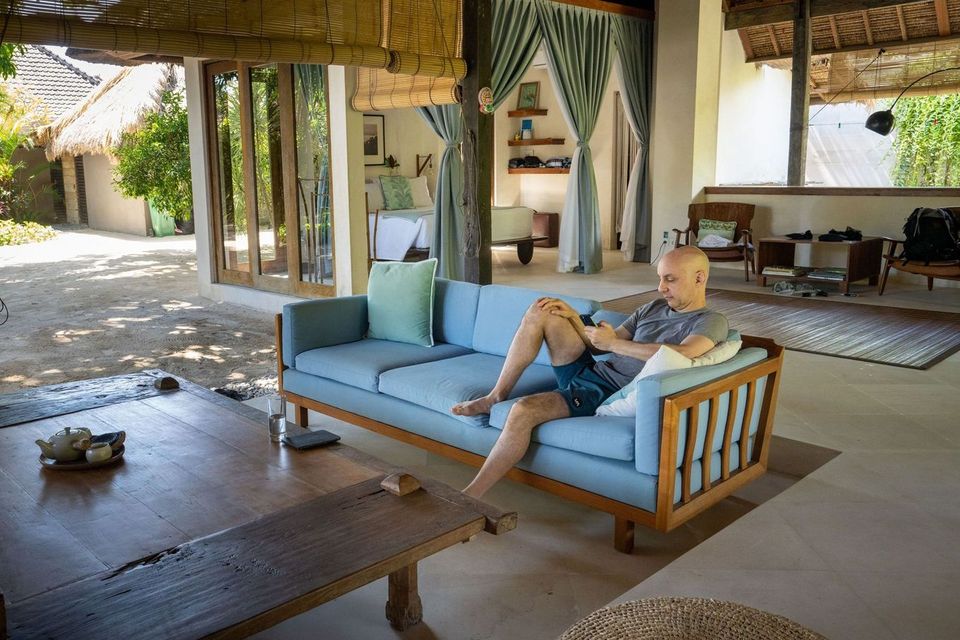 Day 9: Swimming with mantas
We got to snorkel with mantas today, and it was A-MA-ZING! This wasn't our first time swimming with mantas - we had a chance to do that in Fiji a few years ago. We loved the experience in Fiji, but the water was choppy and the current was strong, making it hard work to keep up with them. Our experience today was very different: we were in a protected bay, so the water was calm and there was no current. There were several mantas in this bay, and they swam gently, very close to us - so close in fact, that we had to be careful to avoid accidentally touching them. Sometimes they swam right at the surface, heading right toward us and diving at the last second to maintain their path. Other times they swam a few meters down, giving Eric the perfect motivation to practice longer breath holds while free diving. Swimming alongside these elegant creatures was so enthralling that it felt like time stopped. We were completely present in the moment, noticing every detail of their movement. We could have stayed there all day. What an unforgettable experience!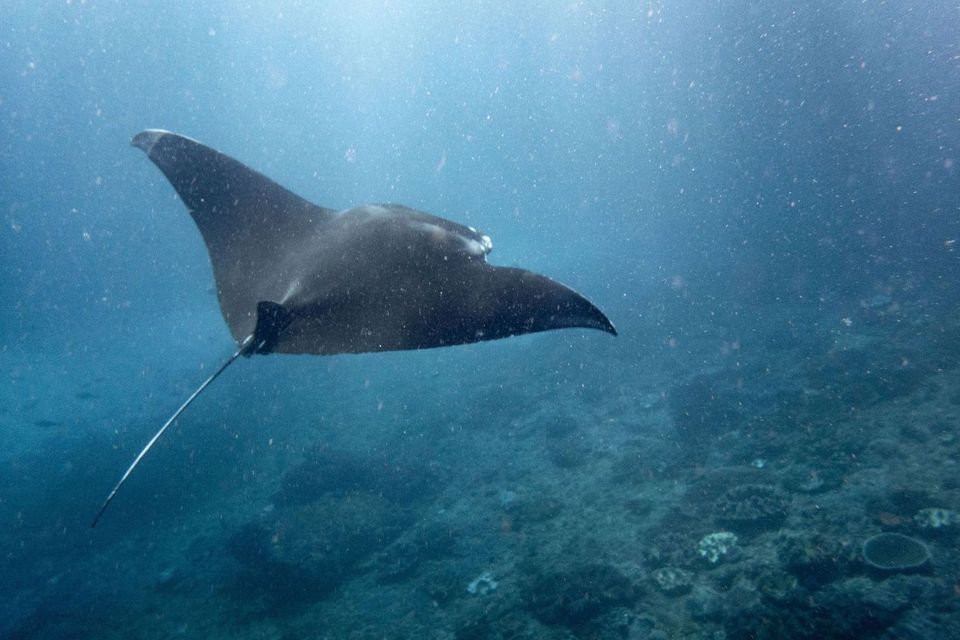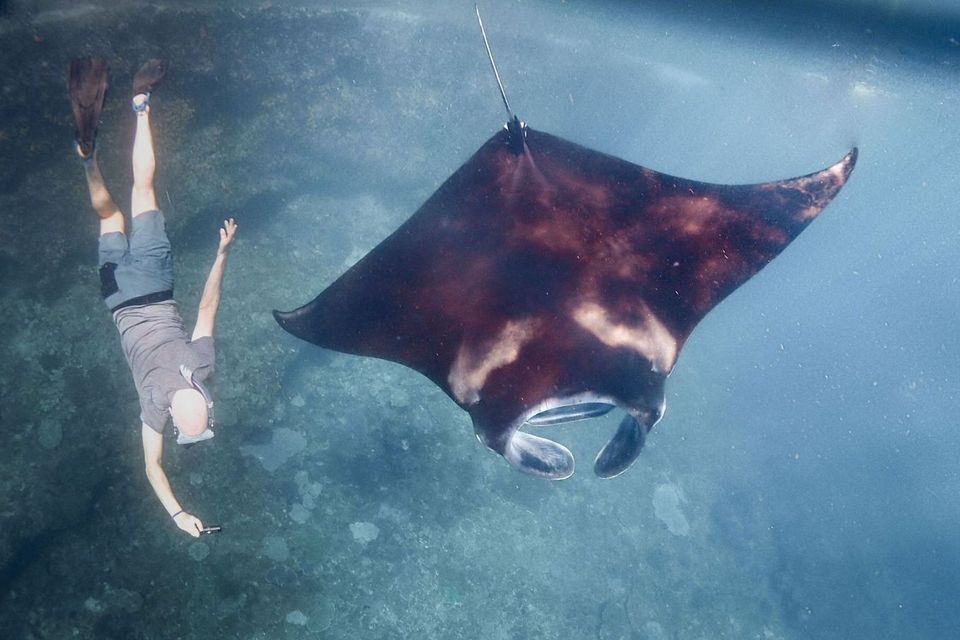 Synchronized swimming — photo by Aquaman.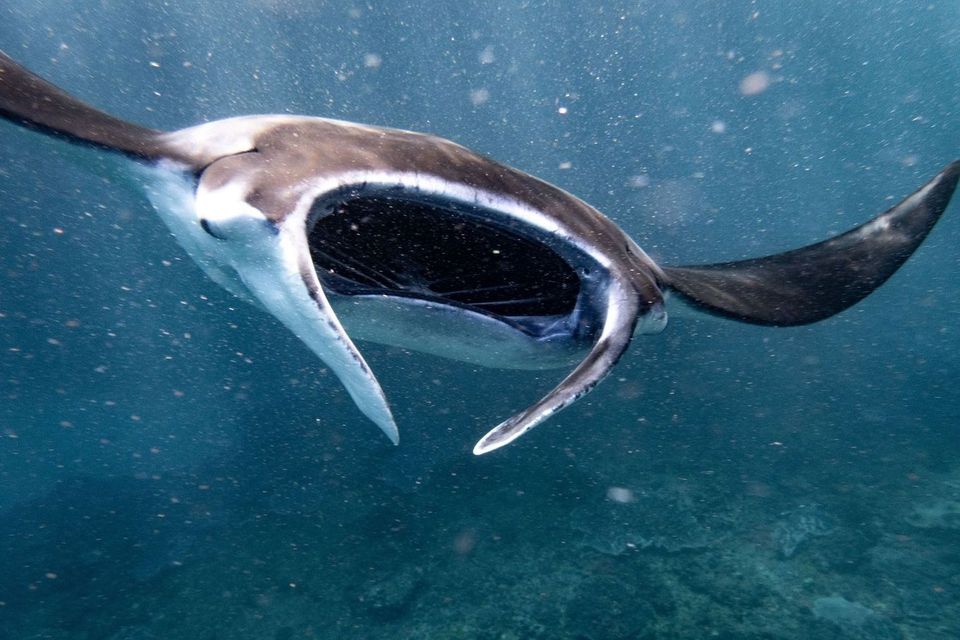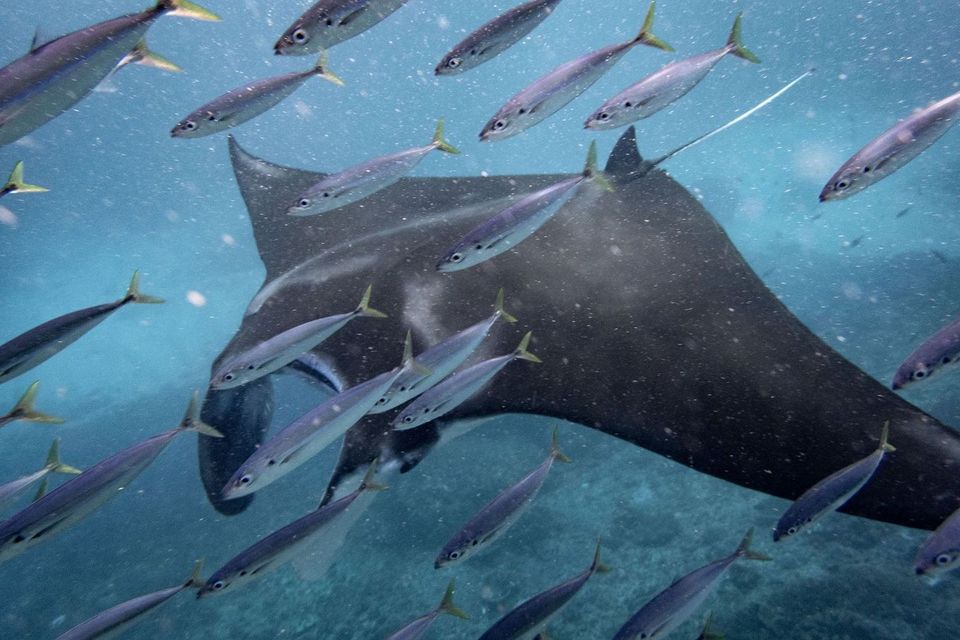 Days 10 - 12: Free diving and exploring
The last few days have been a dream. We haven't yet left Nusa Lembongan, and we're already planning a return visit. Eric completed his level 1 Molchanovs freediving certification and had a blast. His instructor Agustin was fantastic, and Eric's freediving technique improved so much in such a short time. While Eric was diving in the ocean, Bea had the freediving shop's 20-meter-long pool all to herself, and had a great time swimming laps. After class, we swam and snorkeled in the bathtub-warm bay.
When we were not in the water, we explored the island by scooter. There are very few cars on the island, and many of the roads are too narrow for a car anyway, so renting a scooter is the best way to get around. No one wears (or rents) helmets around here, but thankfully the driving, just like the pace of life, is fairly slow.
Here's an interesting fact: seaweed farming is one of the main sources of income in Nusa Lembongan. As we rode around the island and flew our drone, we enjoyed seeing the pretty patchwork of shapes made by the seaweed farms just offshore - they look like giant strips of nori! When we snorkeled near the farms, we could see endless rows of string tied to stakes, serving as a trellis for the seaweed to grow on. It looks a lot like grape vines in a vineyard, only underwater.
Every evening, we watched sunset from the beach. We saw farmers hauling huge baskets of seaweed ashore from their little boats. We were amused by local kids playing in the water and trying to balance four-at-a-time on a stand-up paddleboard. And we ate fantastic food at several different waterfront restaurants.
One last note about this paradise island: we were blown away by the friendly, helpful, and trusting attitude of everyone we met. On our first day here, we went to a little donut stand, only to realize we didn't have cash with us. The owner insisted that we have some donuts anyway, and pay later. Needless to say we went back every day for more fresh donuts and to chat with the genial owner! Staff and owners of other establishments were equally kind and helpful. In just a few days here, we got to know so many locals and expats, and everyone made us feel so welcome and at home.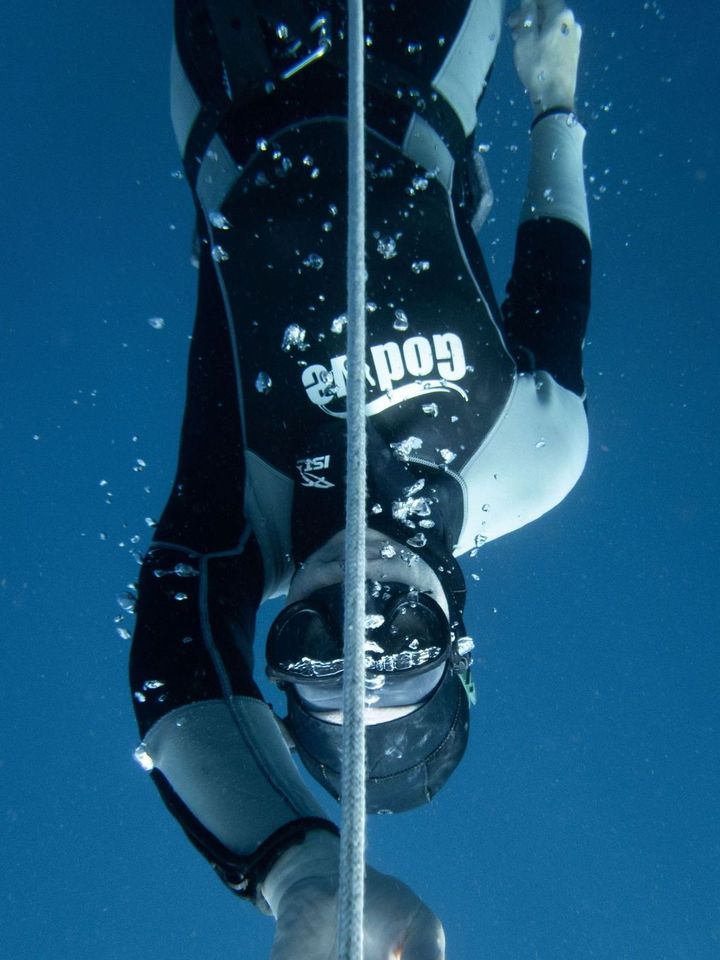 Eric freediving — photo by instructor Agustin.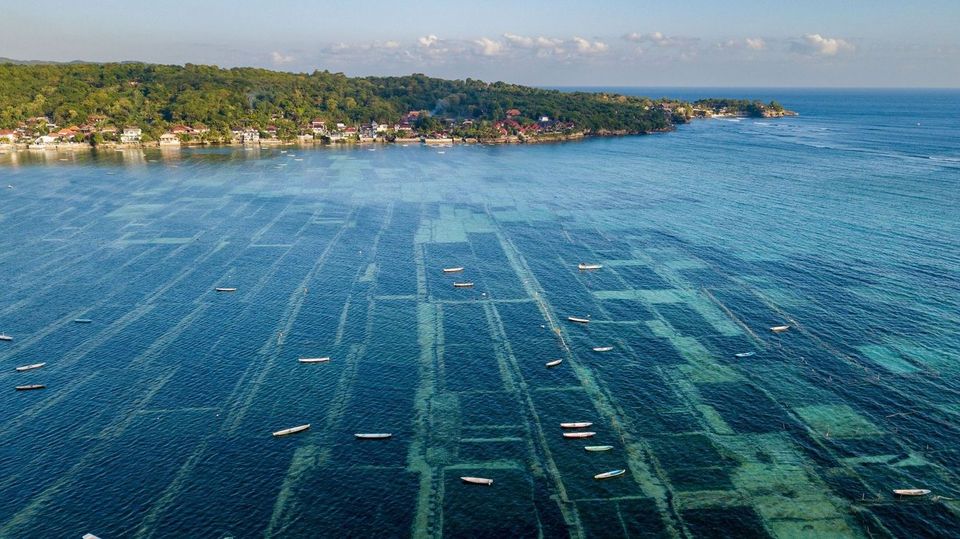 Seaweed farms.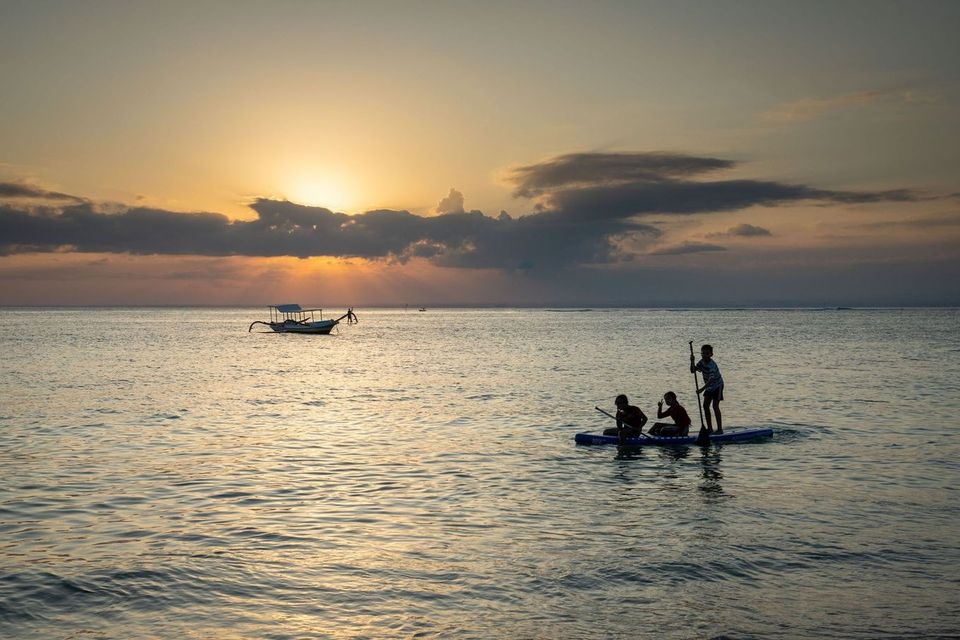 Day 13: Back to Singapore
Today we took the fast boat back to Bali and then caught our flight to Singapore. With only one night left before our long-haul flight to Seattle, we dropped our luggage at the Crowne Plaza Hotel and set out to explore Singapore's Changi airport.
Ordinarily, we don't have much to say about airports. They typically range from frustrating to moderately functional. Changi airport, on the other hand, is not just spacious, comfortable, and well-equipped — it's also a bit of an experience. We spent a little while checking out the butterfly garden, and then headed to see the world's tallest indoor waterfall. The HSBC Rain Vortex drops seven stories in the center of the Jewel Changi, a giant domed multi-level mall connected to the airport terminals by walkways and elevated trains. We were there in the evening, so we got to witness the dramatic sound and light show — though to be honest, the architecture and plummeting cylinder of water are the real highlights.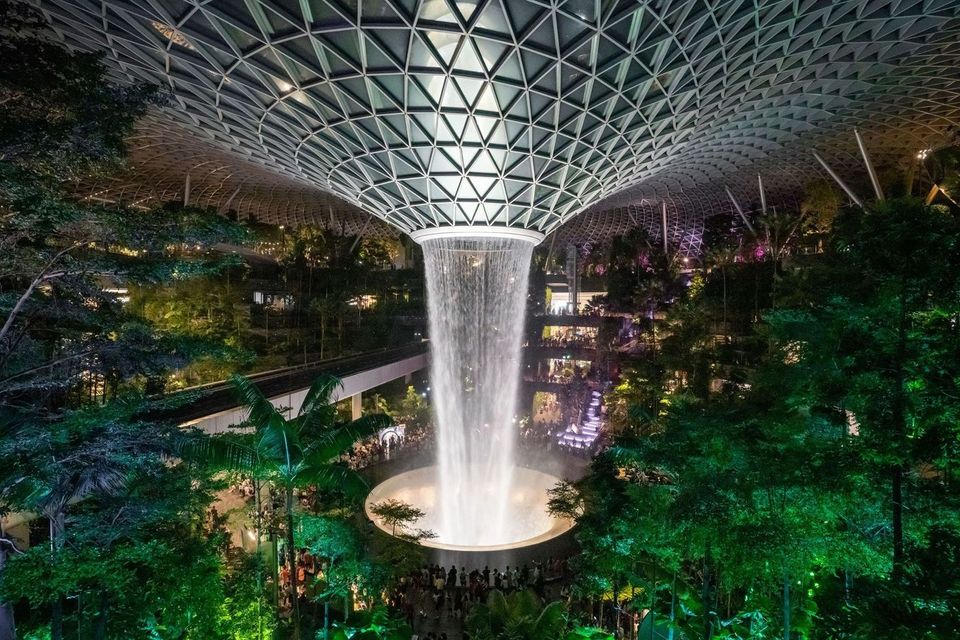 Rain Vortex in Jewel Changi Airport.