Puerto Rico
December 2022
Day 1: San Juan
We still can't believe that we managed to escape to Puerto Rico for this holiday season! So many things almost went wrong with our flights, but in the end we were incredibly fortunate with how things turned out.
It started with a snow storm in Seattle and then the snow got packed down into ice on our hilly street. Then the weather forecast called for a giant winter storm to sweep across the US and Canada — a "bomb cyclone" that would bring record low temperatures along with heavy snow and ice. Around 200 million Americans were facing a winter weather advisory on the night of our departure, and flights were getting canceled across the country. We suspected our midnight flight might be delayed or canceled, but we hailed a Lyft to drive us to the airport just in case. The driver was barely able to stop on the icy slope of our street, making us even more nervous. Conditions improved as we drove, raising our hopes… until we got to the airport access road, where traffic slowed to a crawl. We inched along in a huge line of cars, wondering if our flight would actually leave on time while we were stuck in a traffic jam. After an interminable hour, we squeezed past the car accident that had led to the backup, and eventually arrived at the airport. We hustled through check-in and security as quickly as possible and rushed to the gate. Incredibly, the flight was departing on schedule and we were there in the nick of time!
We learned later that shortly after our plane took off, temperatures plummeted and freezing rain turned Seattle into an ice skating rink. One neighbor sent us videos of a police car that crashed on our street and a policeman sliding down the sidewalk on his butt! Another neighbor shared a video of a car sliding down their hill, hitting a parked car that slid into the next parked car, and so on, causing a domino effect of entangled cars all sliding together down the street. That day, 64% of flights from Seattle were canceled and 30% were delayed. We were in the lucky 6%. We had similar luck with our connecting flight in Houston, and landed in San Juan just as the sun was setting… so beautiful! We felt extremely grateful for being in Puerto Rico.
A big billboard featuring Daddy Yankee and Jennifer Lopez welcomed us at the airport. Yep, we're definitely in Puerto Rico. When we stepped out of the airport it was already dark, and the temperature was 79F (26C)! Despite not having slept in 38 hours, we felt happy and energized. As soon as we checked in to our hotel in the lively Santurce neighborhood, we walked over to Calle Loiza — the place to be on a Friday night for locals. We have a long list of traditional Puerto Rican foods we'd like to try on this trip, so we headed straight to Ana's Cafe. We had the mofongo (a traditional dish made with mashed plantains) topped with shrimp in criollo sauce (a traditional red sauce), empanadillas de queso (similar to Argentinian empanadas, but smaller and fried), and tres leches (a sponge cake soaked in 3 kinds of milk and topped with cream). Everything was so good, but the empanadillas were our favorite.
We walked around a little to soak in the lively evening atmosphere. Puerto Ricans really do know how to party! Reggaeton music blasted from the clubs, beautiful women were dressed up in tight clothes, and men paraded their flashy cars and loud motorcycles up and down the street. It felt like we were inserted right in the middle of a reggaeton music video. Eventually exhaustion caught up with us, and it was time to go back to the hotel and sleep.
Day 2: Bioluminescent bay, Vieques
Breakfast at Kasalta bakery was memorable. We tried two more Puerto Rican foods on our list: pan de Mallorca, which is a spiral-shaped bread topped with powdered sugar, served toasted with butter; and pastelitos de bacalao, which are croquettes filled with a creamy mixture of salted cod and potato. Both were so good we might have to repeat them. We then headed to the airport for the third flight of our trip. This time we took a small plane, and Bea got to ride shotgun, which she loves! The short flight was thrilling and scenic, and we arrived in Vieques in no time.
Vieques is a small and laid-back Puerto Rican island off the east coast of the main island, where the sun always shines and the pace of life is slow. We checked into our boutique hotel (Malecón House), and headed straight to the Rompa Dieta Lula food truck for more Puerto Rican food. This time we had pastelillos, alcapurrias, bacalaítos, and papas rellenas, all offered with different fillings. Our favorite? It's a tie, between the pastelillos de carrucho (conch empanadas) and the papas rellenas de langosta (fried mashed potato filled with lobster). We spent the rest of the afternoon on the nearby beach, and watched a beautiful sunset.
Later that night, we took a kayak tour to see the bioluminescence in nearby Mosquito Bay. We took a similar tour in the Cayman Islands a few years ago, and really enjoyed it. The experience here in Vieques was even better though, with a higher concentration of the particular plankton that causes the effect. Trillions of them reside in this bay, absorbing nutrients and sunlight by day, and emitting a blue flash of glowing chemicals when jostled at night. The effect is spectacular when kayaking across the bay on a moonless night, with each stroke of the paddle surrounded by a swirl of shimmering blue light. We were in a transparent plastic kayak, so whenever we looked down through the hull, we saw thousands of tiny blue sparkles zipping past as we glided across the water. We could see our own hands shimmering after dipping them in the water. The entire experience was quite magical!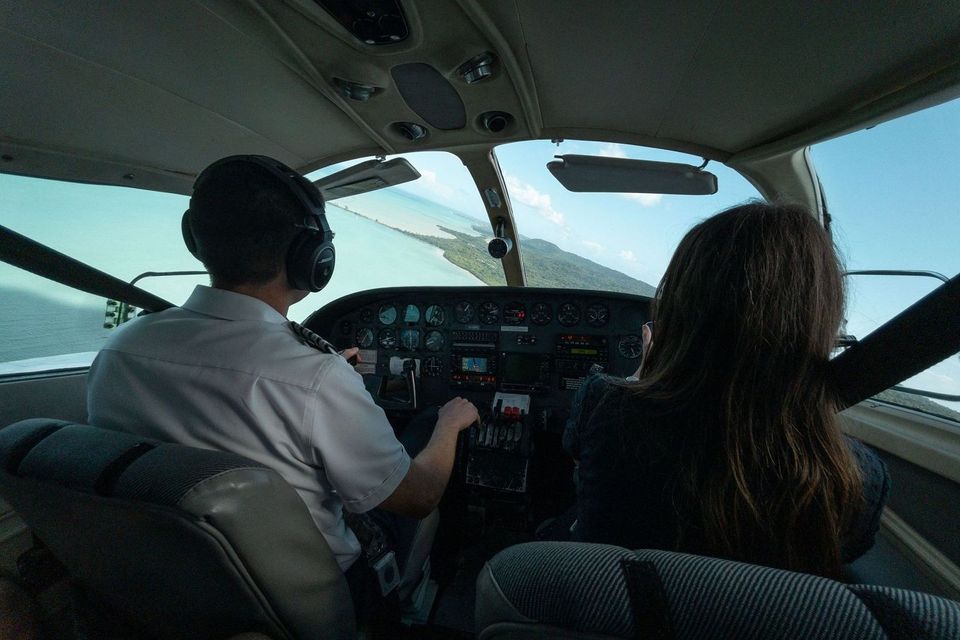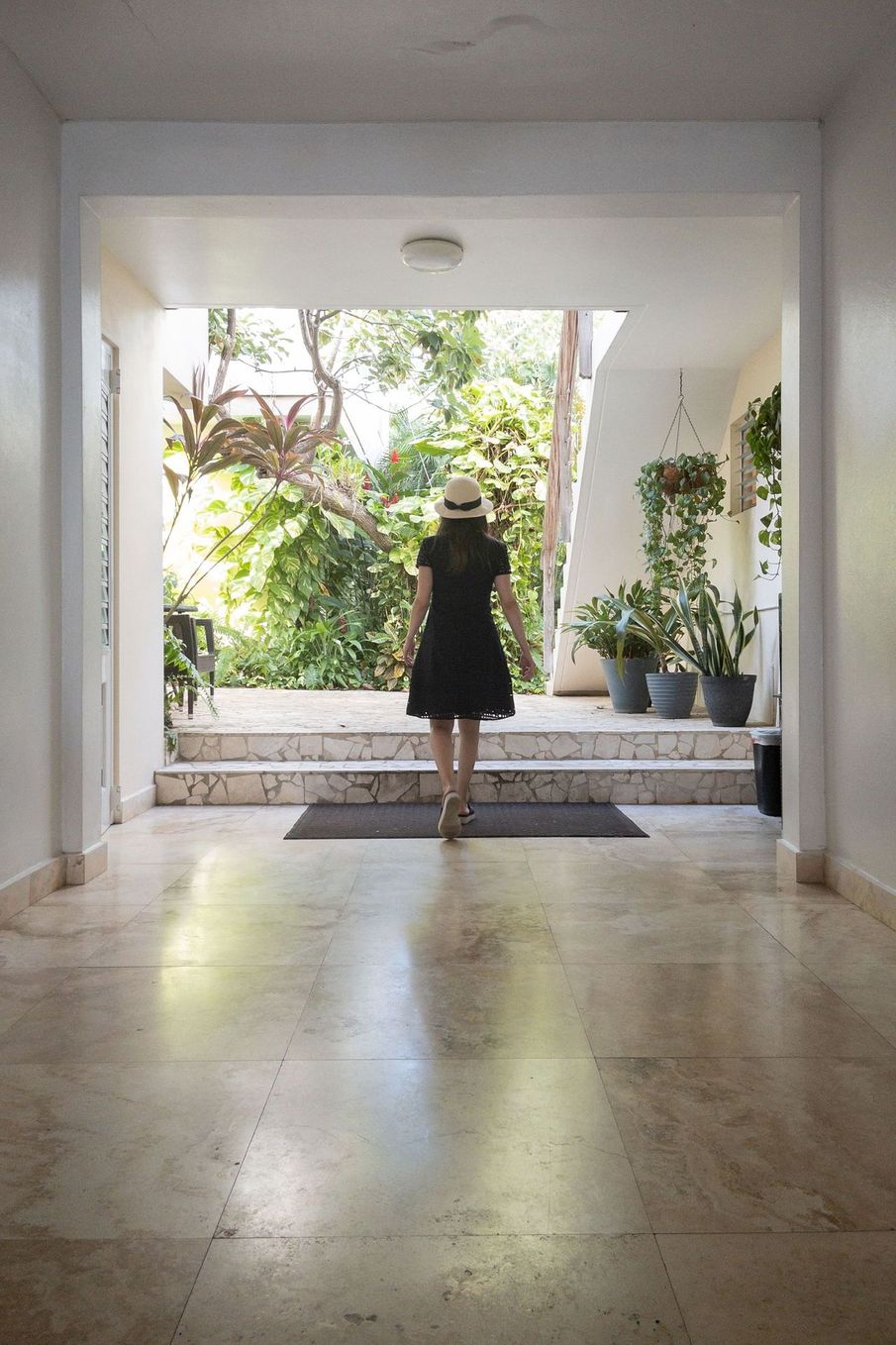 Our hotel: Malecón House.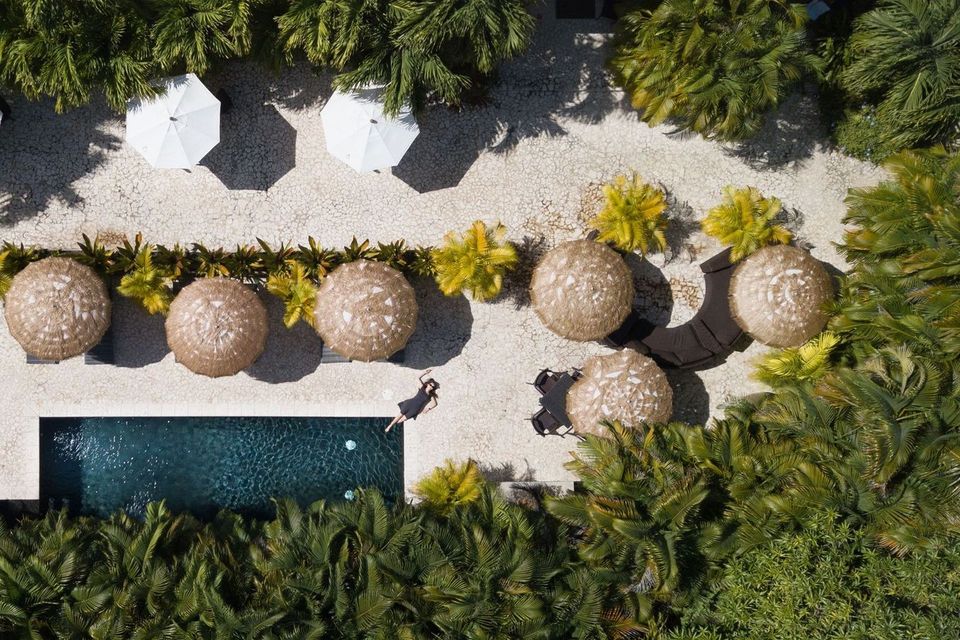 Our hotel: Malecón House.
Day 3: Cayo de Tierra, Vieques
After a lazy morning and a great brunch, we accomplished something new: we triple-islanded. Having flown to Puerto Rico on a jet and to the smaller island of Vieques on a small plane, today we waded in knee-deep water across a submerged sandbar to the tiny island of Cayo de Tierra, off the south coast of Vieques. (Can the recursion continue indefinitely, like the Mandelbrot set? How much smaller can the islands get?)
It was fun to explore the Cayo, and very satisfying to find a beautiful and secluded two-person beach waiting for us. We relaxed, we swam in the ocean, and after a while we spotted a sea turtle swimming nearby. What a pleasant way to spend the afternoon! By the time we walked back to the hotel, the sun was setting and the wild horses were frolicking on the beach. A fun Christmas for everyone!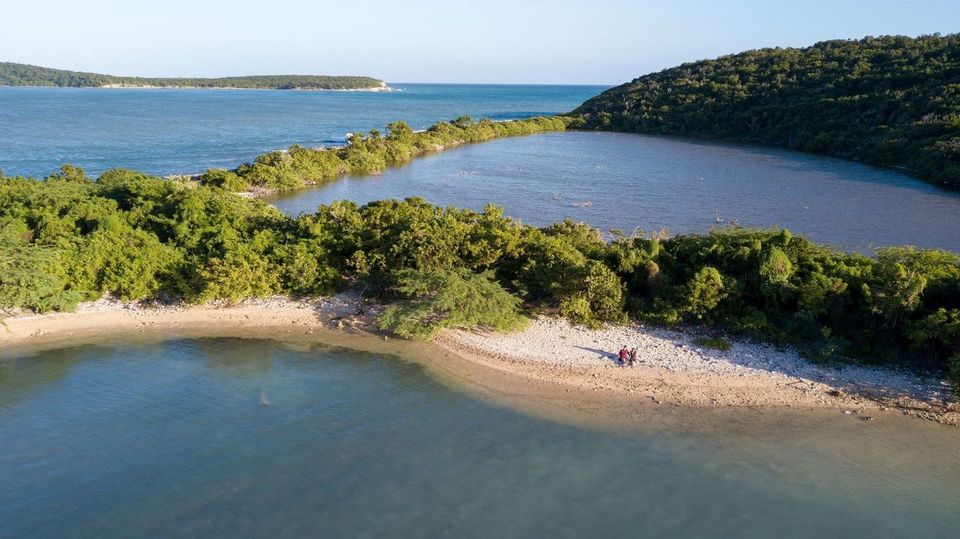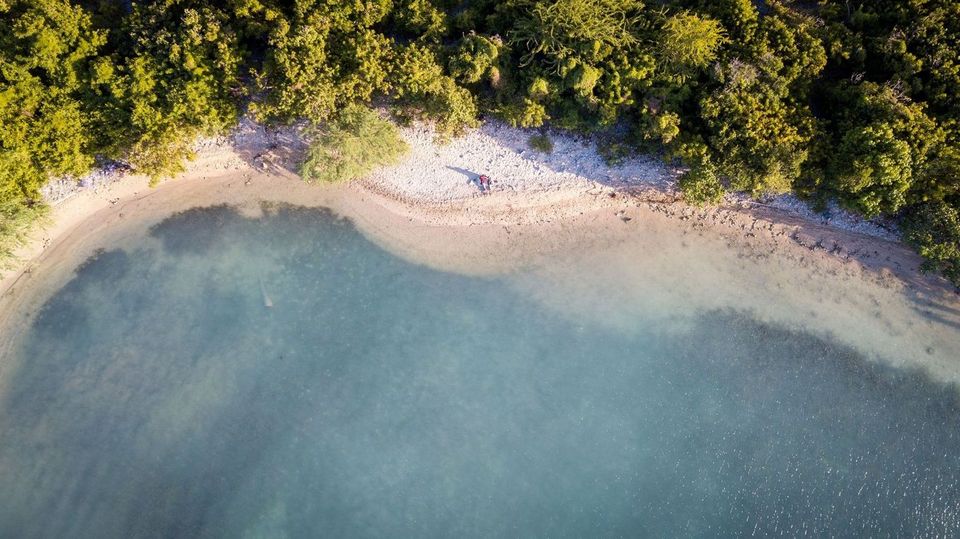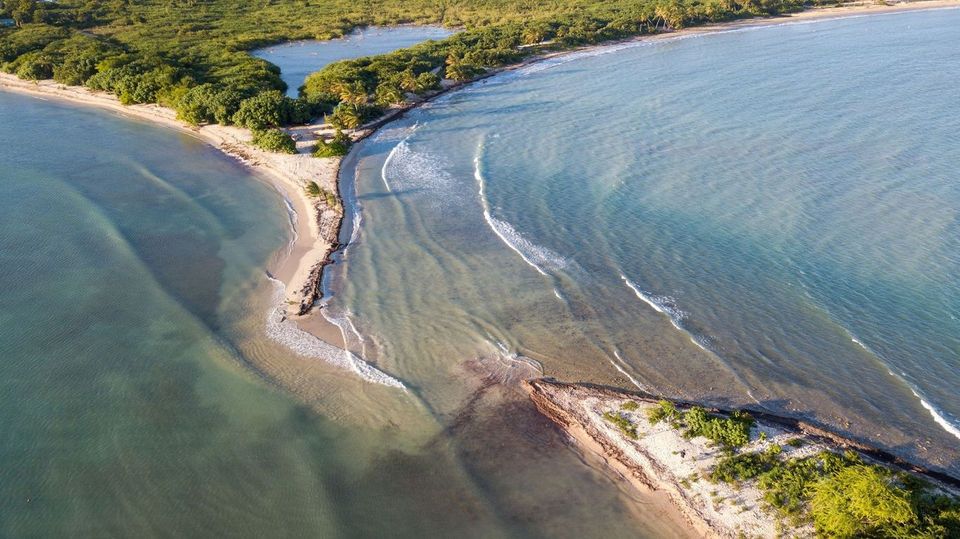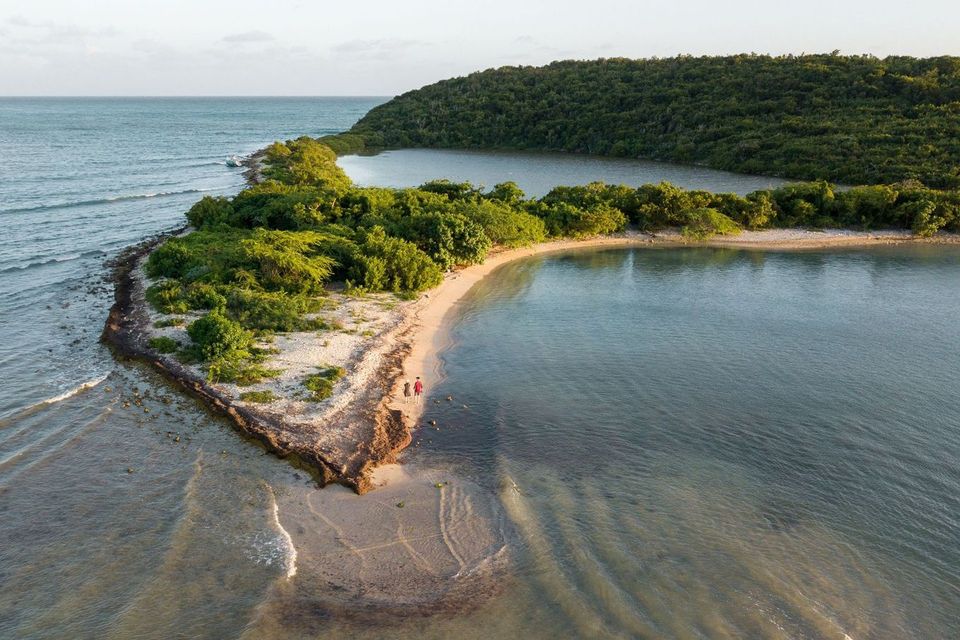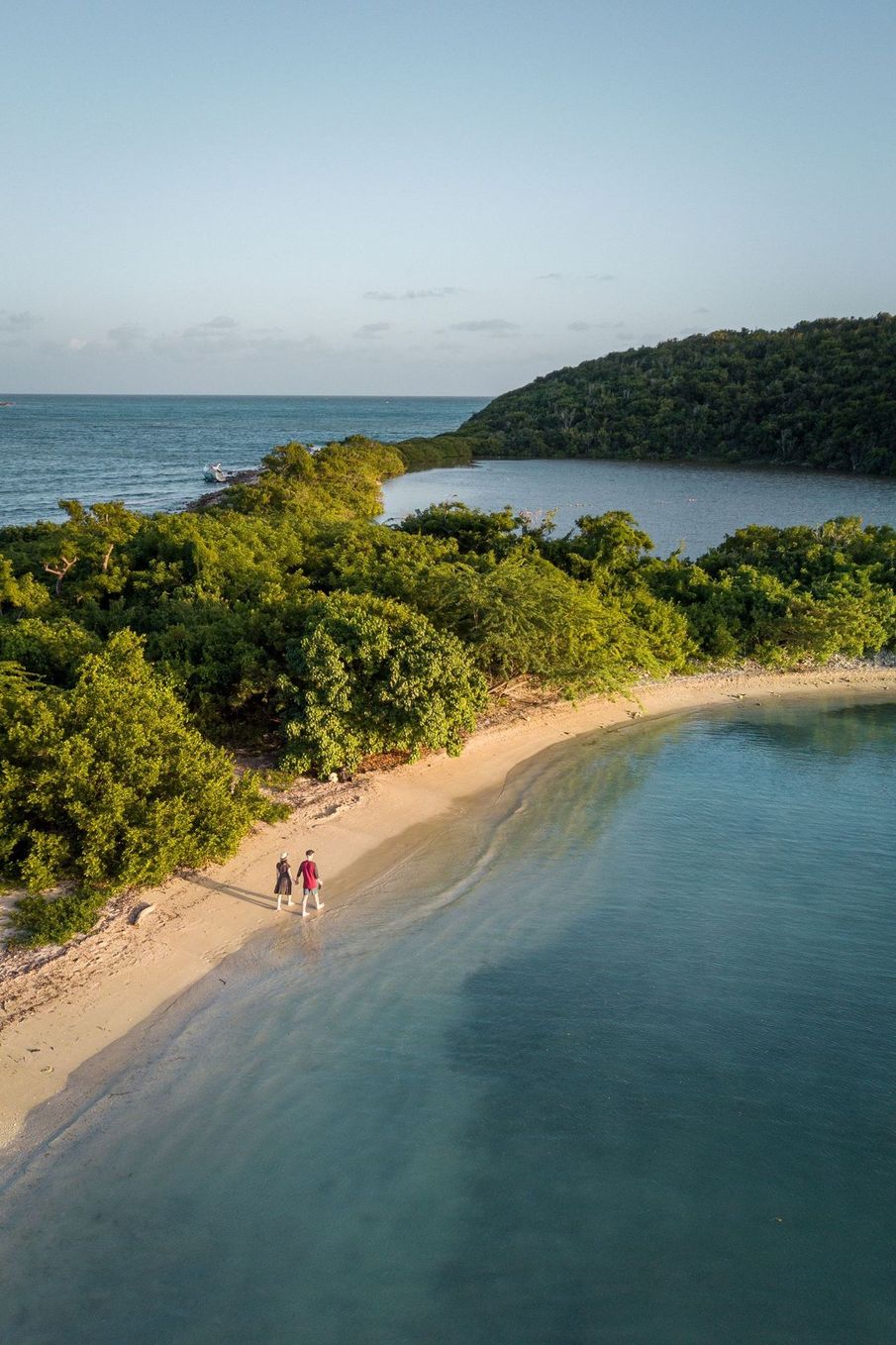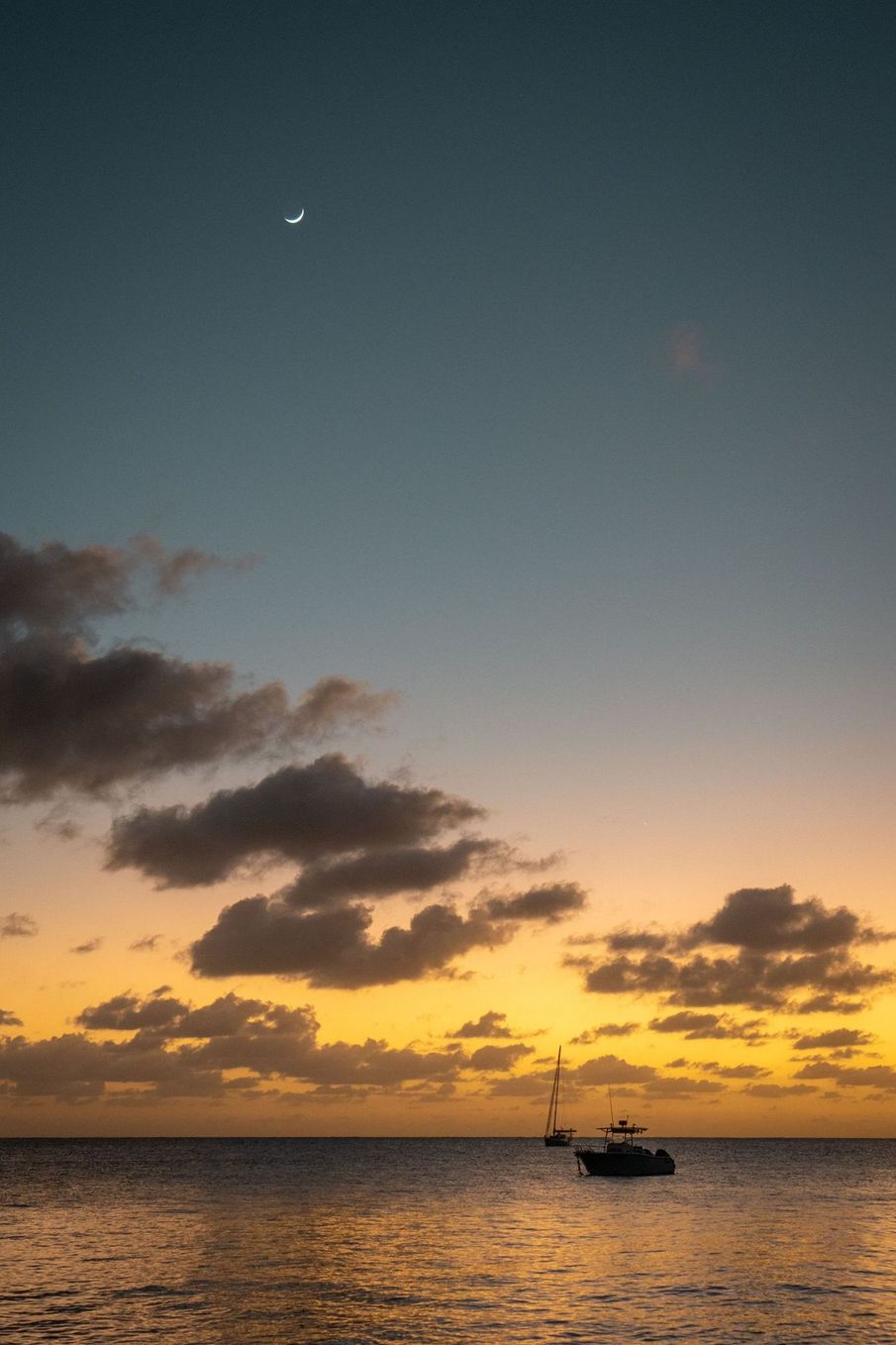 Day 4: Sun Bay, Vieques
We're making good progress on our list of Puerto Rican foods to try. Among other things, today we had the local version of rice and beans, as well as amarillos (fried sweet plantains). We loved the fried plantains so much that we want to make them at home.
After a relaxing morning and an excellent lunch, we decided to explore more of the nearby beaches. We walked to the end of Esperanza beach and then along the full length of Sun Bay beach. There were plenty of locals and tourists enjoying the sun, sand, and waves — but with around 2 miles of shoreline, it was easy for us to find a secluded spot of our own, sheltered by coconut palm trees. The breeze was perfect and the sound of the breaking waves was so soothing, we almost fell asleep. We stuck around until after sunset, then on our return to the hotel, we enjoyed a romantic walk back on the beach by the light of the new moon.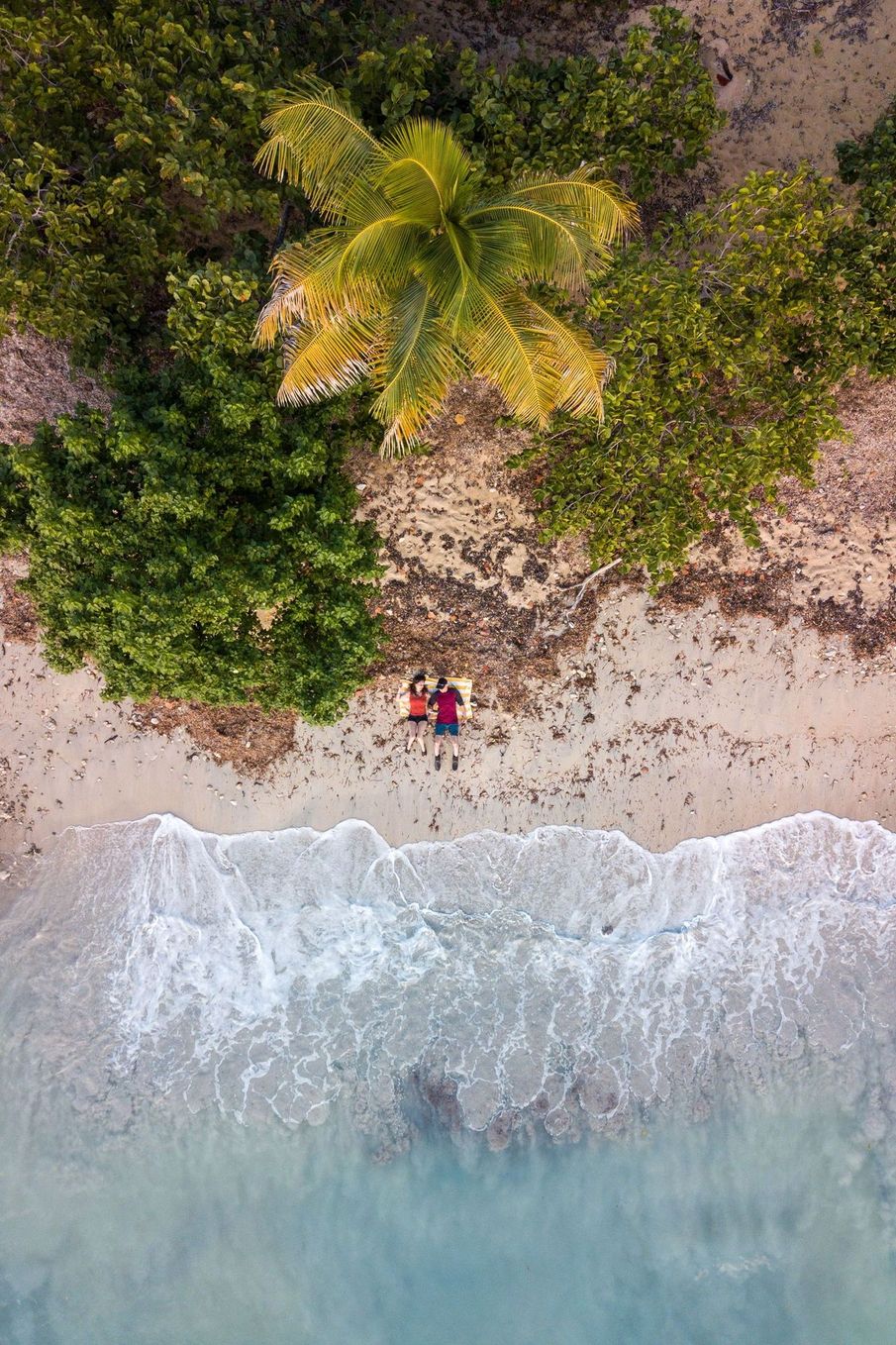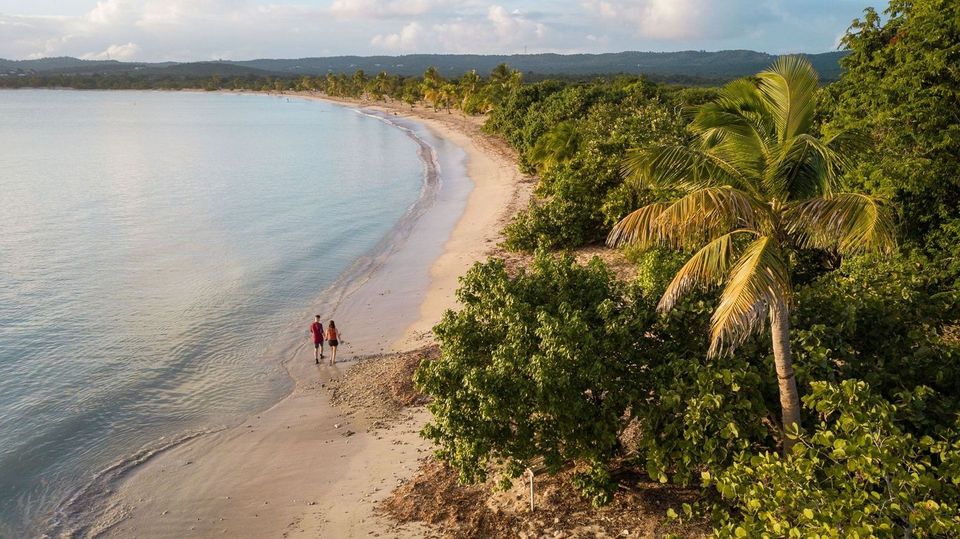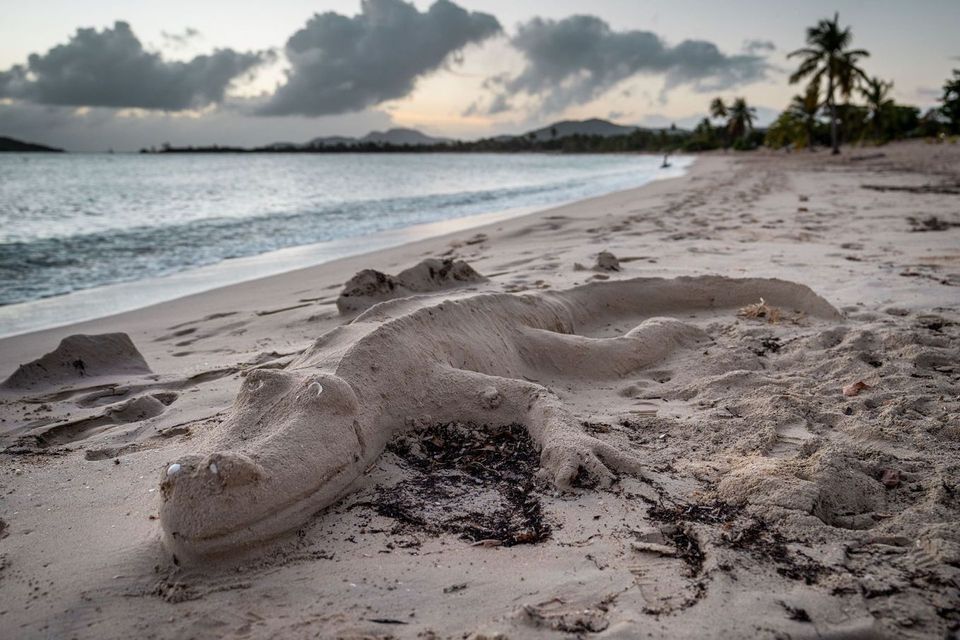 Day 5: Scooting around Vieques
Having already visited the nearby beaches, today we rented a scooter so we could explore more of the island. Fortunately, the scooter came with sturdy knobby tires, because the roads on Vieques are not exactly perfect. In fact, we rode on more dirt, gravel, and sand than pavement, and even when there was pavement, it was full of potholes (not to mention the obstacles left behind by the numerous wild horses). We never felt unsafe because everyone drives slowly here, but we were glad to have off-road motorcycling experience. Although the scooter certainly doesn't compare to our adventure motorcycle back home, it did just fine.
After exploring some of the backroads, we stopped at Caracas Beach. The water there looked so inviting that we went for a swim and floated in the gentle waves for a long time. After drying out in the sun, we got back on the scooter, and rode further down the coast. We ended up at La Chiva Beach, a long stretch of white sand with occasional palm trees and very few people. Another great spot for a relaxing walk on the beach. We rode around a bit more, making sure we were back before dark. All told, it was a very fun day!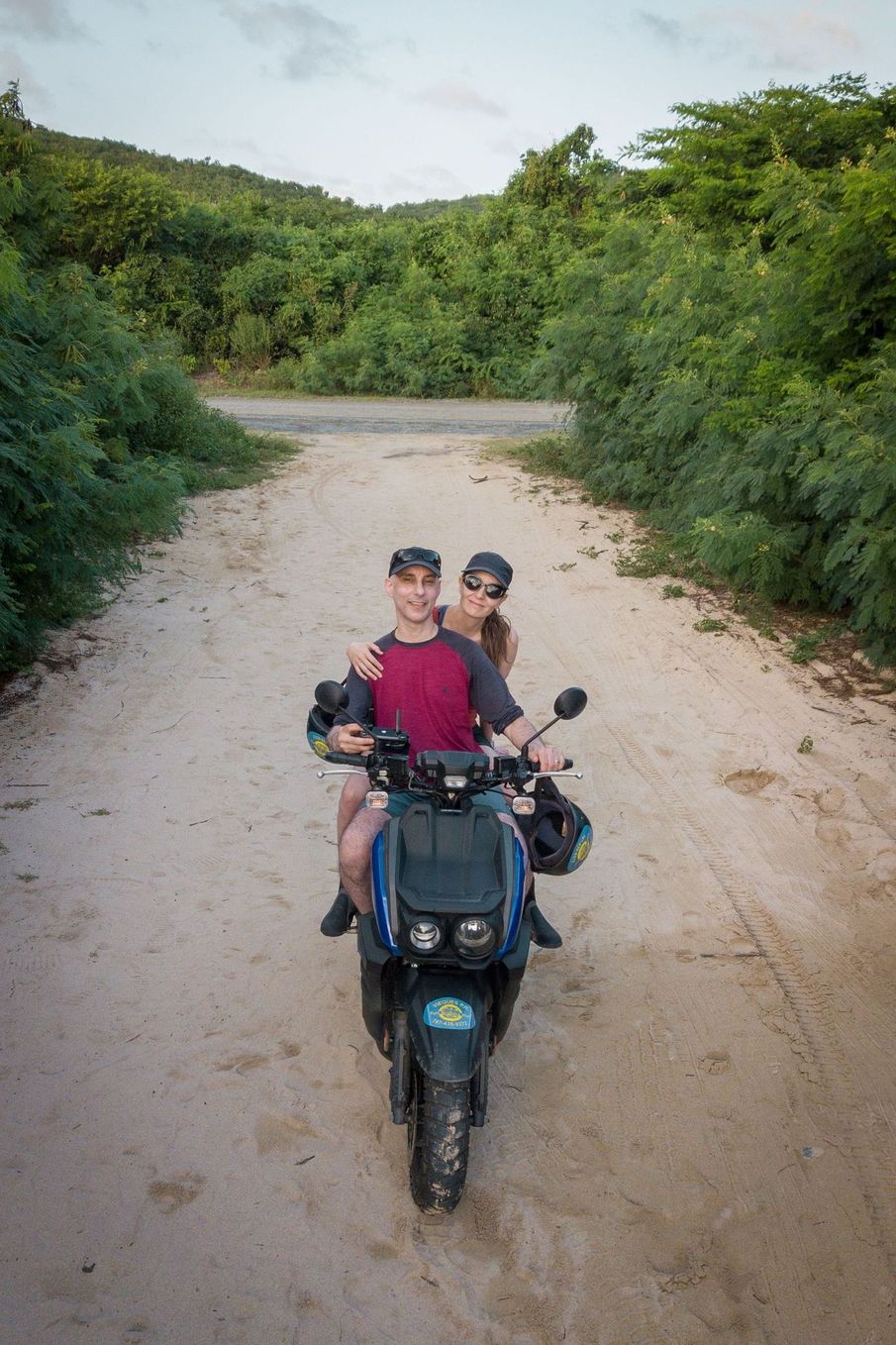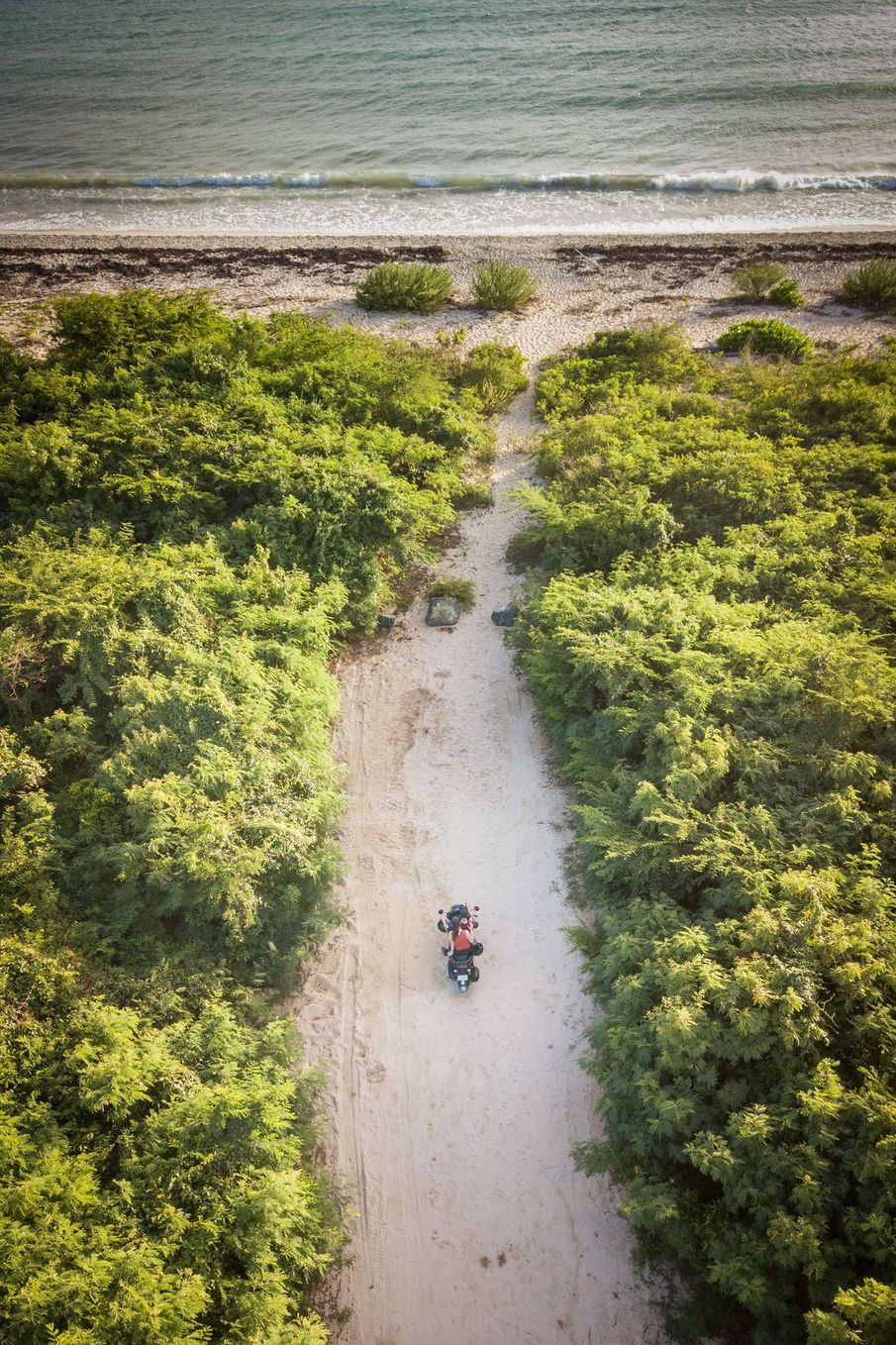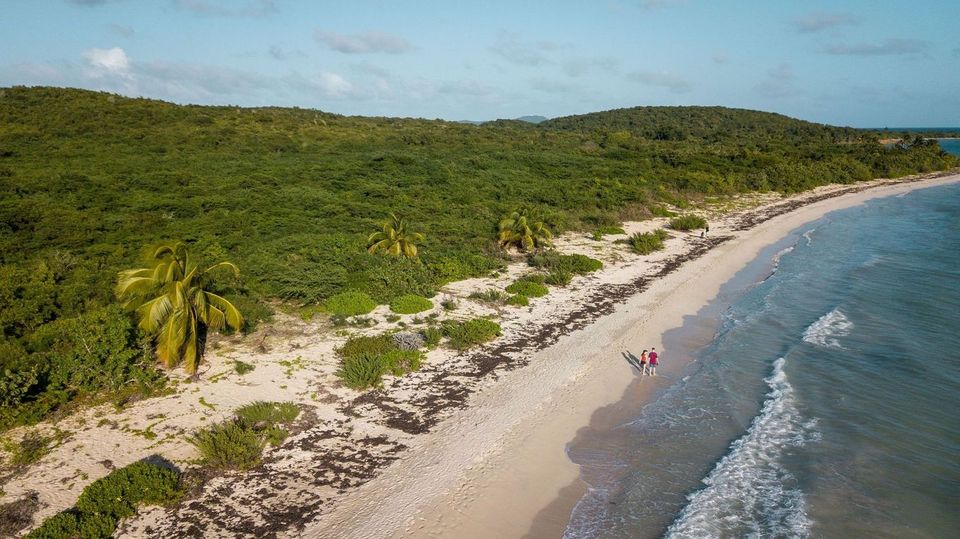 Day 6: Back to San Juan
This morning we boarded a small plane and returned to San Juan, where we are staying once again in the Santurce neighborhood. After a tasty lunch at La Coffeetera, we headed to Kasalta for dessert, where we sampled another Puerto Rican specialty on our list: a quesito. Imagine the filling of cheesecake, whipped into a light consistency, wrapped in puff pastry — it's heavenly!
We spent the afternoon exploring the neighborhood. This part of Santurce is full of contrasts: it's gritty and dilapidated, but also artsy, trendy, and happening. We saw fashionable boutique clothing stores, cute international restaurants with modern decor, and a free used book exchange made of milk crate shelves lining an entire outdoor wall. Creative murals of all styles adorn the sides of several old buildings, and there's a constant stream of fashion-forward people coming and going. We're having a lot of fun exploring Puerto Rican culture here.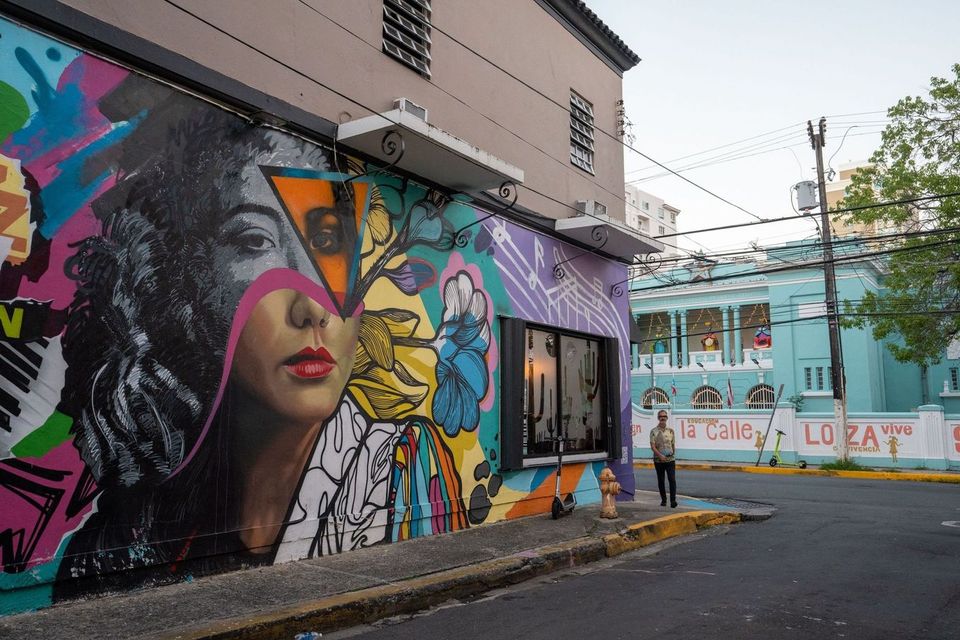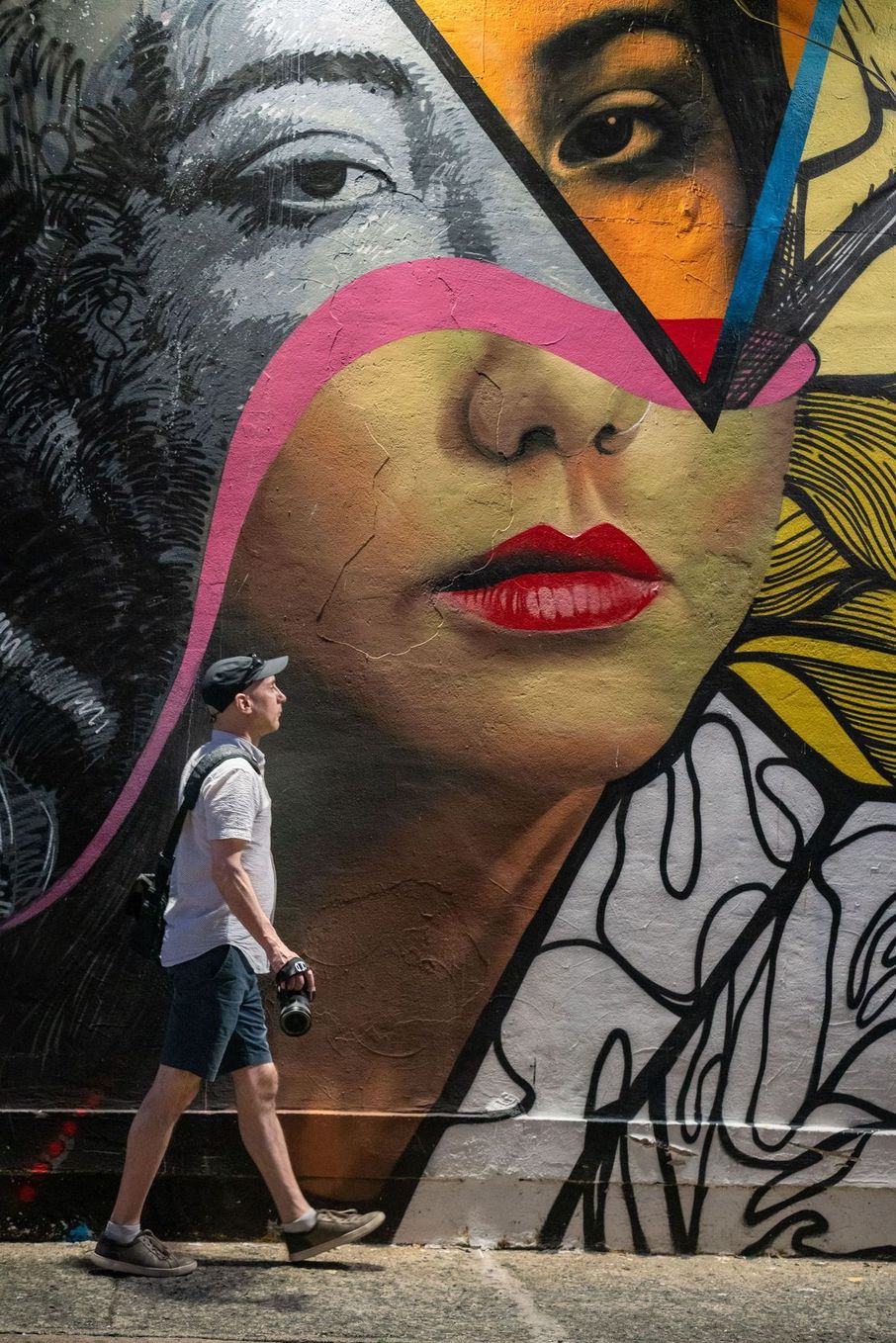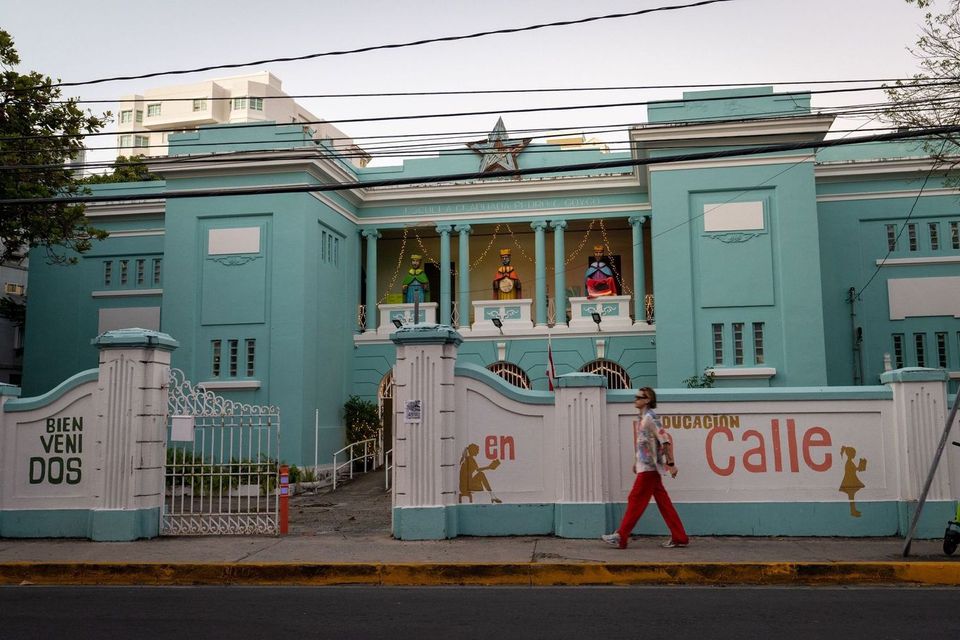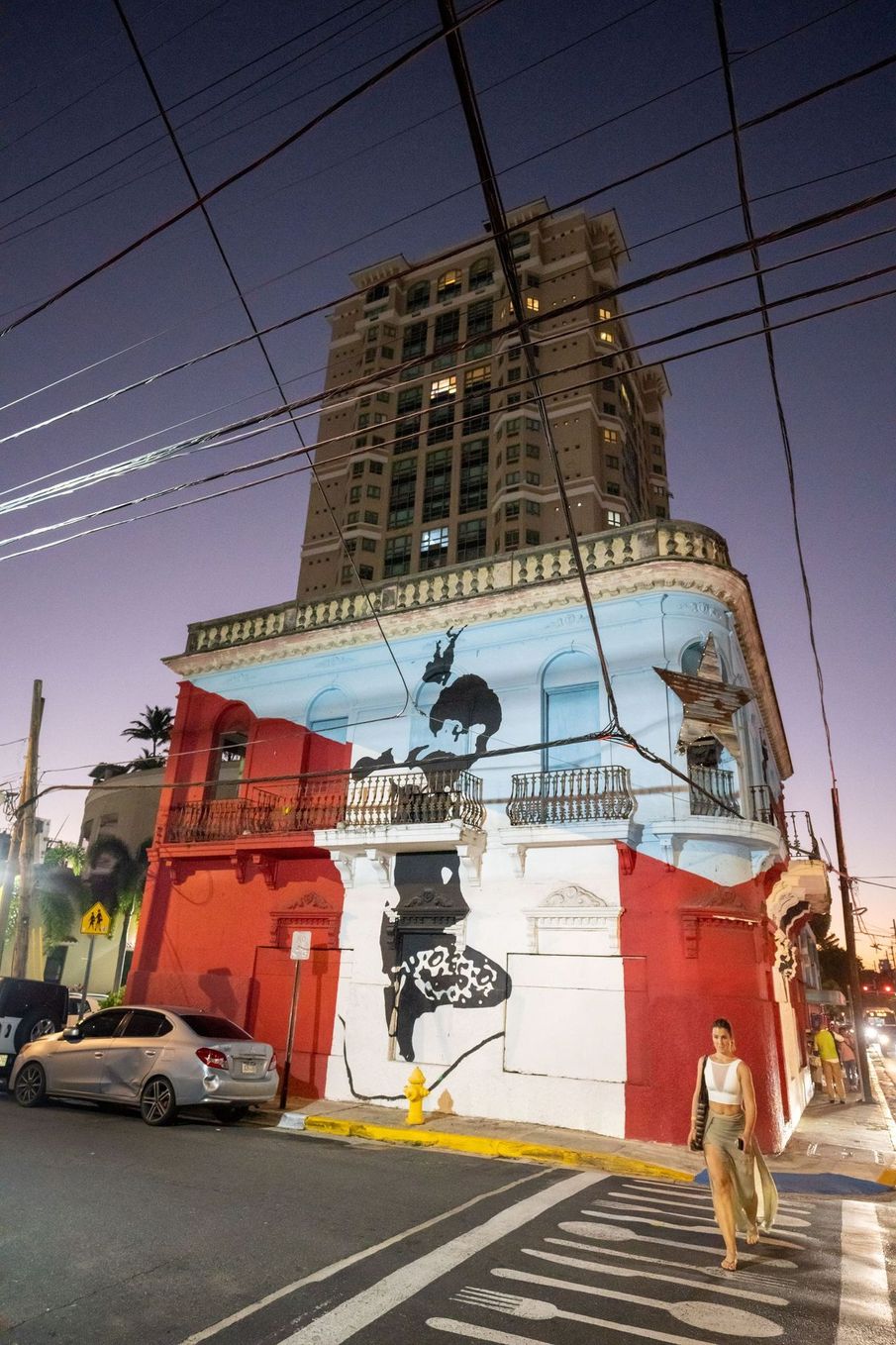 Day 7: San Juan's old town
Compared to the area in Santurce where we're staying, the old town of San Juan is precisely the opposite: it's pristine, charming, and sophisticated. Every house looks like it just got a fresh coat of paint. Many of the houses have been converted into Airbnbs or hotels, most of the restaurants serve traditional Puerto Rican food, and lots of people on the streets are tourists. We headed to the old town bright and early to meet Raúl, a local photographer that we connected with through Airbnb. Raúl showed us many of the old town attractions and took photos of the two of us in picturesque locations. We couldn't have asked for a better experience: we had a great time, learned a lot about San Juan, and came away with great photos.
Food was once again noteworthy. We had breakfast at Cafetería Mallorca, where we repeated two of our favorite Puerto Rican foods: quesito and pan de Mallorca. For lunch, we had great seafood at Cayo Caribe, and dessert at Chocobar Cortés made from their own local chocolate. Delicious!
We continued walking around the old town after lunch, enjoying the colorful houses, the colonial-era forts, and beautiful gardens. All this came with refreshing ocean breezes and frequent glimpses of the crashing waves.
Later in the afternoon, we went to the neighborhood called La Perla, made famous by the Despacito music video (which was the most watched video on YouTube between 2017 when it came out and 2020). We had heard that a tourist recently got in serious trouble after taking photos in the wrong area in La Perla. So we approached it with caution, and did what we always do in similar situations (ask us about Colombia next time you see us): we put the camera away, befriended a local, and asked what's safe for us to do. Bea used her best Portuñol to start a conversation with a guy named Carlos who turned out to be incredibly friendly and helpful. He told us where tourists are welcome to take photos, and how to avoid the alleys where drug deals go down. As we spoke with Carlos in front of his house, we noticed lots of eccentric decor, beginning with a mannequin in a stormtrooper helmet greeting us at the entrance. He saw we were intrigued, and invited us in to take a look. Inside the house, there was just enough space for a bed, a motorcycle, and a drum kit! The ceiling was draped with Christmas lights and the walls were decorated with three guitars. "I really need to get some guitar lessons to improve my skills," he humbly told us. Carlos certainly has an eclectic flair! He demonstrated true Puerto Rican hospitality, and could not have been more warm and welcoming to us. We're still smiling from our unique La Perla experience. 😀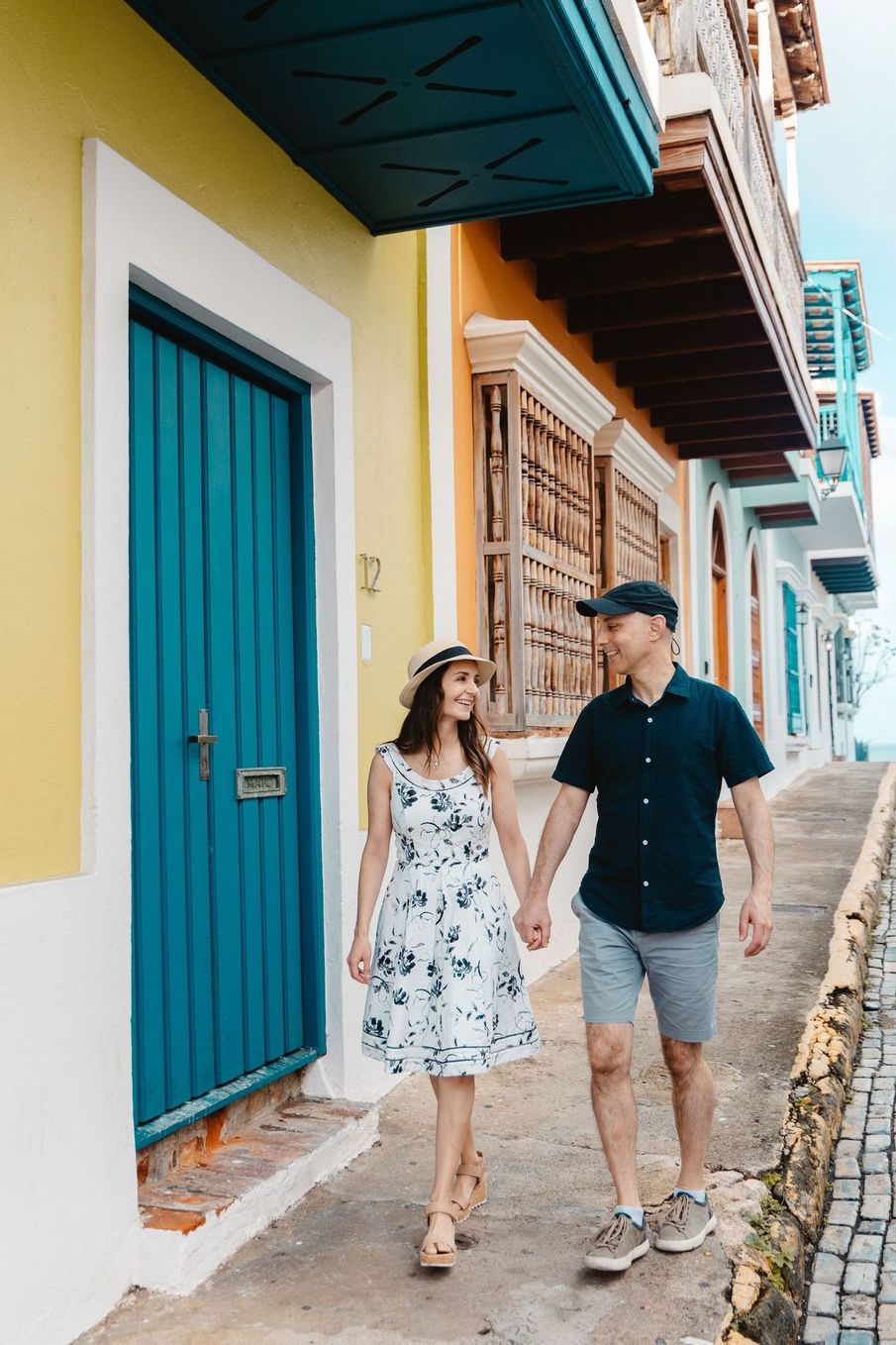 Photo credit: Raúl López Mestres.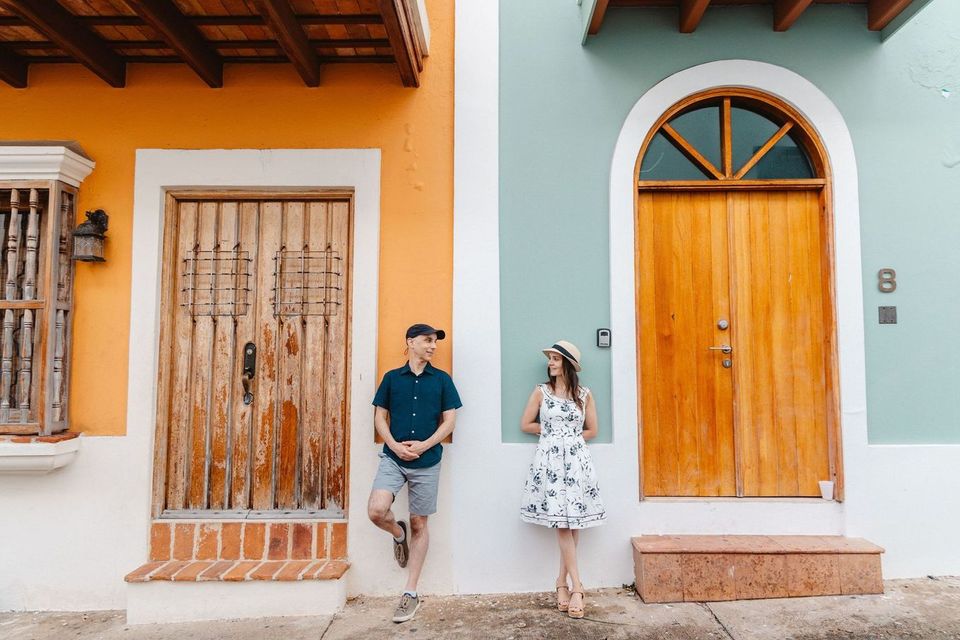 Photo credit: Raúl López Mestres.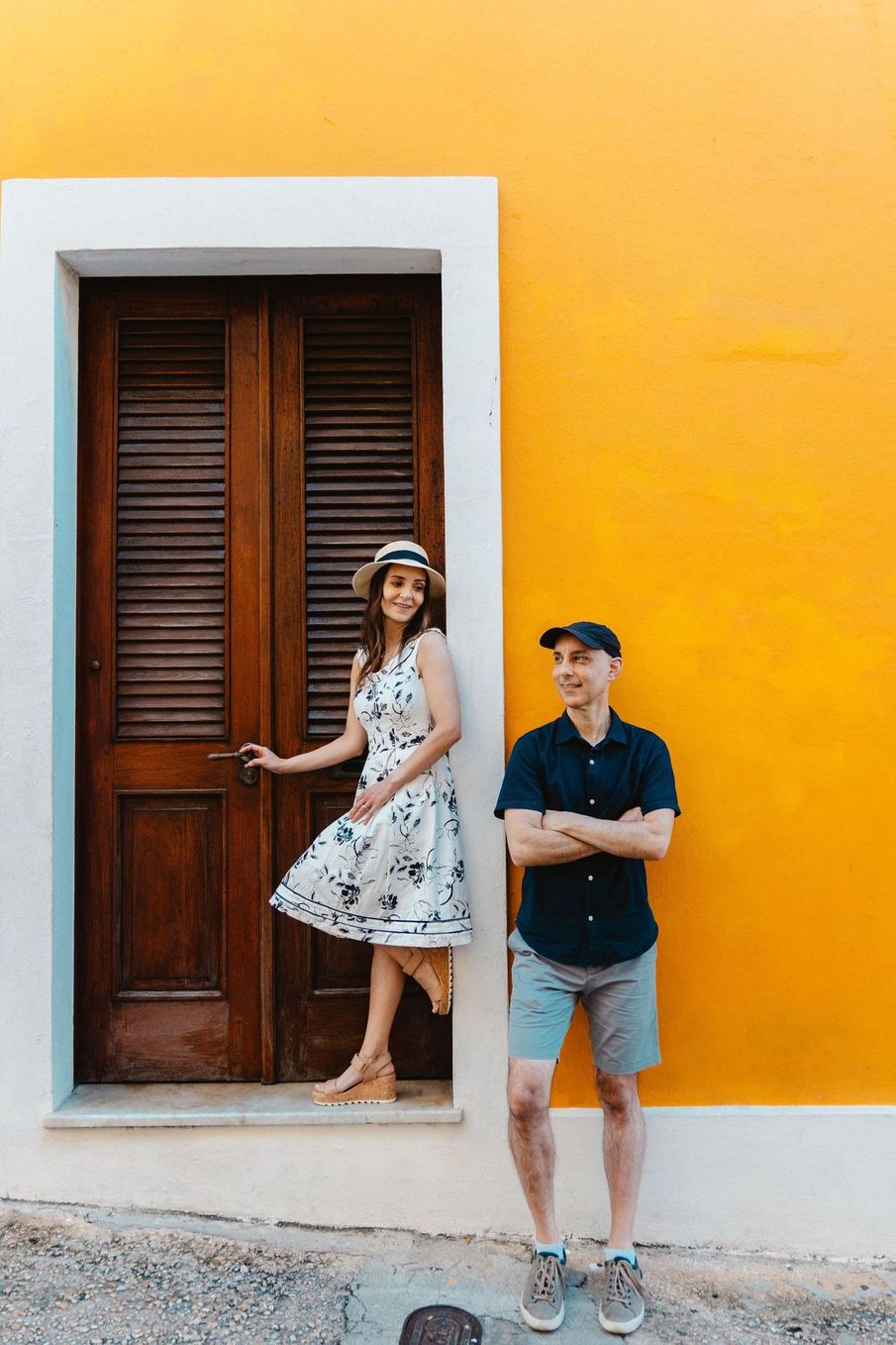 Photo credit: Raúl López Mestres.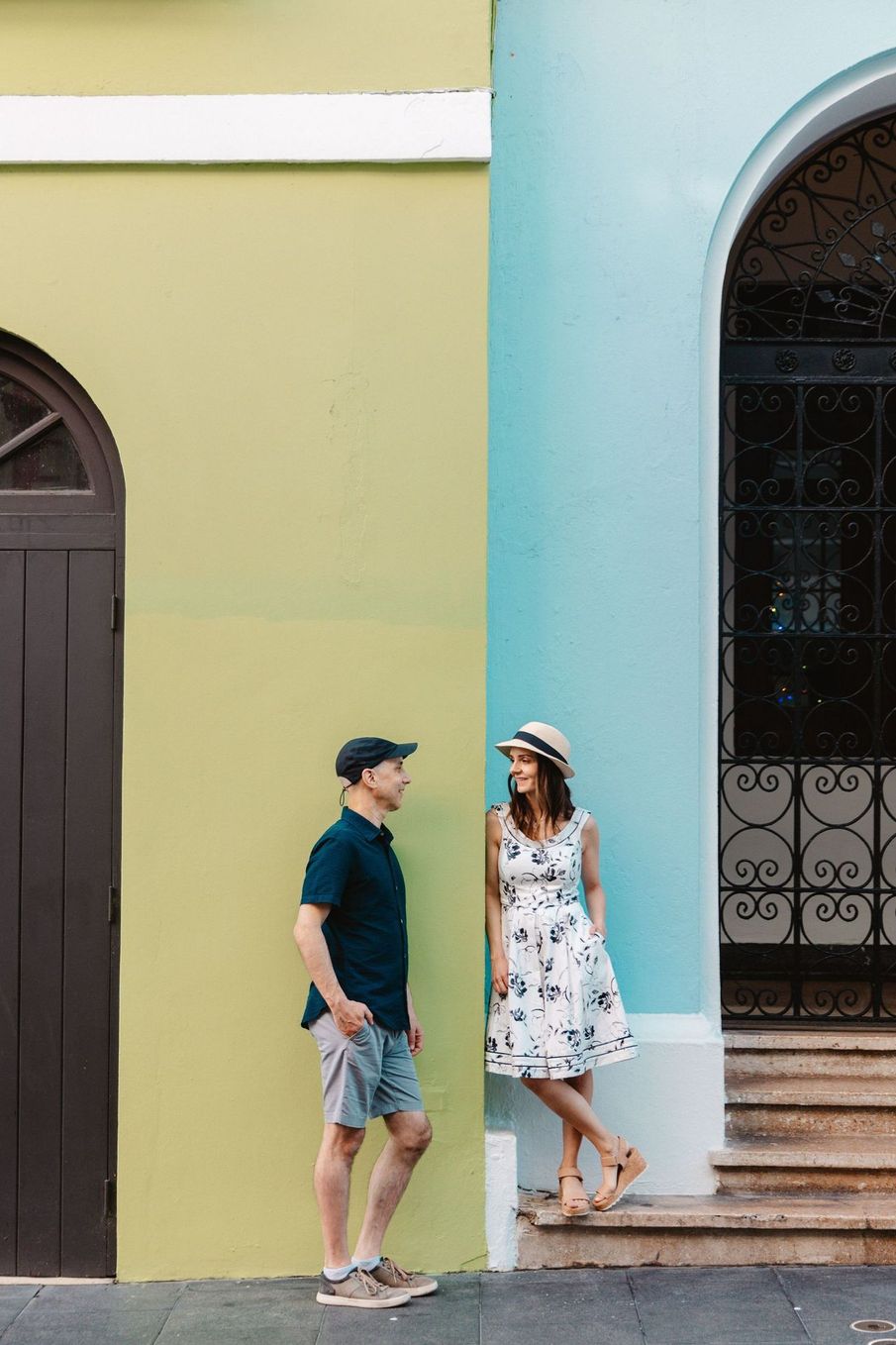 Photo credit: Raúl López Mestres.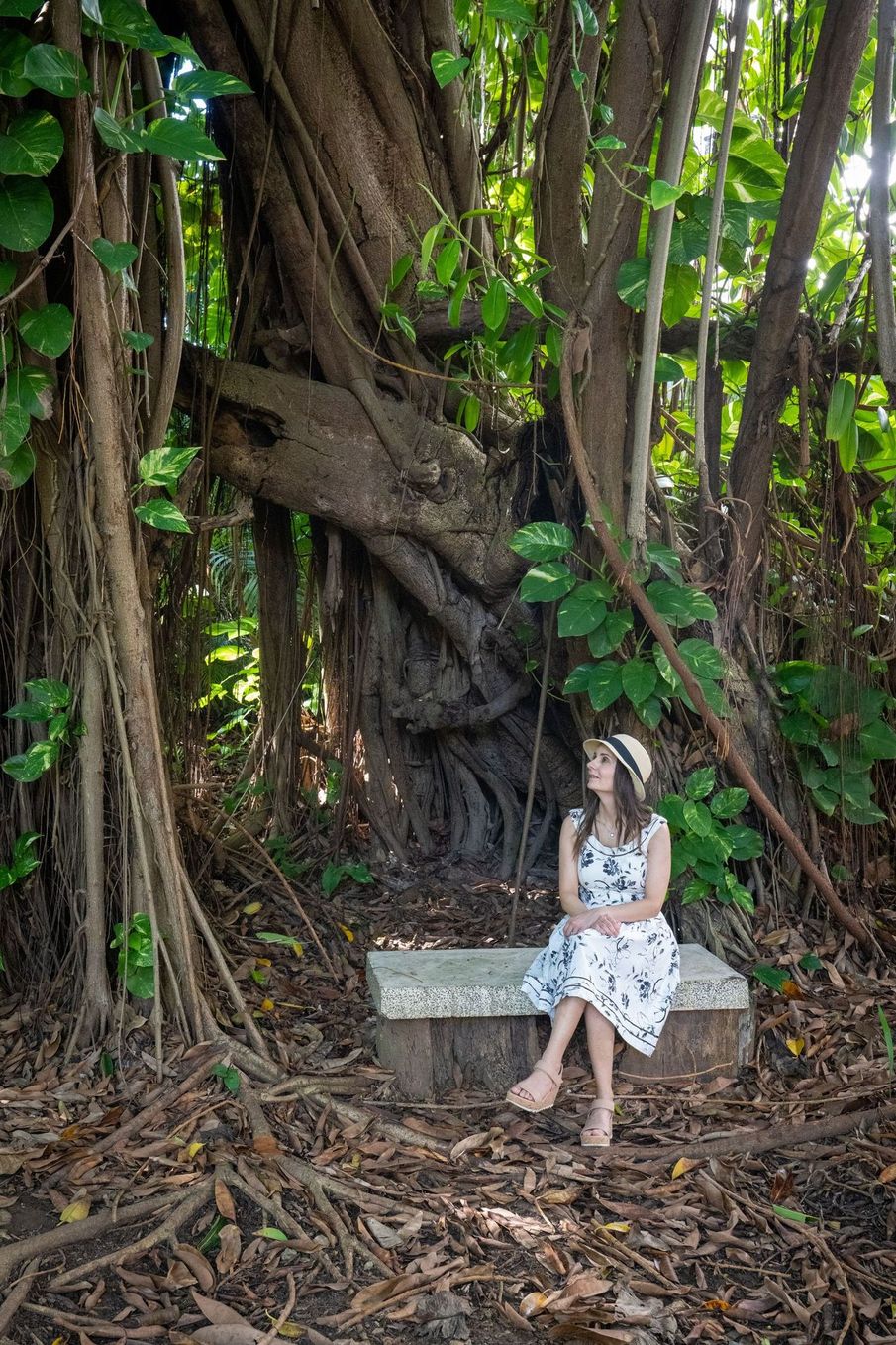 In the gardens of the Casa Blanca — a house built in 1521 for Juan Ponce de León, and now a museum.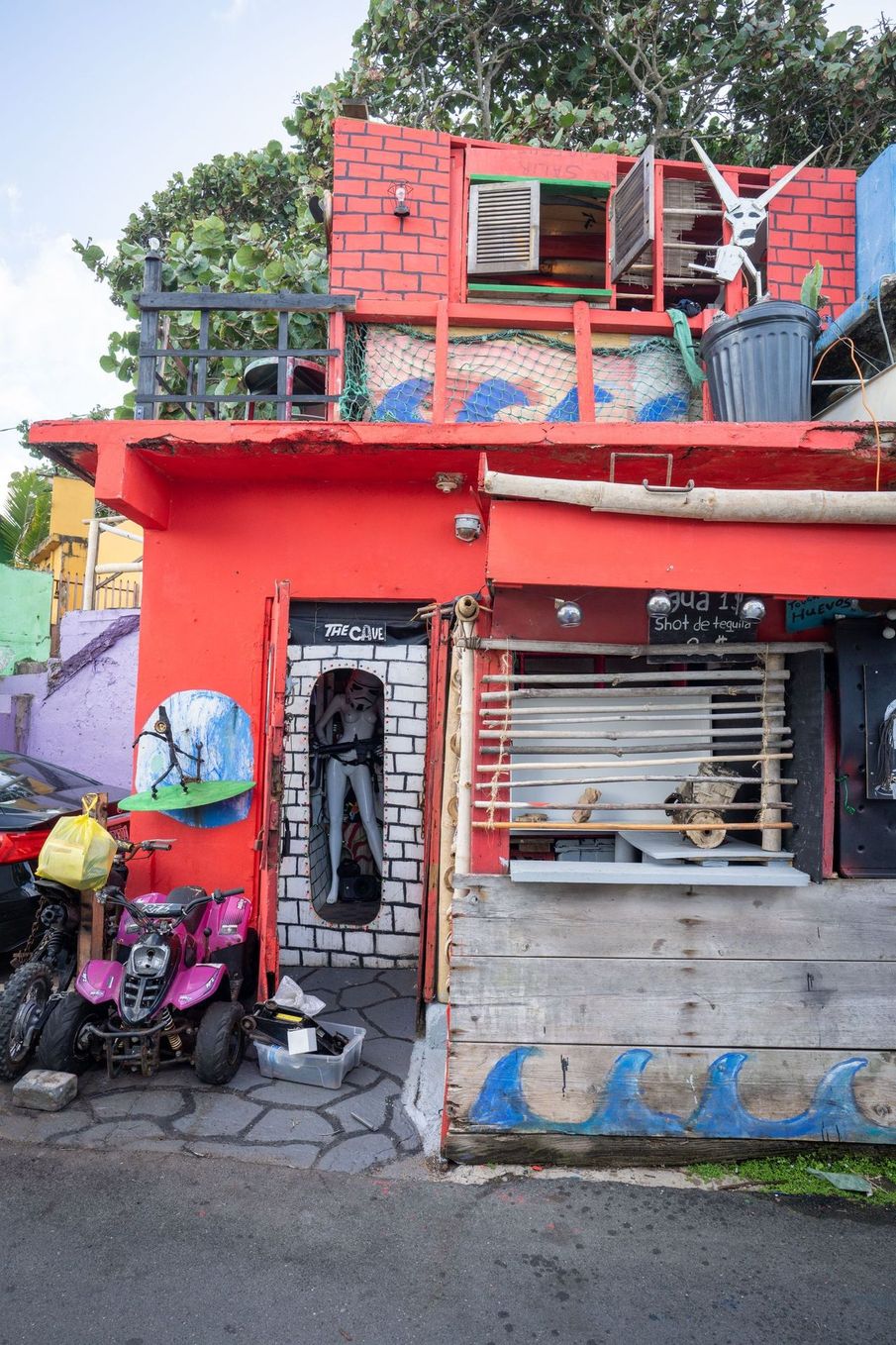 Carlos' house in La Perla.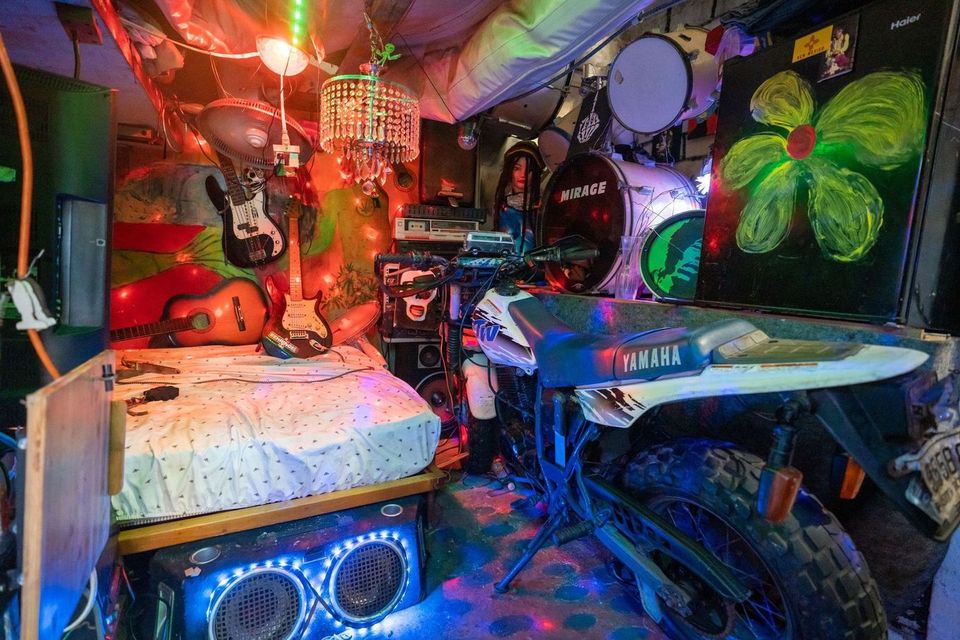 Inside Carlos' house.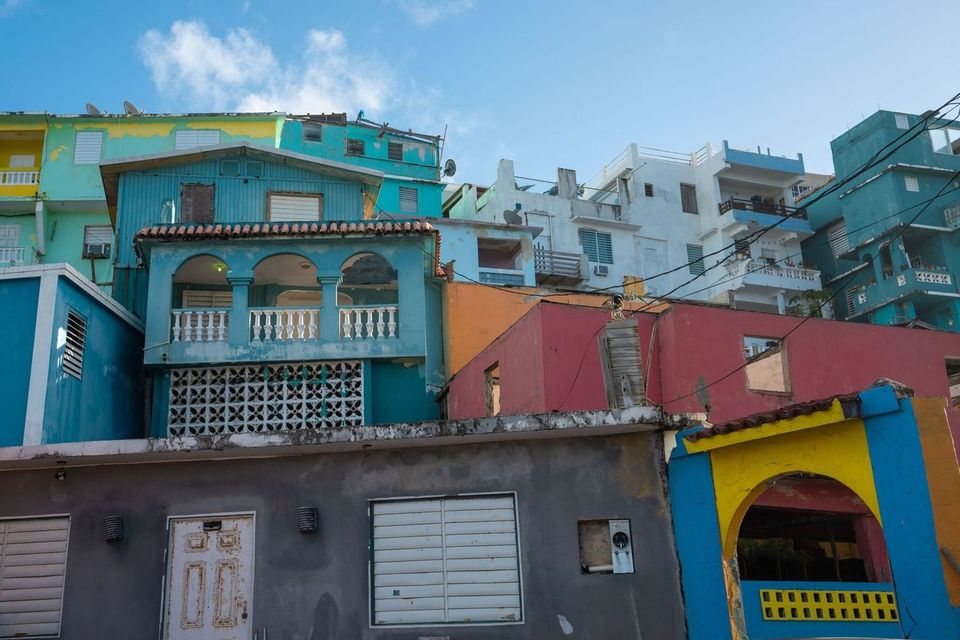 La Perla.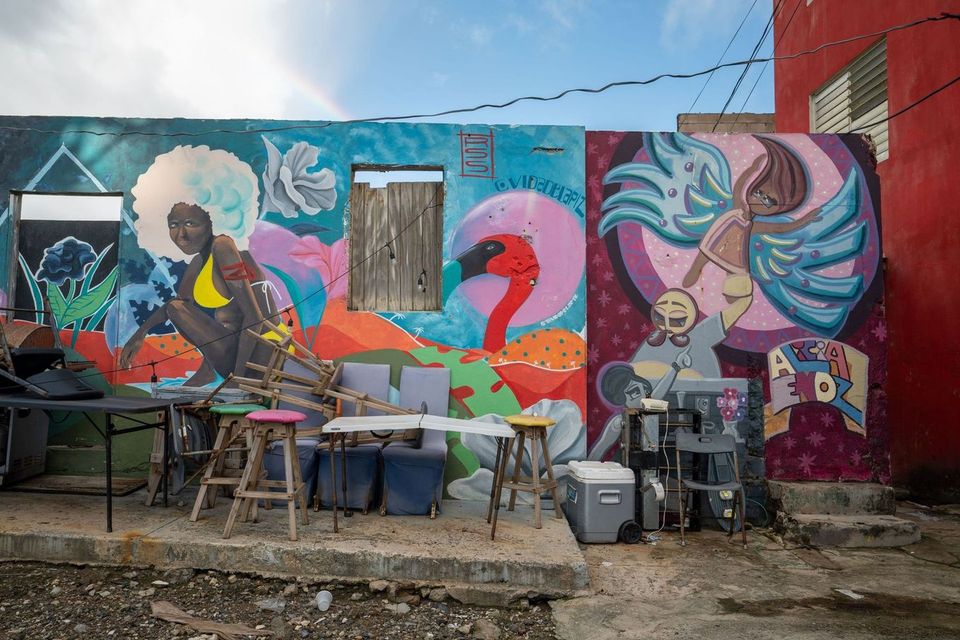 La Perla.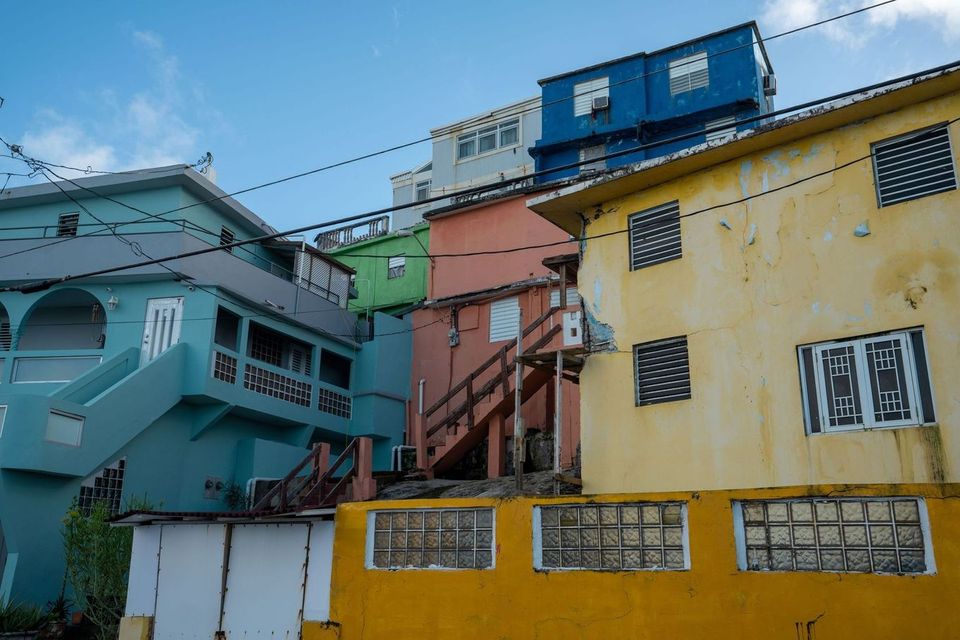 La Perla.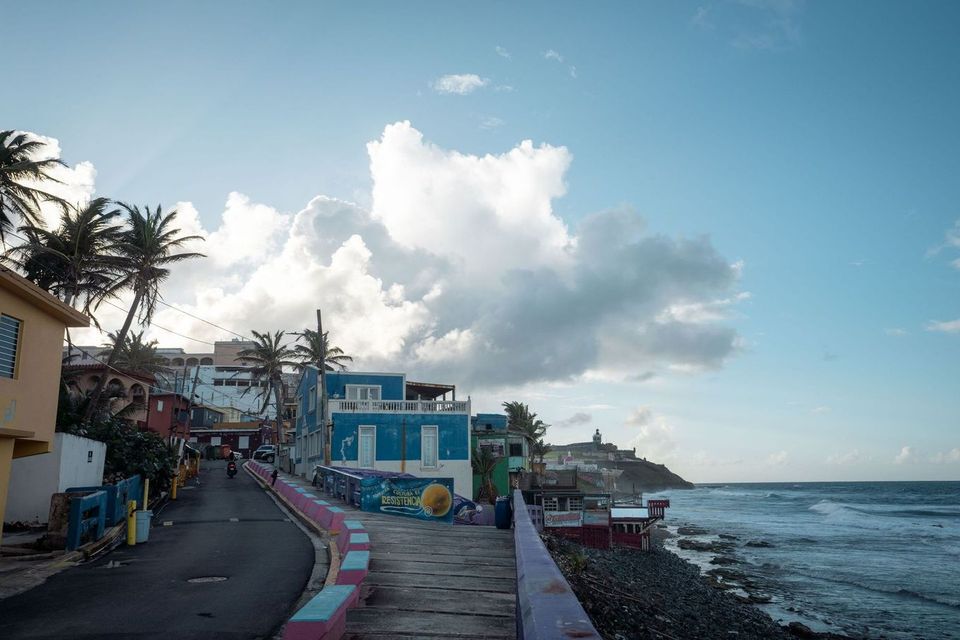 La Perla.
Day 8: Santurce
Today was a chill day: we sampled more food and relaxed at our local beach. Our hotel is very conveniently located halfway between the hip Calle Loiza and the high-end Ocean Shores beach, so we spent the day experiencing the best of both worlds.
We had already roamed Calle Loiza and the surrounding streets quite a bit, but the more we explored, the more we discovered restaurants we wanted to try. Today we went to Pinky's for a fantastic brunch, and to Qué Chido for great tacos. We've been extremely impressed with the food here in Puerto Rico! Regardless of whether we order Puerto Rican, American, or international food, the quality has been consistently high.
In the afternoon, we wandered around the gated neighborhood of Ocean Shores and along the adjacent beach. We picked our favorite among the expensive houses, strolled on the beach at sunset, and dreamed about what it would be like to retire in Puerto Rico.