Hawaii
September 2022
Kailua-Kona
Captain Cook
Volcano
Hilo
Mauna Kea Observatory
Hawi
Day 1: Arriving on the Big Island
Aloha from the Big Island of Hawaii!
Hawaii is incredibly easy to reach from Seattle — just a short direct flight! It feels almost too easy to get here, given how beautiful this part of the country is. "No pain no gain" they say… but what do they know? Have they been to Hawaii?
Our first priority as soon as we got was to get some poke (chunks of raw marinated fish, traditional in Hawaii). Poke is popular in Seattle, so we've had our fair share of it over the years, but today's poke beats them all. Our dinner experience may have been influenced by the balmy evening temperature, the great live music, or the fact that we're already feeling the relaxed pace of Hawaiian life. Regardless, it tasted delicious to us.
We're staying on a farm that we found on Airbnb. We were greeted by a "Pigs at play" caution sign at the entrance, and a warm welcome by our friendly host, Shucheng. Our little modern cabin is adorable. We look forward to falling asleep to the relaxing sound of frogs and crickets.
Day 2: Surf lessons and the Place of Refuge
Hawaiians invented surfing, and today we got to take a surf lesson in Hawaii!
We headed to Kahalu'u bay, the location of our surf lesson. In ancient times, this surfing beach was reserved for chiefs only, because it has some of the best waves on the island. So we felt pretty special to be able to experience this magical place. Right by the beach is an ancient temple, Ku'emanu Heiau, where chiefs used to come and pray for big waves. We made our way there before the class and prayed for small waves.
It turns out that we're pretty bad at praying, because we got big waves… and a strong current! All the expert surfers in the surf shop were stoked, counting the minutes to get off work and go surf with their buddies. But for beginners, oh boy… it was hard work to paddle against the current. Still, with great directions from our upbeat and supportive instructor Steve, we both managed to get up on the surfboard and ride waves all the way… just like the chiefs did! Although we were certainly not as graceful.
In the evening, we headed to the Pu'uhonua O Honaunau National Historical Park, which gets our vote for most enjoyable national park in the US. It's a small park, but so beautiful, and with a great history. In the old days, Hawaiians lived under the "kapu" system of laws, which governed all manners of their day-to-day life. It was a rigid system, which forbade woman and men from eating together, a commoner from crossing the chief's shadow… and anyone other than a chief from surfing in Kahalu'u bay! Infringements were punished by death… unless you were able to make it to Pu'uhonua O Honaunau before you got killed. Once in the refuge, you were expected to perform all the rituals mandated by the priest, which could last anywhere between two days and two years, before you were absolved of your sins and allowed back into the community. Our visit was brief, but we made sure to ask for forgiveness for surfing Kahalu'u bay… just in case…
These days the park consists of several beautifully carved wooden figures depicting gods, a reconstructed mausoleum containing the bones of chiefs, a few sea turtles and lots of palm trees. What a great location to watch a spectacular sunset!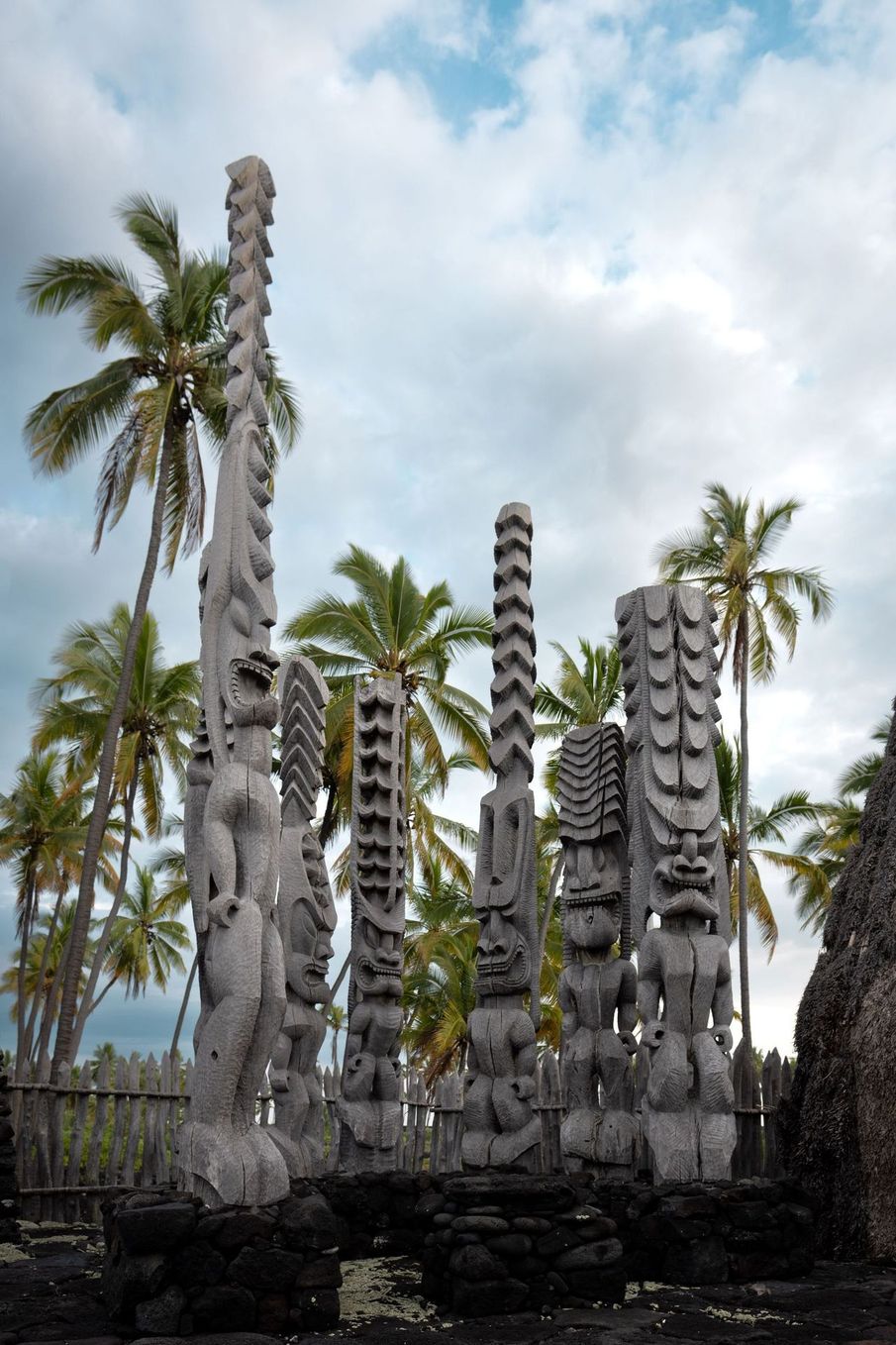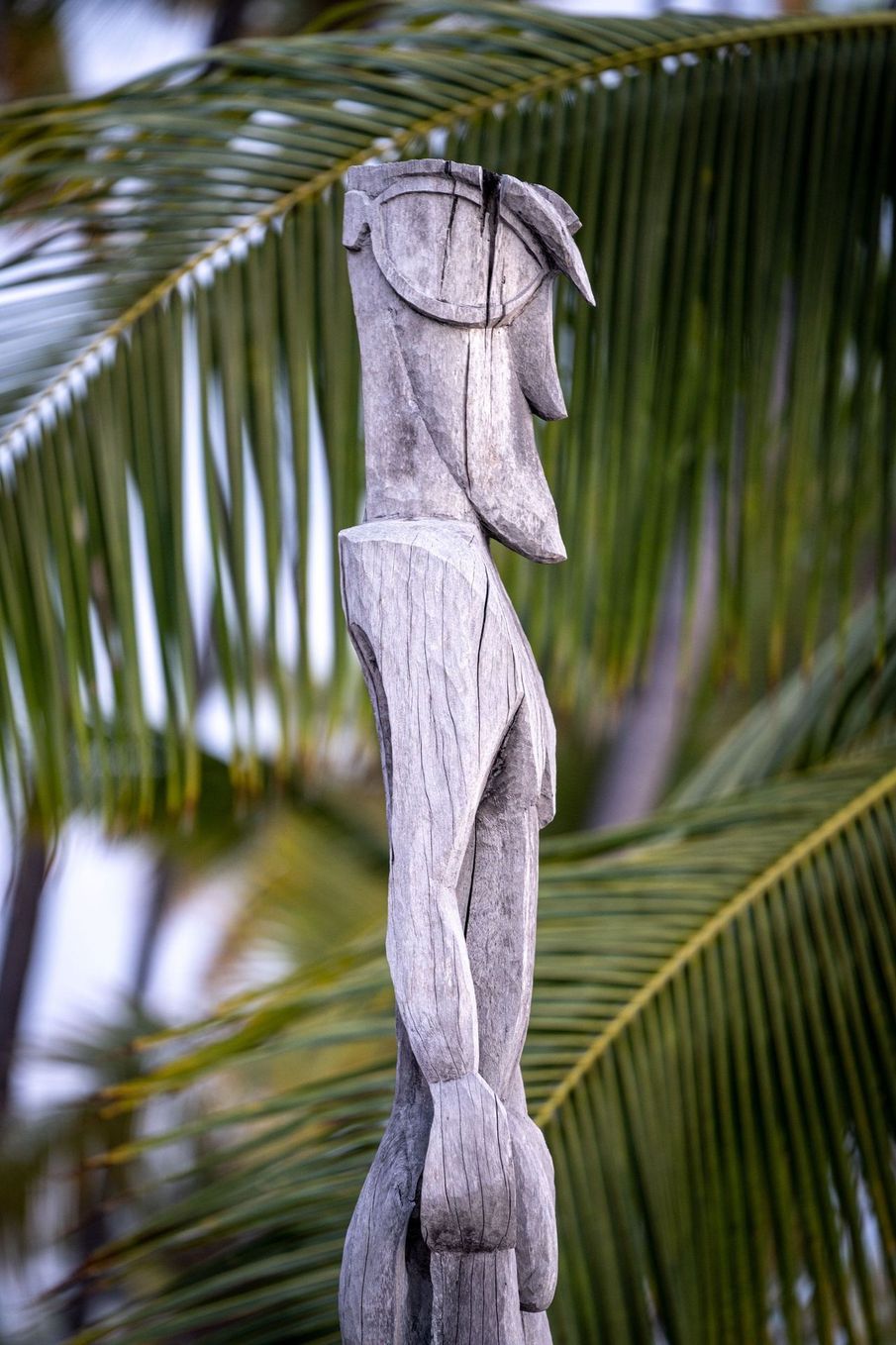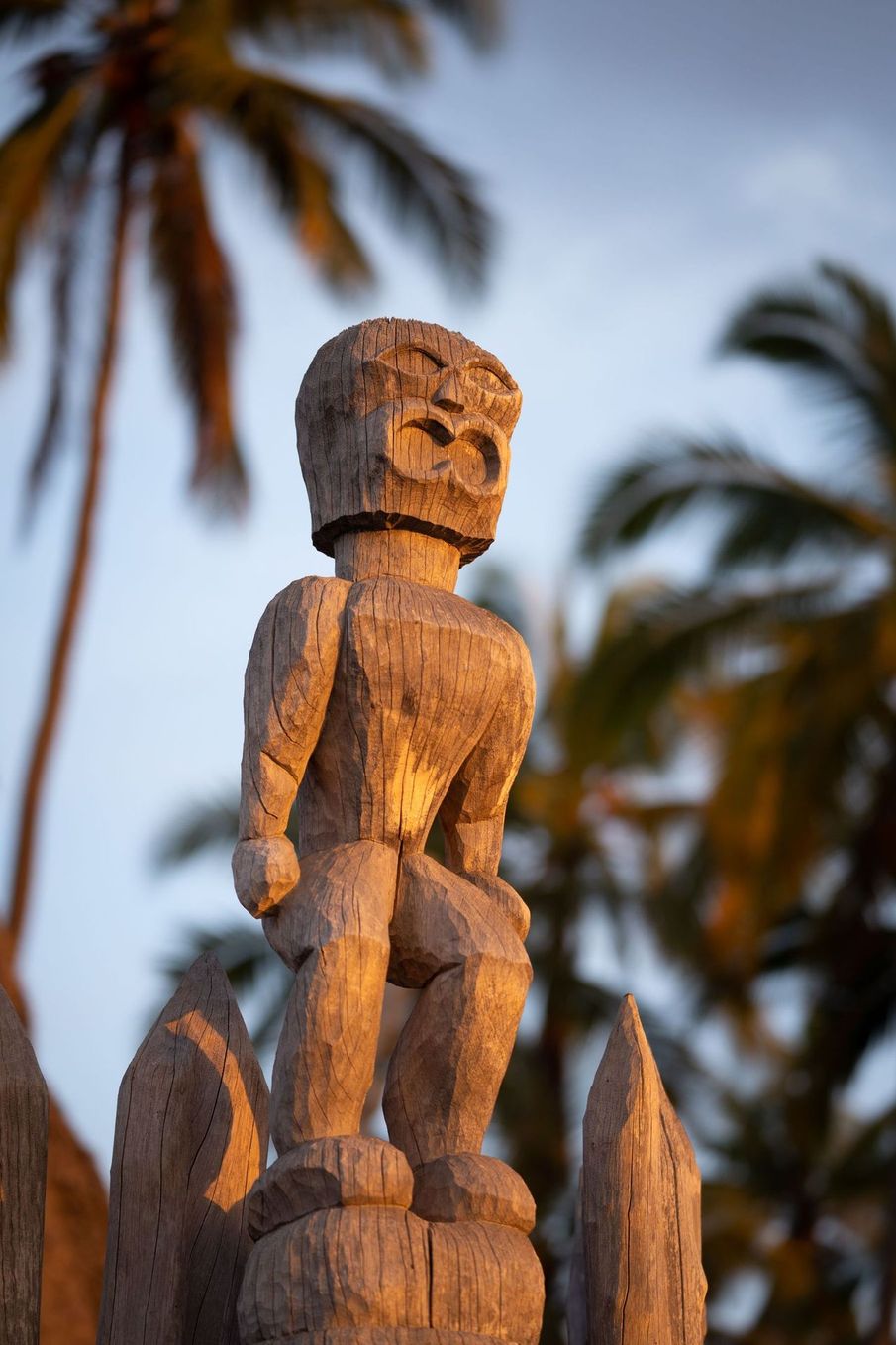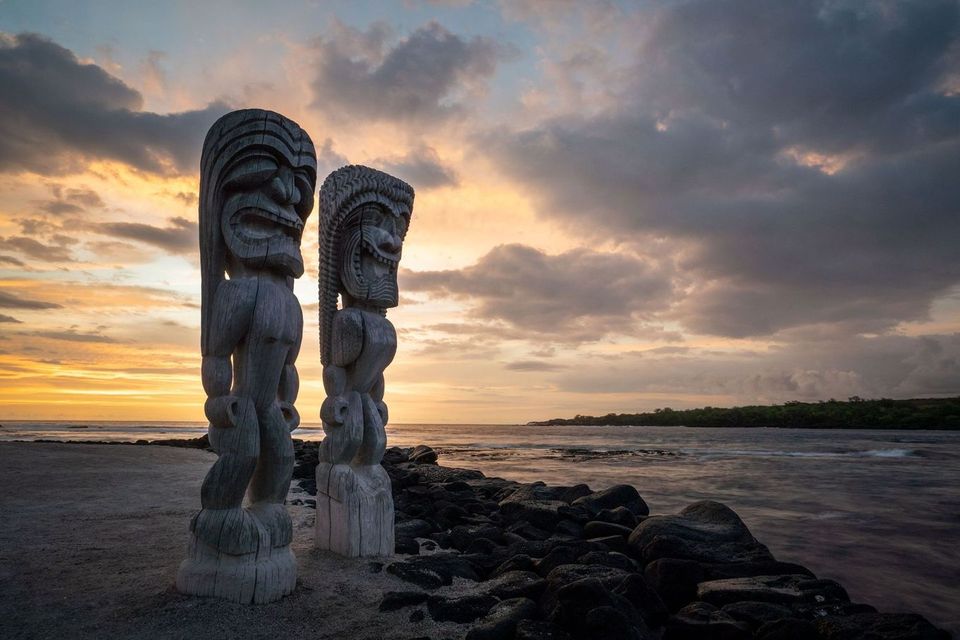 Day 3: Snorkeling and coastal hike
Today was a snorkeling day. We had heard that the underwater sights of Kealakekua bay were not be missed, but we had also heard that it's a popular spot and can get pretty busy. So we decided to book the earliest boat tour, with the smallest boat, so we could explore it in relative solitude. Our planning paid off. When we got to the bay bright and early, there were only two kayaks there, and we left before any other boats arrived. We saw lots of beautiful fish and coral, but the highlight was a large group of spinner dolphins that swam by. Spinner dolphins are known for their acrobatic moves, and we were in awe as they jumped and spun so close to us! We then moved on to the bay close to the national park we visited yesterday, and among many other fish, we got to see several white mouth moray eels. We truly love exploring the underwater world!
In the afternoon, we decided to explore the lava cliffs we had seen from the boat, but on foot this time. The big island is composed of five volcanos that merged together, so black volcanic rock is everywhere. We parked in a remote spot and hiked through a jungle of tropical plants and trees, walking on a solidified lava path that still showed the distinct swirls and bands formed by viscous hot lava. We eventually reached the shore, where waves crashed on the bare lava rocks and left behind numerous tide pools. With nobody in sight (other than tiny black crabs), we enjoyed the feeling of being in our own tropical island paradise as the sun set.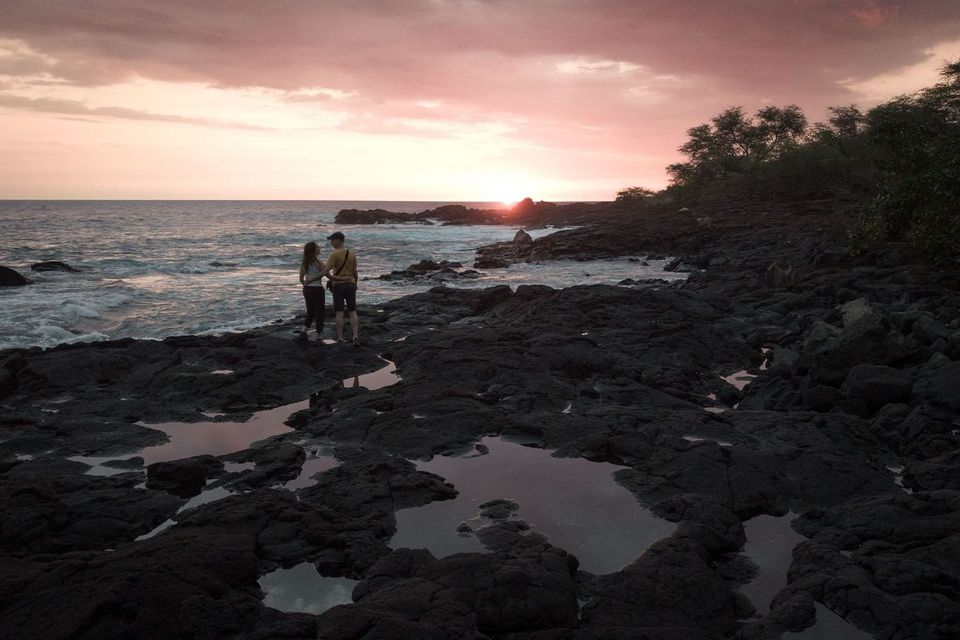 Day 4: Drive from Captain Cook to Volcano
Today we drove a quarter of the way around the Big Island, from Captain Cook on the west coast to Volcano Village near the south coast. In between we could see that this part of the island is very sparsely populated. The road winds its way through forests and across wide swaths of volcanic rock, with frequent glimpses of the ocean. We stopped at a few remote spots along the shoreline. Sometimes we were the only ones there, and in other places, we saw just a few locals. We also visited the popular Punalu'u beach, composed of black sand created when molten lava reached the ocean.
As far as food goes, we've been enjoying the variety of poke flavors so much that we're disinclined to try other local foods. But today, we made incremental progress: we had a poi bowl, which consists of mashed taro (like purple mashed potatoes)… with poke on top! 😀 We also stopped at two local bakeries along our route so we could try mochi cakes (a yummy cross between pound cake and sticky rice) and malasadas (Portuguese-style fried dough, often filled with custard). We really appreciate the honor system used by many of the home bakers and farm stands here on the Big Island: take what you want from the roadside stand, and pay with your phone by scanning a Venmo QR code.
At the end of today's drive, we passed the entrance to Volcano National Park and made our way to our next Airbnb accommodation. We're staying in a well-appointed cabin that's practically hidden in the middle of a lush tropical forest. We're entertained during the day by flocks of singing birds, and in the evening by an army of whistling coqui frogs. We're excited to visit the park tomorrow and see some volcanic action!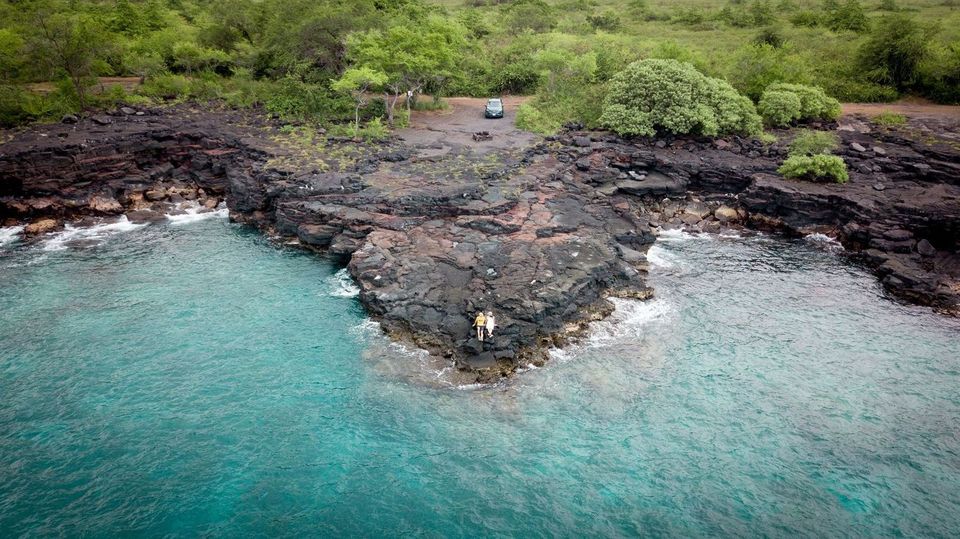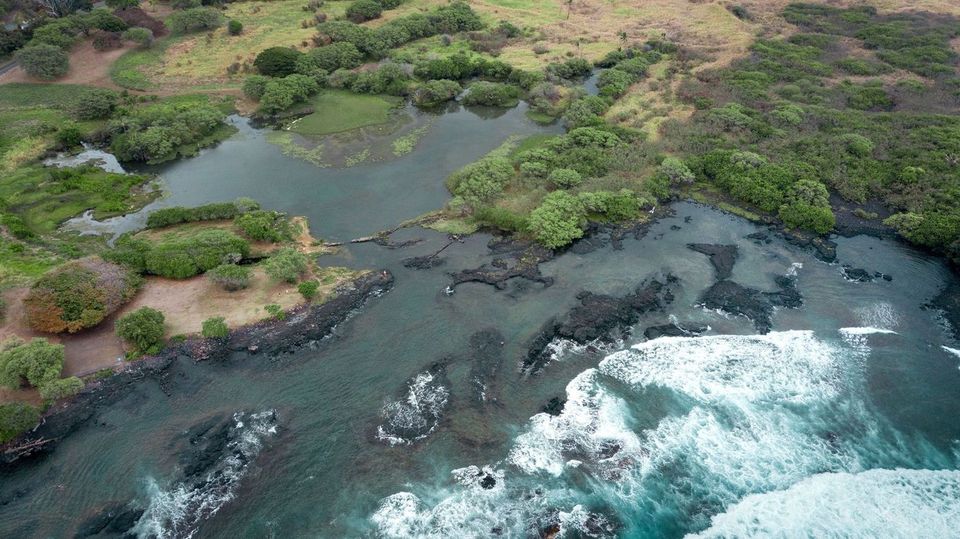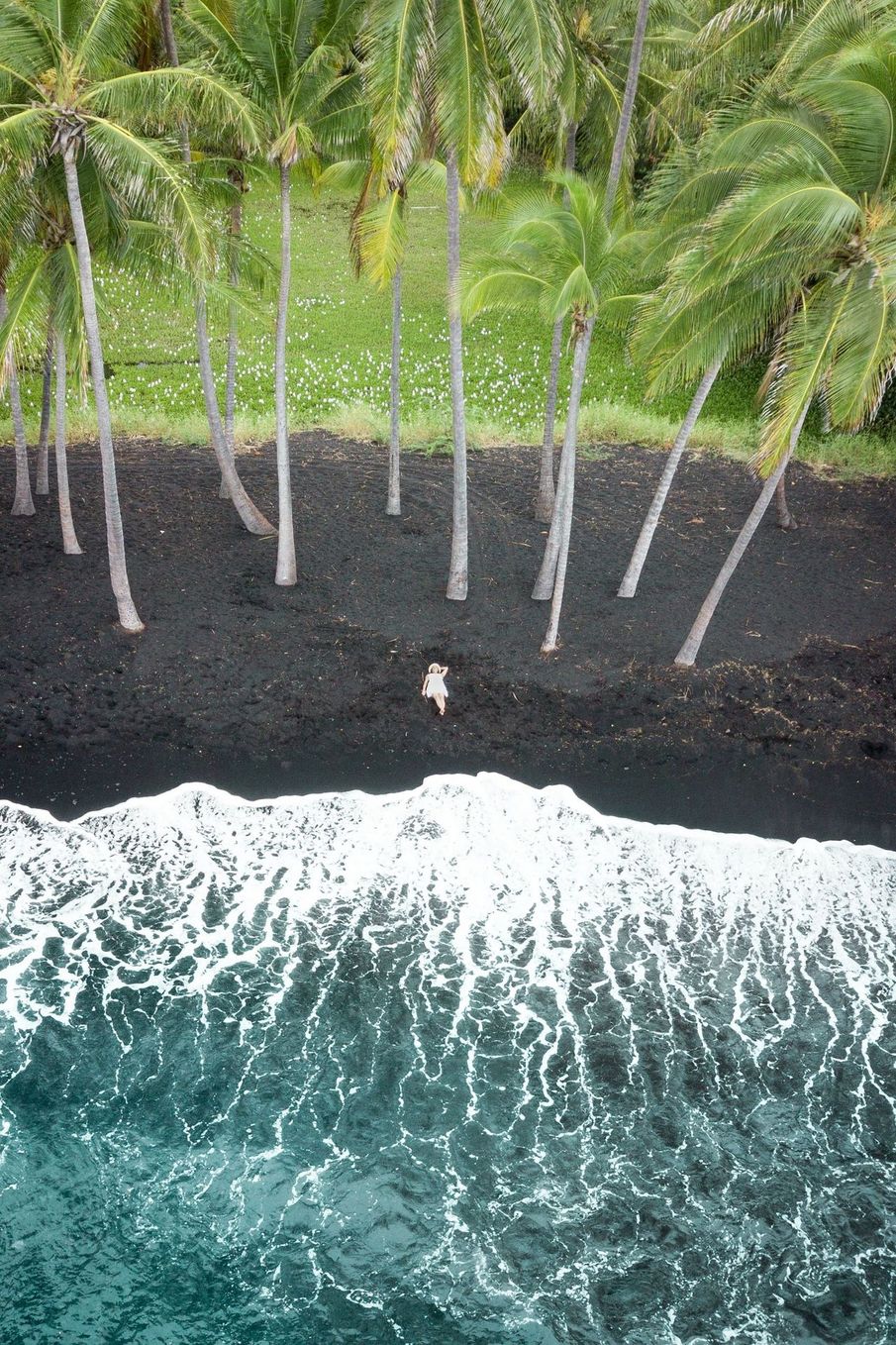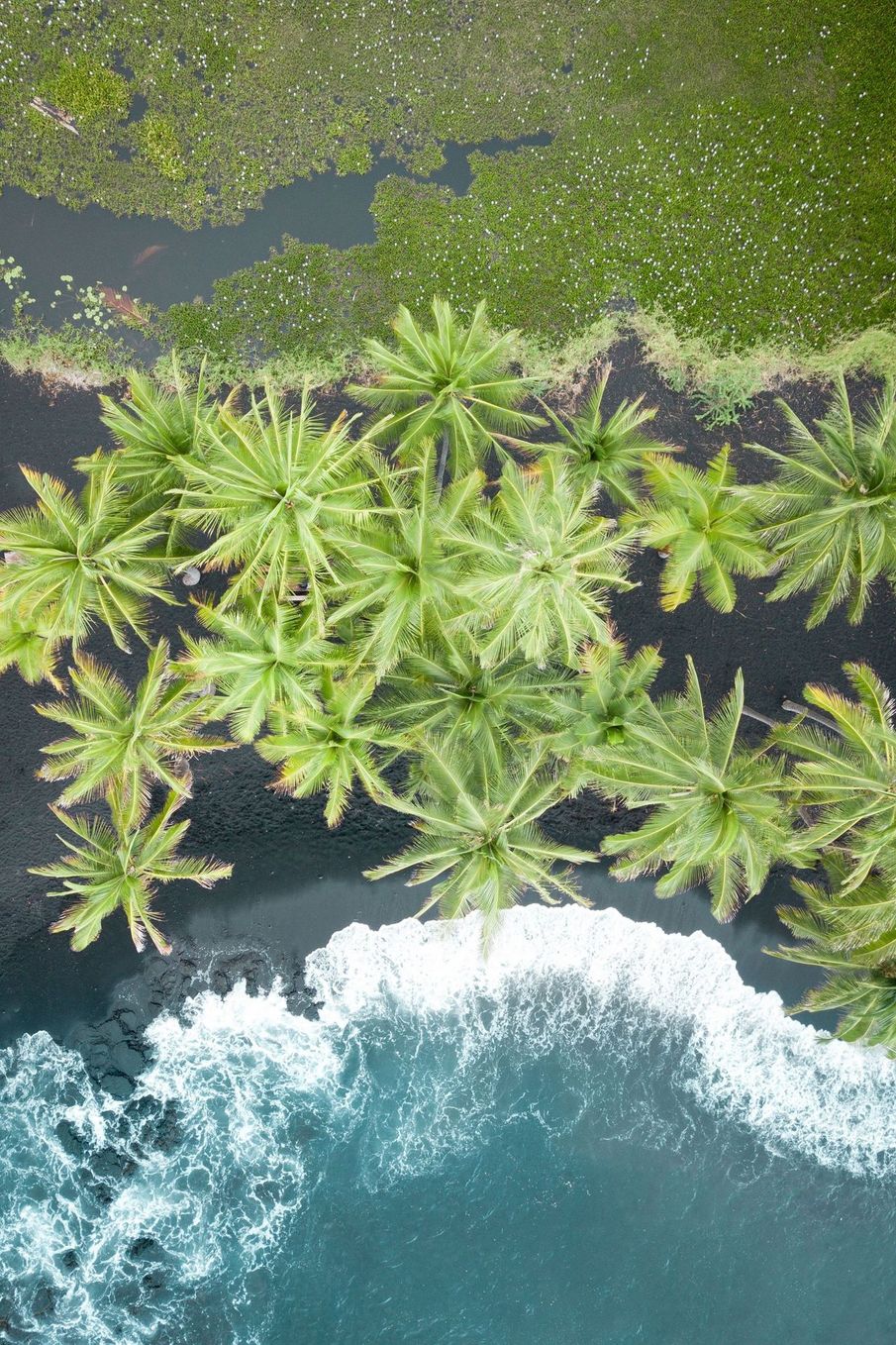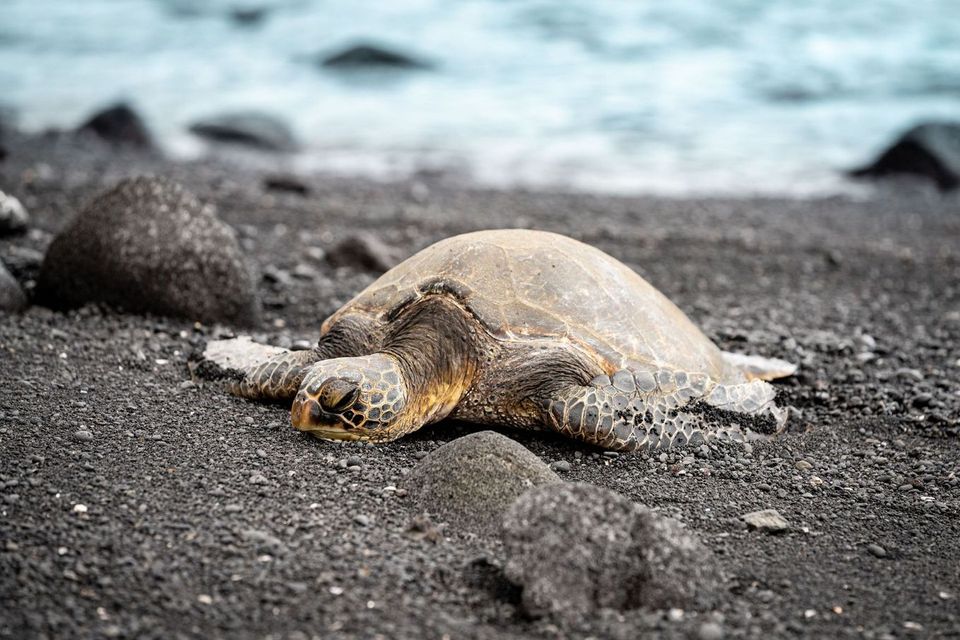 Day 5: Volcano National Park
We got up early today so we could get to Volcano National Park before the crowds and before the weather got too warm. Arriving shortly after sunrise, it was easy to find parking and the temperature was just perfect for hiking. We connected three different trails to make a six-mile loop. The highlight for us was descending into and crossing the floor of the Kilauea Iki crater. This crater was half-filled by molten lava during a 36-day-long eruption in 1959, eventually cooling to become a solid rocky plain. Hiking across this crater is like walking on another planet, and also a bit of a thrill, knowing that liquid magma is pulsating somewhere beneath the surface. Over the years, life has gradually returned to the crater floor, where the most tenacious plants are now growing from cracks in the rock.
We returned to the park in the evening to view the latest ongoing eruption: since September 2021, Kilauea has been forming a lake of molten lava in the Halema'uma'u crater. From a viewing point on the crater rim, we could see the lava bubbling and spurting below us, forming bright lines in the lava lake surface and casting a red glow on the clouds of steam overhead. Even from a safe distance, the volcano is truly awe inspiring.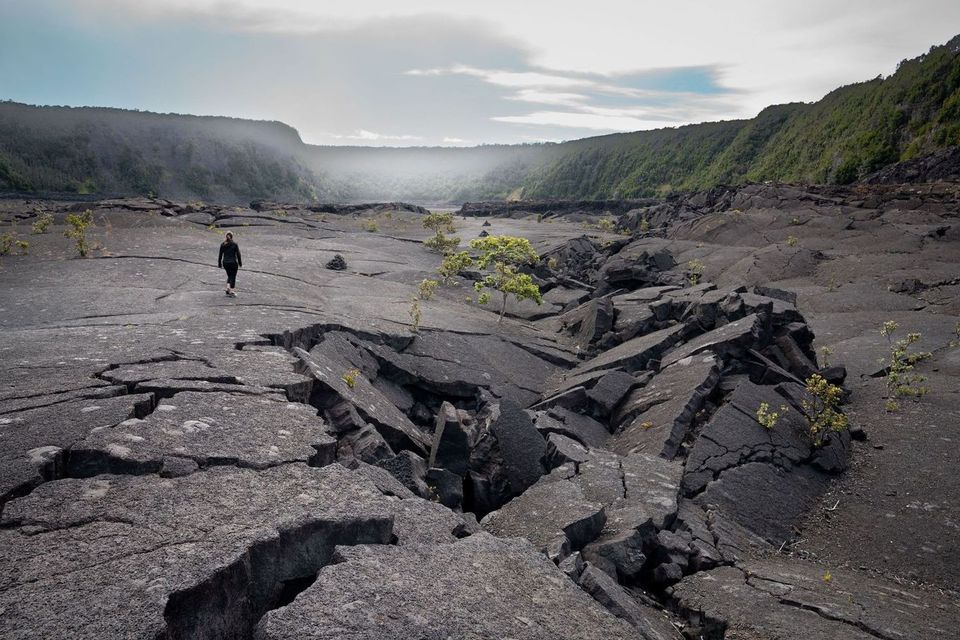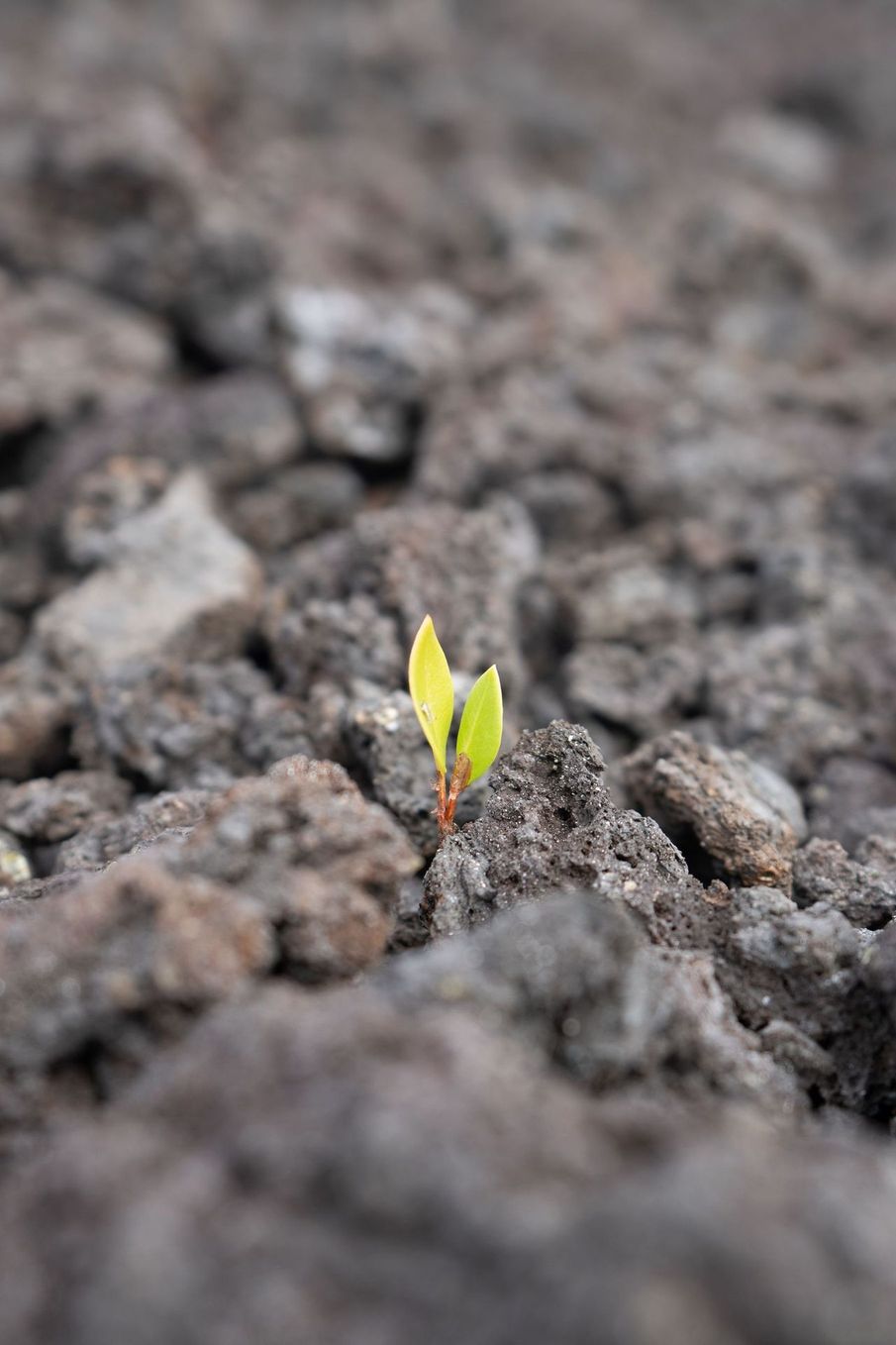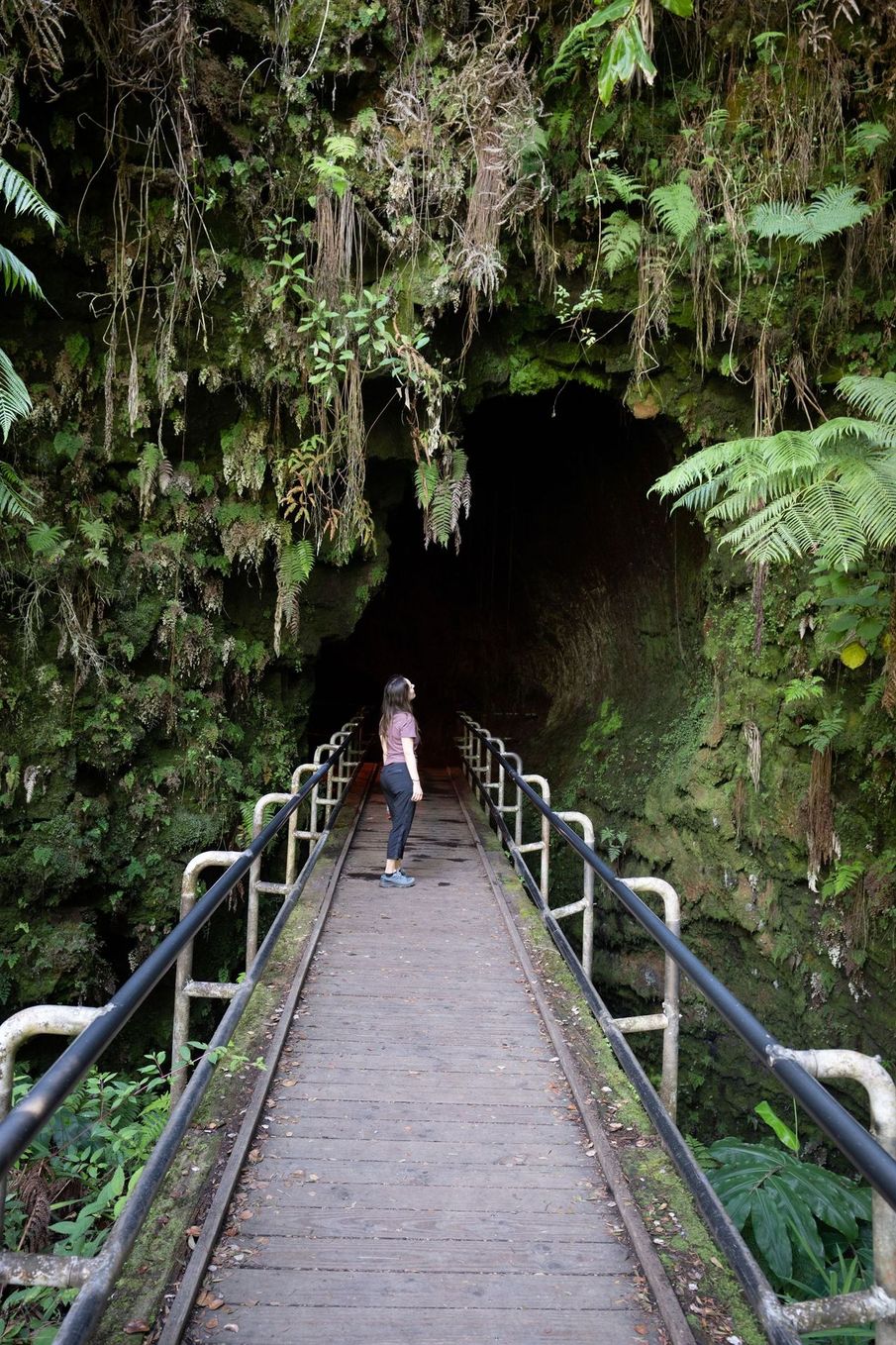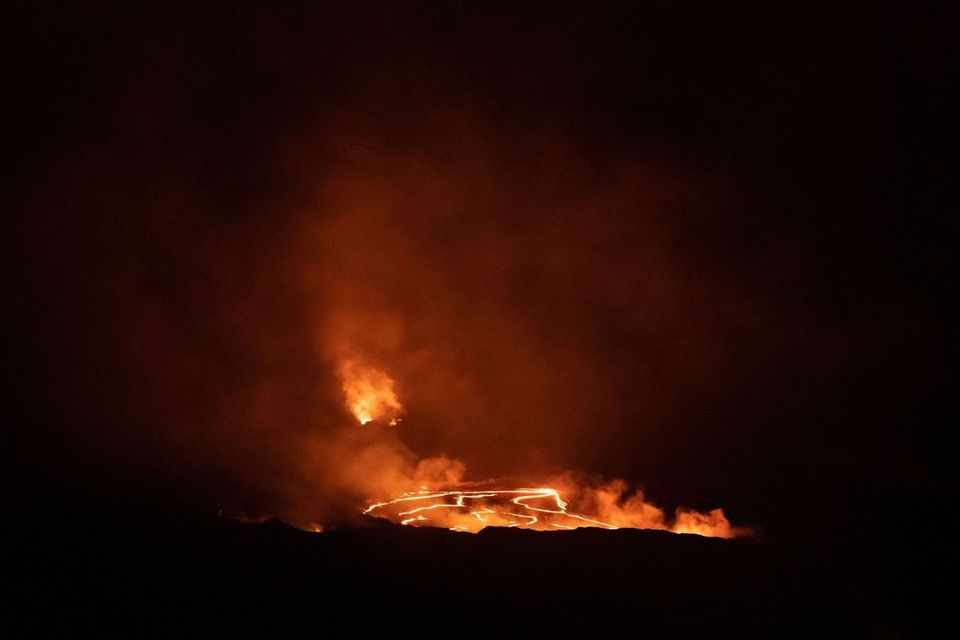 Day 6: Hilo
Hilo is known for its waterfalls, so today we went chasing waterfalls. We made a brief stop at Rainbow Falls, which is easily viewed from a parking area within Hilo. Then we headed north along the coast to Akaka Falls State Park, where we enjoyed walking the short trail through the dense rainforest to the waterfall. We were impressed by the size and variety of lush tropical plants — many of them look like giant versions of plants we've tried to grow indoors at home! As we continued along the trail, the rainforest eventually opened up to reveal Akaka Falls plunging more than 440 feet (134 m) into a deep gorge. Spectacular!
We returned to Hilo for lunch. We had poke, of course. This was the best poke we've had yet, perhaps because we bought it directly from the fish market. For dessert, we treated ourselves to several different flavors and varieties of mochi from the legendary Two Ladies Kitchen.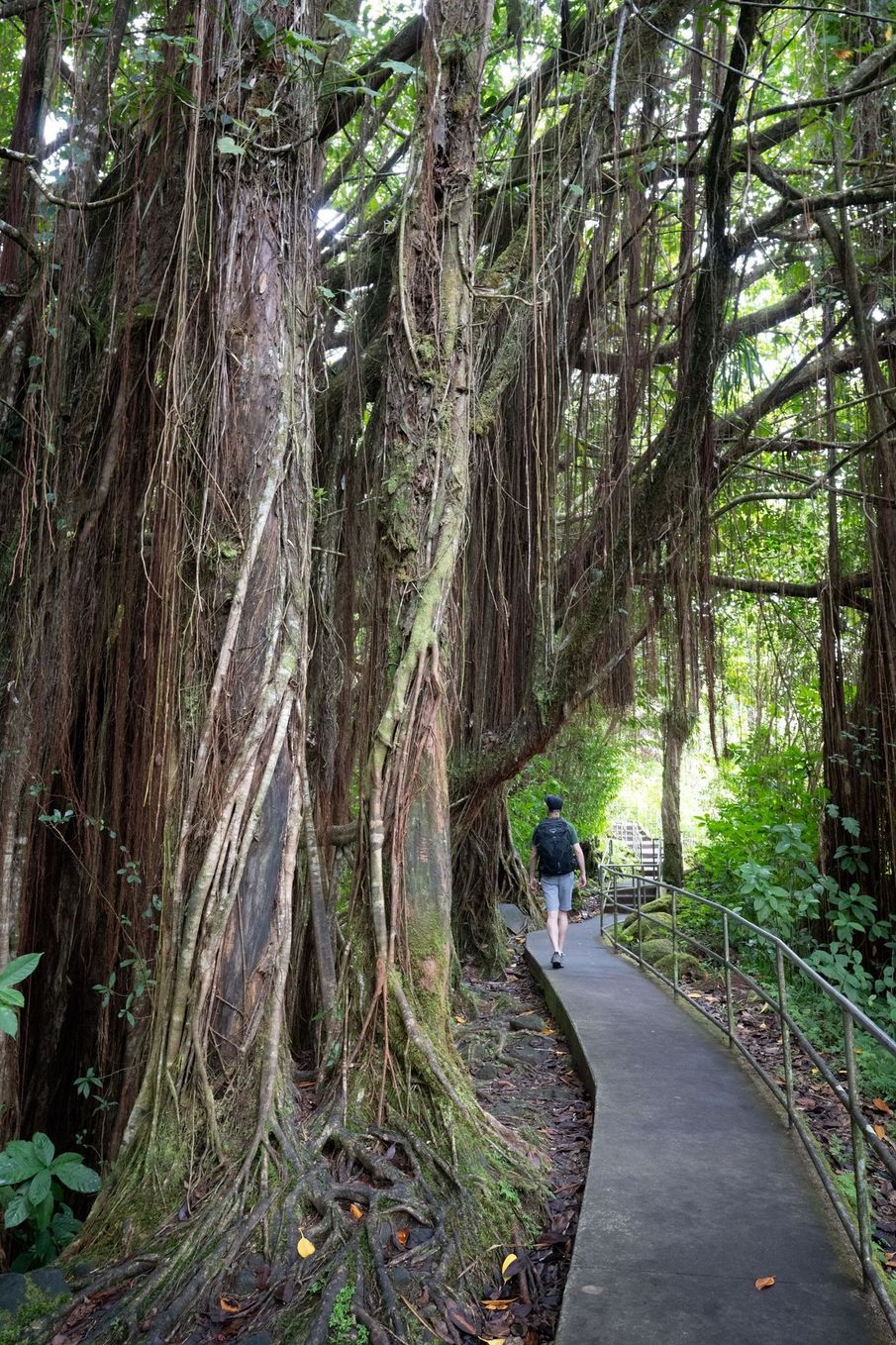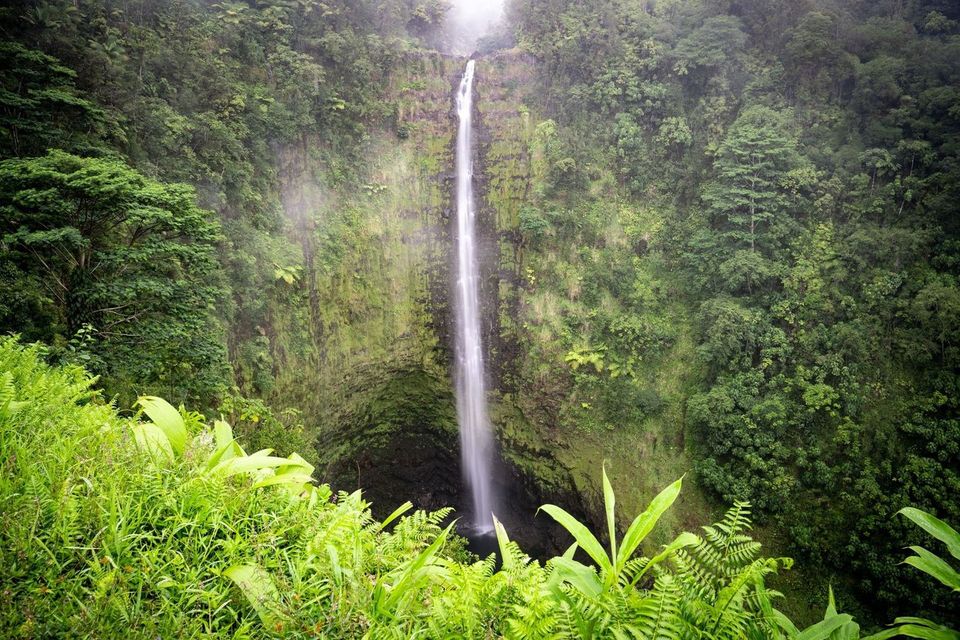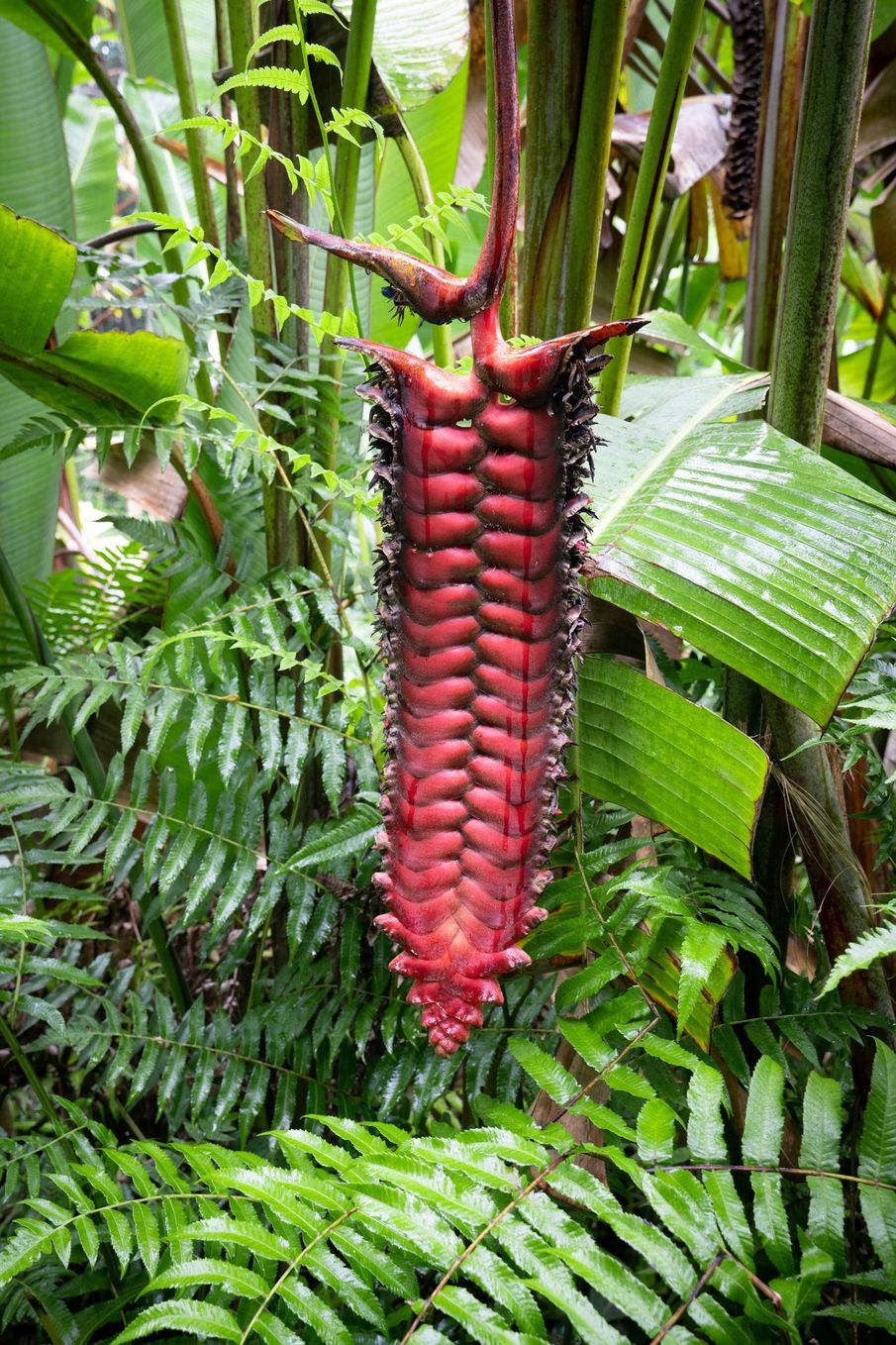 Day 7: Kohala
This morning we traversed the Big Island from east to west, driving the aptly-named Saddle Road between the two biggest volcanic peaks, Mauna Loa and Mauna Kea. Turning north, we headed into the Kohala district and headed for the lush green valleys near the northern tip of the island. We hiked down the short but steep trail into Pololu Valley, ending up at a beautiful black sand beach separating the verdant valley from the ocean. We enjoyed the tranquility of this scenic spot for a while before hiking back up to the overlook.
Our next destination was the western shore of Kohala, which has some of the best white sand beaches on the island. We generally like to avoid crowds, so we picked a beach that takes a bit of work to get to. From the highway, we drove our SUV 1.5 miles (2.4 km) on a rough rocky road through lava fields to reach a trailhead, and then hiked 25 minutes across more lava and through sand dunes. Arriving at last at the ocean, we were rewarded with pristine turquoise waves rolling onto a long white sand beach, surrounded by dunes laced with green vines. What a gorgeous spot! We had the place almost to ourselves, and we stayed longer than anyone, until just past sunset — then hustled back to our car so we could make it out of the lava fields before the gate to the park closed!
We're staying a couple of nights in Hawi, a cute town with historic buildings and a distinctive hippie vibe. Our accommodation was once the central house of a sugar plantation, and is now a boutique hotel that also serves delicious vegan food.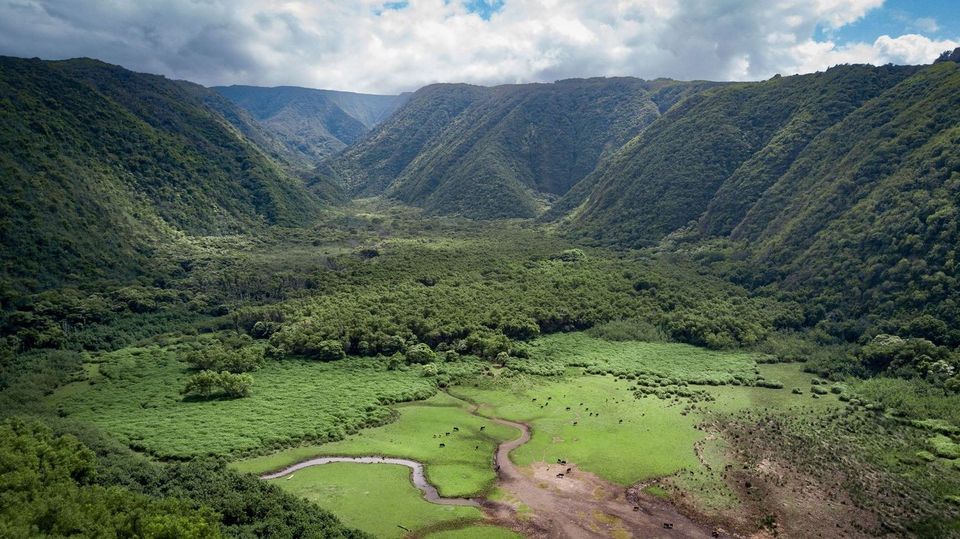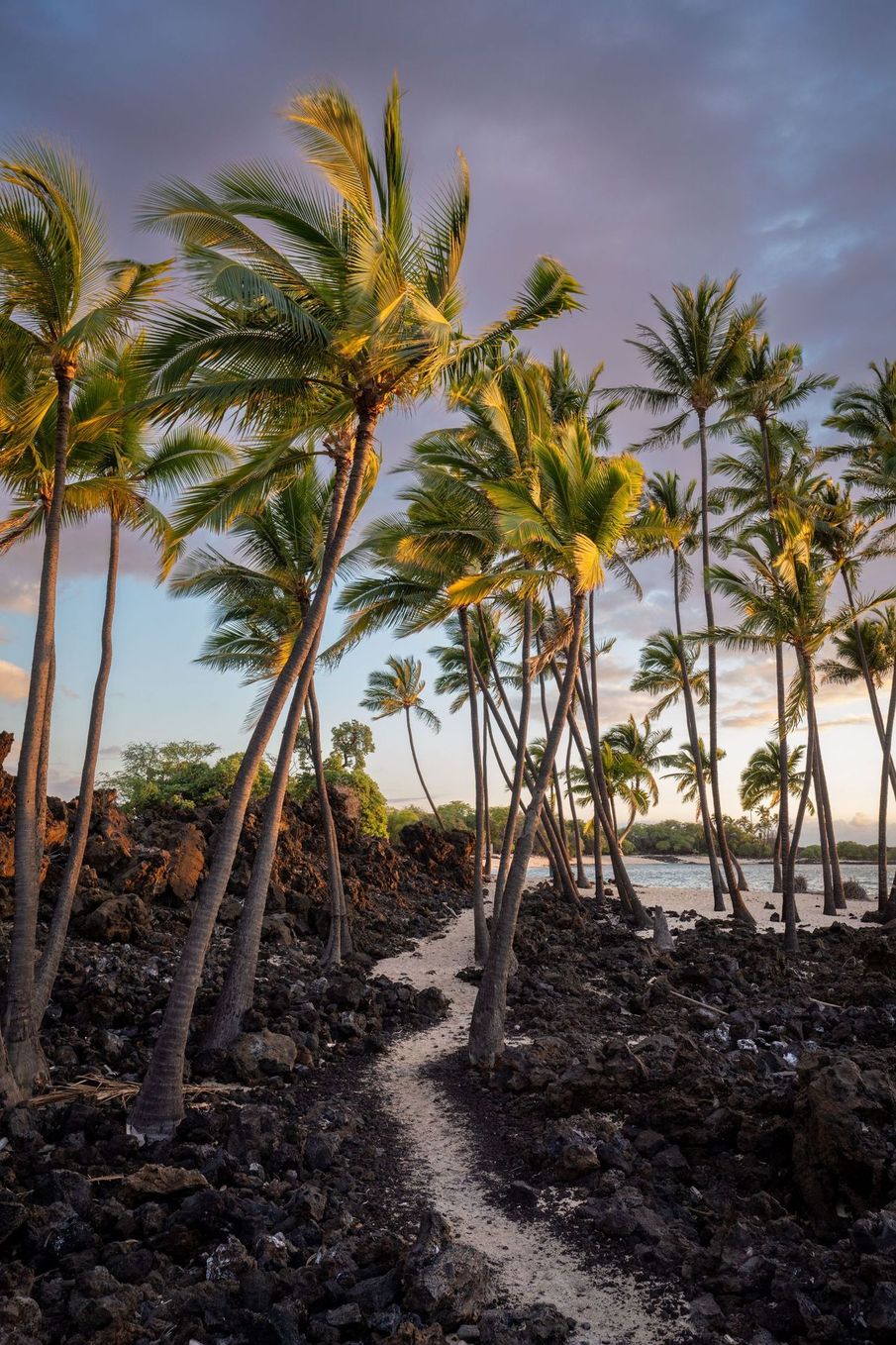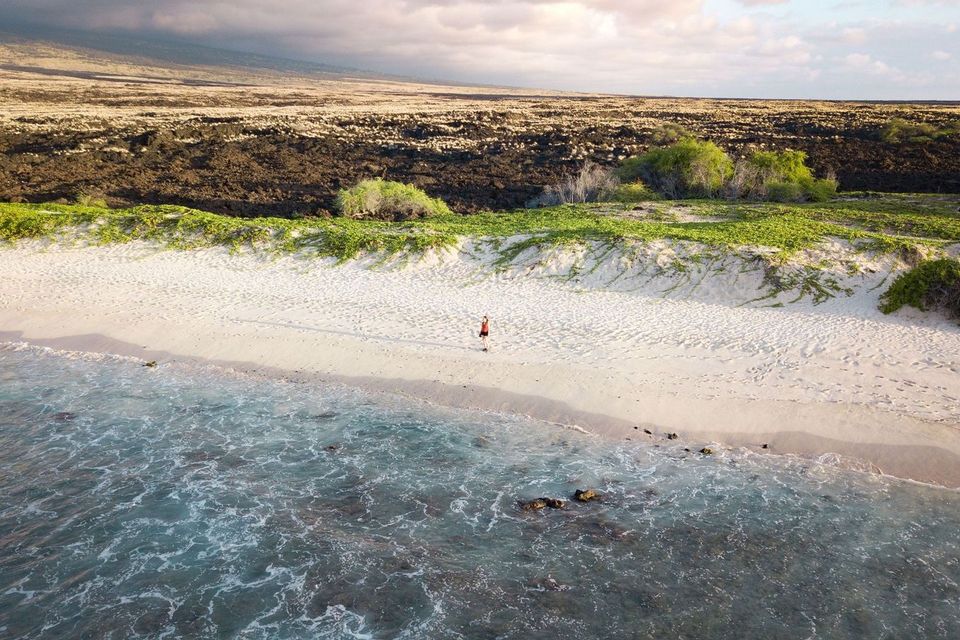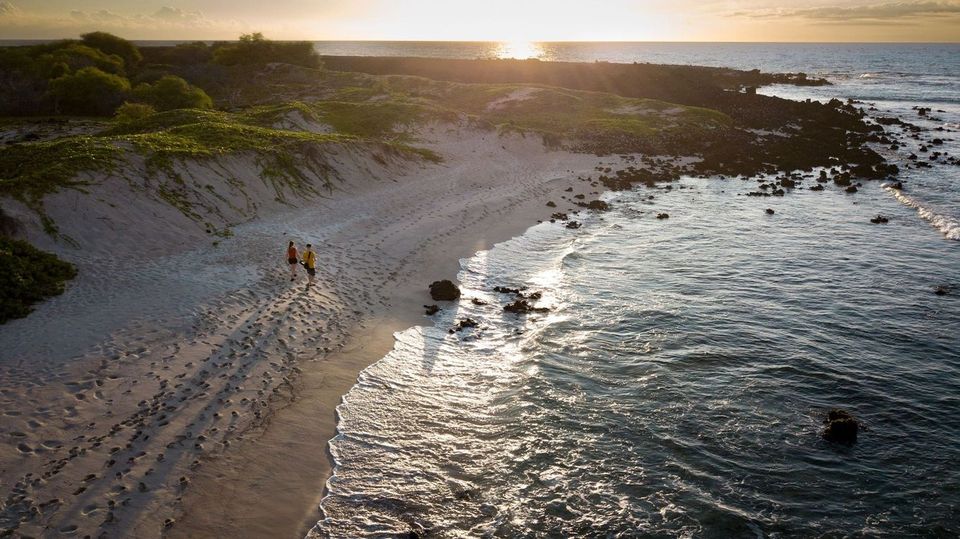 Day 8: Mauna Kea
We spent the morning relaxing at our hotel, enjoying the good food, and indulging in some reading. In the afternoon, we met up with a small group and a guide who took us to the summit of Mauna Kea. In just a few hours, we drove from sea level to 13,803 feet (4207 m), and experienced temperatures from 85F (29.5C) to 32F (0C) — quite an amazing variation! The top of this mountain is one of the best places in the world for astronomy because of its dry environment and clear skies, and as a result, there are now 13 observatories built by various countries. Our guide, Gage, explained the different uses and discoveries made by these giant telescopes as we watched the sun set into the sea of clouds far below us. As the stars gradually emerged, Gage set up an impressively powerful portable telescope, and showed us a variety of interesting features in the night sky, including a binary star, the Andromeda galaxy, Jupiter, and Saturn. Gage was very knowledgeable and entertaining, and the overall experience surpassed our expectations.
This late-night adventure marks the end of our vacation on the Big Island. We're really impressed with the wide range of activities and experiences that this island has to offer, and we look forward to visiting again someday!